Last updated on

July 7, 2021

by Darren
Before 2017, almost all phones sold had locked contracts, and unlocking those phones from their carriers was a daunting and potentially even illegal process.
Locking a device is a process that many carriers, like Rogers, do in order to ensure that you use your device with their carrier exclusively. Unlocking your SIM card from Rogers will remove any network restrictions from your device.
With an unlocked phone, you can place a SIM card from any carrier with a network that your phone's hardware will support, allowing you to switch between carriers easily.
Today, every phone bought in Canada comes unlocked, but you may still have a phone that's locked to your Rogers carrier if you bought your phone before December 2017.
This article will show you how to unlock a Rogers phone.
Will Rogers Unlock My Phone?
Customers who have an active or canceled wireless account from the last 12 months can have their devices unlocked by Rogers. In addition, devices that Rogers has sold after December of 2017 should come already unlocked or with instructions on how to unlock.
With that said, there are some prerequisites to having your phone unlocked by Rogers:
For current Rogers customers with an active wireless account:
Your account must be in good standing with no overdue balances
The device cannot be on the national blacklist of wireless devices that have been lost or reported stolen
For customers with an account canceled within the last 12 months:
Your canceled account must be paid in full as well as have no overdue balances
Your account must have never had any fraudulent activity that resulted in your account's cancellation
The device cannot be on the national blacklist of wireless devices that have been lost or reported stolen
There is no charge to unlock your device in both of these cases, and there is no waiting period.
How Much Does It Cost to Unlock a Rogers Phone?
Today, unlocking your Rogers phone is completely free. However, before June 2017, unlocking your Rogers phone could potentially be an expensive process. This caused many customers to be upset about the cost to unlock a Rogers phone, especially those who had already paid off their devices in full.
The Canadian Radio-television and Telecommunications Commission (CRTC) heard these complaints. This prompted them to amend the Wireless Code of Conduct to address this issue in June 2017.
The Wireless Code of Conduct established that wireless carriers like Rogers must follow these rules:
Any wireless devices that are sold after December 1, 2017, must be unlocked or come with free instructions on unlocking your device.
Any wireless device locked to a carrier must be unlocked, if and when a customer requests it, at no additional cost.
Wireless service providers must still unlock devices if the customer is still under contract or the device has not been fully paid off.
Things to Know Before Unlocking Rogers Phone
#1. Unlock Rogers iPhone
Unlocking an iPhone is a slightly different process than unlocking an Android phone. To unlock your Rogers iPhone, you need to submit a request to your carrier or an unlocking service, who will forward that request to Apple.
The processing of this request can take up to a few business days. Once the request receives approval and your phone is unlocked, your carrier will inform you that the process is complete and you can move on with your unlocked iPhone.
#2. Unlock Android Device
As for Androids, there are three ways that you can unlock your Rogers phone: through your carrier, using an unlocking service, or using unlocking software.
All of them can unlock your Android phone by generating a SIM network unlock pin to you. Just enter the code to unlock your device.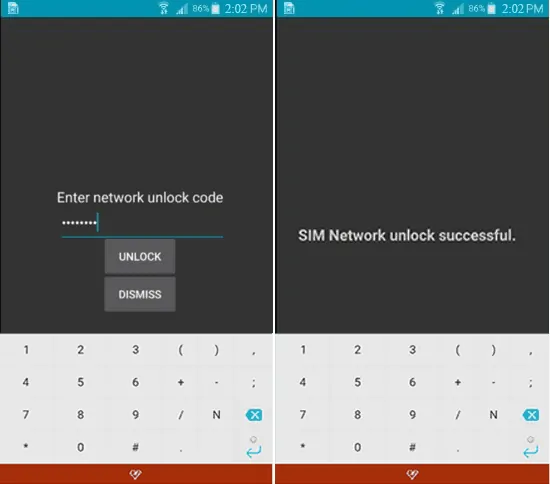 #3. Things to Prepare before Unlocking
Before unlocking your phone, though, you must find your phone's International Mobile Equipment Identity (IMEI) number. There are a few ways that you can find this information:
Check the owner's manual that came with your device. If you've misplaced the manual, you can find the information on the manufacturer's website.
Dial the IMEI Number checker *#06#, and the IMEI number should appear on your screen
Check the "About Phone" section in your device's settings.
Check the back of your phone or under your phone's battery.
After finding the IMEI number, it's necessary for you to check the blacklist status of your device with its IMEI number.
If your phone is blacklisted (reported as stolen or lost), it can't be unlocked.
If it's clean, then you can have your device unlocked with ease
The only way to check phone blacklist status is to use an IMEI checker.
There are a lot of IMEI checkers, most of them just generate the IMEI report from an outdated database which is not accurate. I would highly recommend you try our WipeLock IMEI Checker. Our team of experts will check your IMEI manually to ensure the IMEI report is 100% accurate.
How to Unlock Rogers Phone (iOS/Android)?
If you're sure your phone's blacklist status is clean, then choose the way you prefered to unlock your phone from Rogers.
#1. Contact Your Carrier (Free – Up to 15 Days)
The first and usually most straightforward way to have your cell phone unlocked is to call Rogers's customer service line. They will be able to walk you through how to unlock your Rogers phone.
Another option is to take your phone to a physical Rogers store location and ask an employee to either walk you through unlocking your phone or to unlock your phone for you. According to Canada's Wireless Code of Conduct, employees must unlock your phone for you at your request at no additional cost.
As long as you meet the following criteria, Rogers will unlock your phone for you for no cost:
Your account is in good standing with no unpaid or overdue bills.
Rogers was the original service provider for the phone.
Your phone has not been lost or reported stolen by another person.
Military deployment and travel are exceptions to these rules as Rogers will unlock a device if the person who owns the device can provide a proof of deployment or proof if they are going to be traveling internationally in the near future.
To start the unlocking process, Rogers will need the following information from you:
The full name of whom the account belongs to
The account number
The security password for the account
The device's IMEI number
To test and ensure that the process is successful, you will need to obtain a SIM card from another mobile carrier not associated with Rogers. Rogers is a parent company, and therefore associated with, Fido Mobile, Chatr Mobile, Primus Wireless, Zoomer Wireless, Cityfone, and SimplyConnect.
Once you've gathered this information, you can contact Rogers unlock phone number at 1-888-764-3771, or you can go into one of their physical store locations to complete your Rogers phone unlock.
Both of the ways will unlock your iPhone directly or generate a Rogers network unlock code for your Android phone.
Using this way to unlock Rogers phone will take up to 15 days to complete.
#2. Use a Rogers IMEI Unlock Service ($28 – Within 24-hour)
If you bought a used phone or did not qualify for a carrier unlock, you can use an unlocking service for a small fee. The price of these services ranges from around $28 to $40.
The reputable unlocking service you can use is DirectUnlocks.
The above sites have been available on the internet for a long time. Both of them can help you unlock your rogers phone without account.
To begin the process of unlocking your phone using an Rogers IMEI unlocking service, you must complete the following:
Enter your phone's make and model, carrier, and the IMEI number
Select which unlocking option you prefer
Enter your payment information
After confirming payment, your request will be processed between a few hours to a few days, and they will inform you once your Rogers phone is unlocked.

Rogers iPhone is unlocked by DirectUnlocks
While this process may seem very straightforward, you need to be wary of what services you pay to unlock your device, as there are services created to steal your personal and payment information.
Before you give your information to an unlocking service, consider these tips:
Avoid any service that wants you to download software onto your device. The manufacturer or carrier resells most unlocking codes, and software is not needed to use them.
Avoid services that lack a refund policy. This is a red flag that the service could be a scam.
Avoid services that advertise free services. Because carriers already offer free unlocking services, this could mean that a scammer is trying to obtain your personal information or that the unlocking information was not obtained legally.
Check the service's "About" and "Contact" portions of their website. If they don't provide contact information or are vague about the services they provide, use a different unlocking service.
Avoid services that don't have a secure checkout page (SSL). This could mean that a third party is watching and obtaining your payment information.
An unlocking service can usually unlock Rogers phone as fast as 24 hours.
#3. Use an Unlocking Software (Not Safe)
This process is usually only for those who have advanced computer knowledge. Flashing custom ROMs or using unauthorized software (more commonly referred to as "rooting" for android phone users or "jailbreaking" for apple phone users) can potentially put your phone at risk, void your phone's warranty, or render your phone useless.
To find any software unlocking options that may exist for your phone, you will need to enter the make and the model of your phone onto the XDA forums. The forums are well-moderated, but it's not guaranteed that you will not receive a virus or faulty link from users.
Using software to unlock your phone will not provide the same benefits of using a service or carrier, and there is no guarantee that the software you find will work.
Conclusion
If your phone is older than December of 2017, using these three methods will allow you to unlock your Rogers phone and enjoy having more freedom with your device.
They will also allow you to keep your information safe if you choose to use one of the paid services recommended above to unlock Rogers phone.
Unlocking your phone will let you buy and sell a second-hand phone with ease, use your phone outside of Canada, and switch carriers freely without the need for a contract.