Last updated on

March 9, 2022

by Darren
Factory resetting a Samsung phone will often present you with Google's obnoxious (but secure) FRP lock. Carriers have similarly limiting locks which stop owners from inserting and using SIM cards from other carriers. Whatever type of lock is preventing full usage of your smartphone, this article will walk you through how to unlock Samsung.
Part 1. How to Unlock Samsung Phone to Any Network?
Before Unlocking
Before unlocking a Samsung phone, you need to know that it's tough to unlock a phone that is already blacklisted (reported stolen or lost).
Most of the unlocking methods can't unlock a blacklisted phone. So, to avoid wasting time and money, you'll need to check the blacklist status before unlocking.
The only way is to use an IMEI checker, you offer your IMEI number, and they generate an IMEI report to you. There are so many IMEI checkers online; most generate reports from an outdated database.
To ensure you get a 100% accurate IMEI report, the one we recommend is WipeLock IMEI Checker. Experts perform all the checking works to ensure accuracy.
If the blacklist status of your Samsung phone is Clean, then you'll be able to unlock it easily.
Unlock a Samsung phone to any network can be done in various ways, and below are the top three to look into.
1.1 Unlock a Free Samsung Unlock Code
This first method is the most common route and it's one which all of the biggest carriers can assist their customers with. It often comes with a price attached but if you can spare it, paying will quickly resolve and remove a carrier lock.
Each carrier's process will vary; however, the basic gist of the process is as follows.
Step 1. Contact the carrier in whichever way you prefer and inquire about obtaining an unlock code.
Step 2. They may request the device's IMEI which you can find by dialling *#06#.
Step 3. The representative will prompt you to make a payment for the appropriate amount before continuing.
Step 4. You'll now either receive a code from your carrier or they will instantly disable the carrier lock from their system.
Step 5. If an unlock code is given to you, enter it once the new SIM card from another carrier has been inserted and this will unlock Samsung.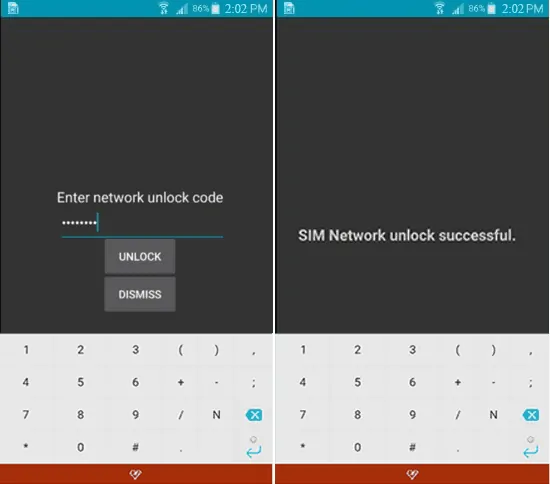 Some older smartphones aren't able to have carrier locks removed, although most phones nowadays are. Typically, when searching how to unlock Samsung phone, users find this is the fastest way to do so.
1.2 Unlock Samsung Phone without the Code by Using DirectUnlocks

DirectUnlocks
provides a similar service to carriers but without being as expensive. Phone owners from all over the world can unlock their Samsung smartphones from a large number of carriers.
Capable of unlocking any smartphone from carriers, including the latest models
Each carrier is individually and competitively priced
Different countries' networks are supported
Requires minimal input from you to unlock carrier
Works for iPhones that have carrier locks too
The steps involved when unlocking Samsung phone from carrier with DirectUnlocks are straightforward and there's nothing complicated about it either. Here's what you need to do:
Step 1. Start by opening the DirectUnlocks website in a browser.
Step 2. Scroll through the main page to locate, and click on, your device's carrier.
Step 3. Before continuing you will need to retrieve the device's IMEI number. Take your Samsung smartphone and dial *#06# to view the IMEI.
Step 4. Use the drop-down menu to choose your smartphone's model and type the IMEI into the box provided.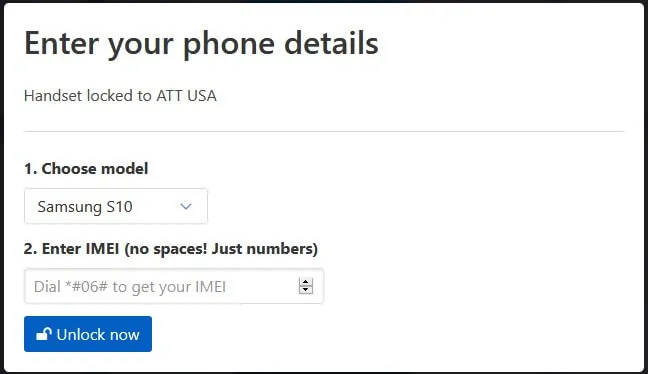 Step 5. Click "Unlock Now" and complete the payment stage to finalise the process.
In a matter of days, an email will be sent to you explaining that the process is complete, and the carrier lock has been removed.
DreictUnlocks is a Samsung unlock code generator create SIM network unlock pin, after they send you the code and instructions, you'll use your Samsung phone without hassles.
1.3 Unlock Samsung Phone Network Lock Using dr.fone – Android SIM Unlock
This third and final method on how to unlock Samsung uses a popular piece of software, dr.fone – Android SIM Unlock.
Instantly removes carrier locks (no waiting around)
Securely protects your data and doesn't cause loss
Won't require the device to be rooted
Easy to follow and displays step-by-step instructions
To unlock your Samsung phone with dr.fone, there are a number of extra steps you will need to take. We urge that this doesn't discourage users since dr.fone is incredibly effective in SIM unlocking situations.
Step 1. Download and install a copy of dr.fone – Android SIM Unlock on your computer.
Step 2. Launch the program and connect the Samsung device using the appropriate USB cable.
Step 3. Click "SIM Unlock" on the main menu and "Next".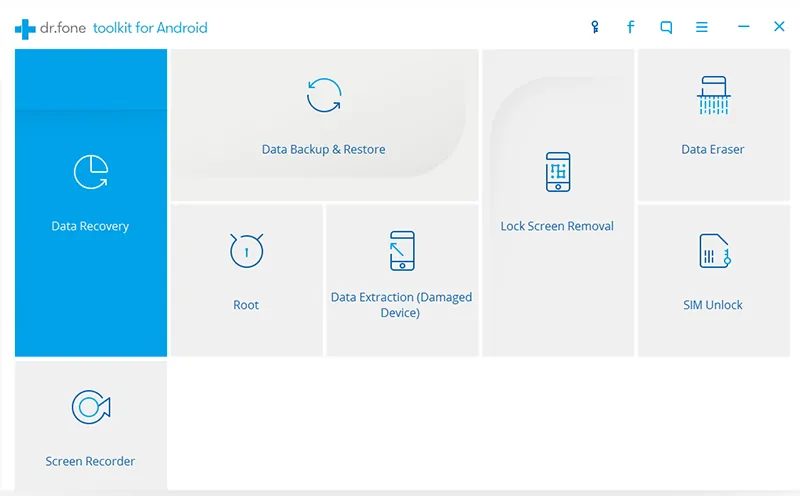 Step 4. To enter the required Diagnostics Mode, dial *#0808# or ##3424#, or #9090#. Try each number until one of the menus displayed on dr.fone is shown to you.
Step 5. Press "Unlock" and wait a few minutes whilst the SIM unlock is processed.
Step 6. After successfully removing the carrier lock dr.fone must put the device back into Normal Mode. Click on the "Restore Mode" button.
Step 7. Again, dial either *#0808#, ##3424#, or #9090# and click "Next" once the same menu as before appears.
When using dr.fone, more effort is needed than the other two methods. On the upside, after installing and buying a copy of dr.fone – Android SIM Unlock, you never have to pay for a solution again.
Part 2 – How to Unlock Samsung Phone from FRP Lock?
Perhaps an FRP lock is holding you back from fully accessing the Samsung smartphone. Google use this security feature to stop harmful individuals from using stolen devices, but it also means some second-hand buyers get put in unfortunate situations.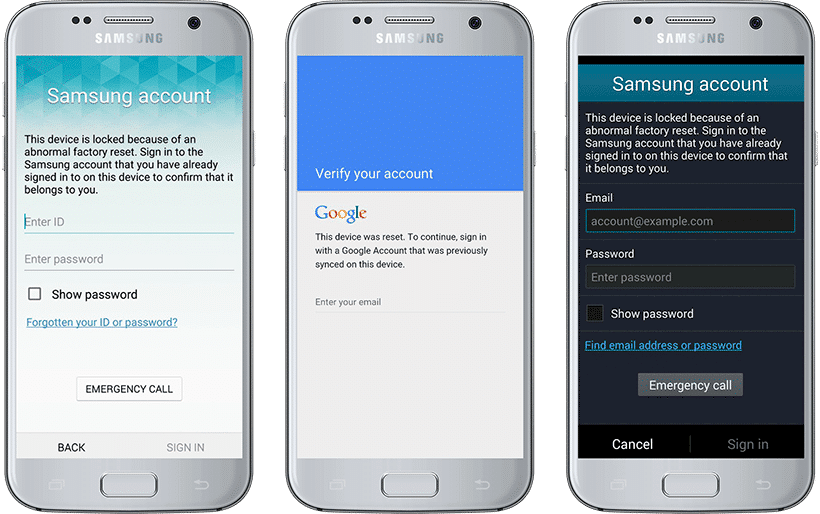 To remove FRP and learn how to unlock Samsung phone, there are several things you can try:
Use an unlock service that remotely removes FRP locks for a small fee and at the hands of professionals
Install a third-party FRP Bypass APK (this involves a lot of technical steps and can be dangerous if the wrong APK is installed)
Download and use the Google FRP Bypass tool to remove FRP
A removal service is the ideal approach given the complexity of the process. Find out more about how to unlock Samsung FRP lock and decide the best approach for yourself.
Part 3 – How to Unlock Samsung Phone from Pattern Lock?
And last of all, you might be faced with a pattern lock that you don't know the passcode for. It isn't easy to remove a pattern lock and as much as we'd like there to be, an unlock service isn't available for this.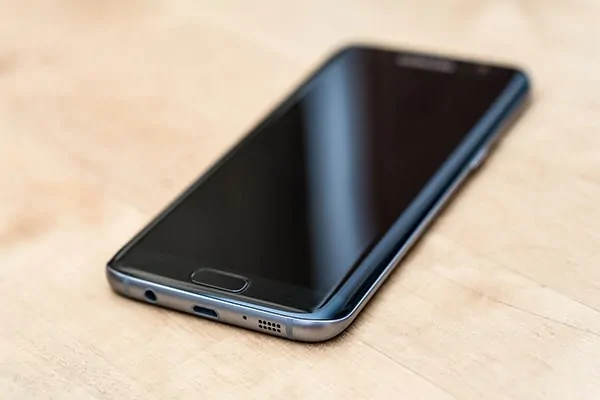 Instead, you can try:
Signing into Samsung's Find My Mobile platform and remove the lock using your Samsung account password
Factory resetting the device by wiping it in Recovery Mode (undesirable, will delete personal data)
Using an effective software solution
Those are just the three notable ways of approaching pattern lock removal and you can read the full guides for each solution, and some other solutions, in our Samsung pattern lock removal article.
Conclusion
Android users can encounter lots of different problems and like them, learning how to unlock Samsung comes with a handful of fixes. Hopefully, you can use one of the methods above to remove whatever type of lock bothers you, whether it be a carrier lock or an FRP lock.
You may like: