Last updated on

November 6, 2020

by Darren
Hi Darren,
How can I unlock a phone from Simple Mobile? I tried a lot of methods but can't bypass it.
Could you please help me with this?
Thanks a lot!
Jones
Are you struggling to unlock your phone like Jones?
I know how annoyed and difficult it can be to find a way that can actually unlock a Simple Mobile Phone.
We spent a lot of money and time on this, but it is worth it. Here are two verified ways ready to talk to you today!
Part 1. FAQs About Simple Mobile Unlock
Before we talk about Simple Mobile phone unlock, here are several questions you may be interested in.
1.1 Why should I unlock my phone?
Firstly, use your phone on another network is the biggest benefit of having a phone unlocked. All you have to do it to insert a new sim card from another network after an unlock.
This is great because it lets you experience your favorite phone plans instead of buying a new phone.
Secondly, this flexibility can also come in handy for people traveling abroad. Unlocking your Simple Mobile phone will allow you to use either a global SIM card or a local carrier's SIM card, which can offer lower rates than roaming with your US carrier.
Last but not least, unlocking your phone will raise the price you get if you plan to sell it.
1.2 Can I unlock Simple Mobile phone for T-mobile?
Of course yes! Please understand that a GSM-capable phone can only work on GSM networks. It is not compatible with a CDMA network.
Simple Mobile operates on GSM wireless network. So, an unlocked Simple Mobile phone can work on any GSM-capable networks such as AT&T, T-Mobile, TracFone, Metro PCS, etc.
1.3 How long does it take for Simple Mobile phone unlock?
Well, it all depends. There are only two ways that actually worked for us during our research.
The common way is to send an unlock request to Simple Mobile, this is free but it will take up to 30 business days to receive a sim network unlock pin.
While the advanced way is to use an unlocking service, it's not free but will have your phone unlocked within 24-hour.
1.4 How do I know if my phone is blacklisted?
Please note that there is no way to unlock a blacklisted phone. So it's necessary to check the blacklist status of your Simple Mobile phone with an accurate blacklist checker.
There're too many blacklist checkers who generate blacklist reports from an outdated database. This is terrible and you should keep away from them.
Here we recommend you use the All-in-one IMEI checker, the experts will check your phone manually and guarantee a 100% accurate report. If your phone is blacklisted as the following one, it won't be unlocked!
And your phone may already be unlocked. You can also learn if your phone is unlocked and other useful information from this report.
Part 2. How to Unlock Simple Mobile Phone (iPhone / Samsung / LG…) for Free?
The first way will be sending an unlock request. This is free but you'll have to make sure all their criteria are met.
2.1 Simple Mobile Unlock Policy
Simple Mobile will provide you an unlock code if you meet the following criteria:
You must request handset unlocking
Your phone must have been activated on Simple Mobile network for at least 12 months with Service Plans redeemed no fewer than 12-month
Your handset must be in good standing – not blacklisted (reported as stolen or lost) or associated with fraudulent activity
Your Simple Mobile account must be in good standing
You are eligible for sending an unlock request only once every twelve months.
You can also check if you are eligible to submit an unlock request by calling 1-888-442-5102 or through an online portal at their official website.
Can't meet all the above conditions? Don't worry, Simple Mobile will offer you a partial refund or credit against the purchase of a new Simple Mobile phone. But you should meet the other criteria. Learn more about the criteria from here.
After getting a partial refund or credit, you'll want to unlock your Simple Mobile phone with the advanced method.
2.2 How to Make a Simple Mobile Unlock Request
Step 1. find the model and IMEI number of your handset. There're three ways to get the IMEI number.
Calling *#06#
For iPhone: Go to Settings > General > About
For Android handsets: Settings > About Device
Step 2. Call 1-888-442-5102 and offer what they asked (usually the model, IMEI, and a few questions).
Step 3. Wait until they send an unlock code to you. This will take up to 30 working days.
Step 4. Enter the Simple Mobile unlock code. That's it!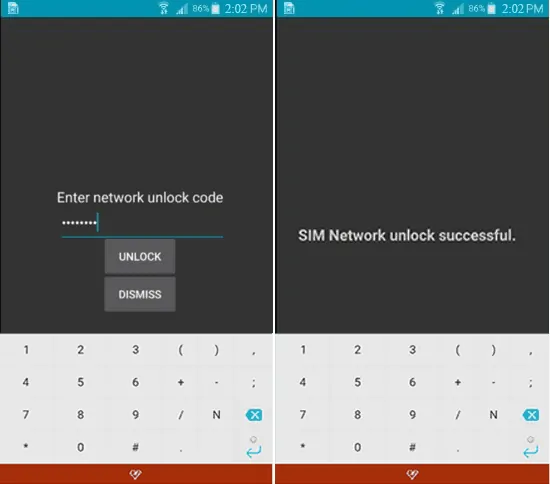 Part 3. Advanced Method to Unlock Simple Mobile Phone
Not eligible to send a Simple Mobile unlock request? This advanced method will help you out!
It is a phone unlock service that many websites provided. And it will unlock your phone by changing its IMEI database entry.
Please understand that the advanced way will charge you a small fee for your Simple Mobile phone unlock. It can 100% unlock your phone even you can't meet the above unlock policy.
3.1 The Best Simple Mobile Unlocking Service

Established in 2015, DirectUnlocks has been proved the most popular and reliable phone unlocking provider.
Differing from other unlocking companies, they have direct access to the manufacturers' databases. This enables them to unlock phone faster than the competition.
Fast: unlock Simple Mobile phones within 24 hours (Samsung phones are just 6 hours)
Permanent: once unlock, your phone won't be locked again
Safe: never affect your phone data & warranty, ensure 100% safe and legal
Remote: unlock your phone remotely during the whole process
3.2 How to Unlock a Simple Mobile Phone?
Here we take Jones's Simple Mobile iPhone unlock as example.
Step 1. Visit DirectUnlocks website and click on Unlock Now.
Step 2. Then select Simple Mobile.
Step 3. Enter the IMEI of your device, it will automatically detect the model of your device.
Step 4. Finally, click on Unlock and make the payment. They will unlock your phone soon.

Jones iPhone was unlocked successfully
In Conclusion
To make things clear, if you are on a tight budget and not in a hurry, then sending an unlock request will be your best choice. All you need is to ensure you meet their unlock policy.
If you're in a hurry or not eligible to send an unlock request, just ask for a partial refund from Simple Mobile and then unlock your device with DirectUnlocks. The service is unbeatable! I'm sure you'll like it.
That's all about Simple Mobile phone unlock. Feel free to leave your comment here if any questions.