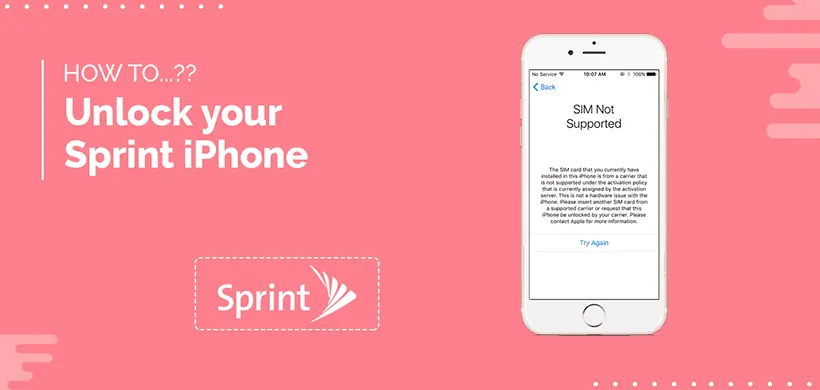 Last updated on

January 9, 2021

by Darren
"My iPhone was bought with a network lock for Sprint but I want to be able to use it on T-mobile, what is the best Sprint iPhone unlock method?"
Something we see a lot of people asking about is how they should go about unlocking a Sprint iPhone. Carriers put these locks on the phones they sell so that customers aren't able to switch to different carriers too soon.
In theory, this isn't a problem for most people, but it can become bothersome after a while and when you wish to switch to another carrier.
In this case, we're going to discuss how to unlock Sprint iPhone, the key points you must know about, and what options you have.
Part 1. What to Prepare before Unlocking
1.1 What You'll Need
Make sure the following are at hand before you start to unlock your Sprint iPhone.
The Sprint account holder's name, account number and password
Find the IMEI number of your iPhone
Your phone number
1.2 Check the Blacklist Status
You need to make sure that your iPhone is actually locked to Sprint and the IMEI of it is not Blacklisted before unlocking or you'll waste a lot of time on this.
Please understand that there is no way to unlock a blacklisted Sprint iPhone.
An accurate IMEI checker will help you on this.
Part 2. How to Unlock Sprint iPhone with Account (7 Days)
To start with we will explain a common solution: how to unlock your iPhone directly with Sprint.
There're too many limits of this method, if you're not eligible to this, don't worry, we have an alternative method for you to unlock without any limits.
2.1 Things You Need to Know About This Method
Before you even choose this unlocking method, there are a few notes that are important to keep in mind.
The locked iPhone must be associated with your Sprint account. If it's a second hand iPhone, you need to contact the previous owner for help.
Unlocking nationally and internationally are separate processes and must be individually requested from Sprint
iPhones bought 2015 or later can be unlocked and used only in the US
If you bought the iPhone earlier than 2015, you will be notified by Sprint when unlocking is made possible
If your device is an iPhone 5, Sprint will unlock it for international use (but the iPhone can only be connected to Verizon CDMA)
Sprint can unlock iPhones that are marked as stolen, lost, or otherwise have a report, but these iPhones will only connect to international networks
Old iPhone models (e.g. iPhone 4 and earlier) can only connect to the originating carrier
As you can tell there is a short list of limits with this Sprint iPhone unlock method. If your iPhone falls outside of these rules then you will have to look elsewhere for carrier unlocks.
2.2 Minimum Criteria of Unlocking
Even with the list above, there are further criteria for unlocking a Sprint iPhone. Depending on whether you want to unlock the iPhone for US/domestic use or international use, here are the criteria to meet:
Domestic Criteria
iPhone must be compatible with domestic unlocking
Your iPhone must not have any stolen reports
iPhone should be connected to Sprint for at least 50 days
The account tied to the iPhone must have no outstanding payments or be in a bad state
The account's iPhone contract terms and agreements must all be met
International Criteria
iPhone must be compatible with international unlocking
The account tied to the iPhone must have no outstanding payments or be in a bad state
You must be an existing and current Sprint customer and be able to prove yourself as the account owner
The iPhone must be connected to the Sprint network
Your Sprint account must be on the Sprint network for a minimum of 90 days
The iPhone must not have any stolen or lost reports
2.3 Steps to Unlock Sprint iPhone with Carrier
Now that you've checked every one of those requirements to unlock Sprint iPhone, you can finally get started and move on with the carrier unlock.
Step 1. Call Sprint's customer support team at 888-211-4727.
Step 2. Request an unlock code. This will likely come with an extra charge.
Step 3. After roughly 7 days, the unlock will be complete.
Step 4. Replace the Sprint SIM card with a different network's SIM card.
It seems straightforward enough. The problem with Sprint iPhone unlock is that when you go to the carrier, there is a long list of requirements and surprise charges involved. That's why this guide isn't ideal for most people.
Part 3.How to Unlock Sprint iPhone without Account?
Using the following methods if you don't have an account or can't meet all the above creteria.
3.1 Using the Best Sprint iPhone Unlock Service (within 24 hrs)
For several reasons, you might want to take things in a different direction. A third-party website like DirectUnlocks offers services that enable you to remove any carrier lock from your smartphone and at a reasonable cost too.

Best of all, it bypasses all of the limits that are imposed on Sprint customers, like those that are listed in the previous method. With this Sprint iPhone unlock service, you can have high expectations:
DirectUnlocks can remove carrier locks on any iPhone or iPad
Also provides a service for removing carrier locks from various Samsung models
Unlocks Sprint iPhones in less than 24 hours
Carrier locks are removed remotely (you just have to enter a few iPhone details)
Much cheaper than paying a carrier to have the lock removed
These are all great reasons for using DirectUnlocks to remove carrier locks from any iPhone at all. How do you use it? These quick and effortless steps are how:
Steps to Unlock Sprint iPhone 6/7/8/X/XS/XR/11/12
We take iPhone 6 as an example to show you how to use this service.
Step 1. Go to DirectUnlocks Sprint Unlock page. Click on your iPhone model from the list of iPhones that are shown.
Step 2. By clicking on each of the dropdown menus, choose the country your iPhone is registered to and then the Sprint network.
Step 3. Type the iPhone's IMEI number into the box provided. You can retrieve this code by dialling *#06# on your iPhone, and the IMEI will be displayed.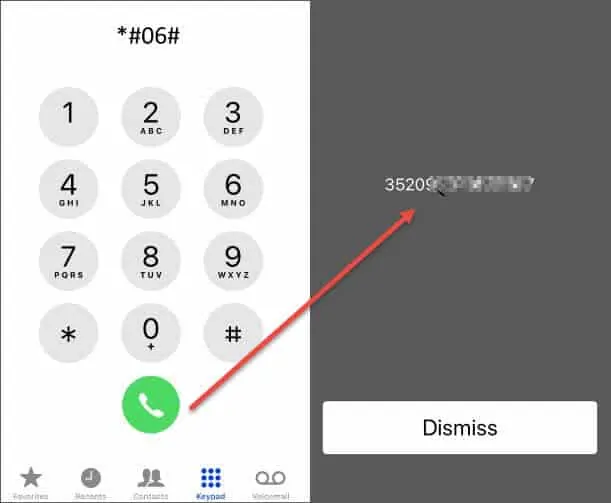 Step 4. Click "Continue" to proceed to the payment stage.
After completing the payment, you'll receive an order number. You are able to use this number to track the progress of the iPhone unlock until it is completed.
It couldn't be any easier! To unlock Sprint iPhone this way you are making it as easy as possible. In less than 24 hours the delivery will be made, your iPhone will unlock from Sprint, and you're free to connect to any carrier you want to.
3.2 Using a Hardware Solution (within 3 mins)
You can also unlock an iPhone from Sprint by using a hardware solution – UB SIM. It's a chip that is specially designed to unlock iPhone carrier lock. This chip supports iPhone 6 – iPhone 13 Pro Max running iOS 15 and lower versions.
To use it, you just need to insert a SIM card together with UB SIM chip into your iPhone. Then follow the instructions it shows to get your iPhone unlocked.

The whole process won't take you more than 3 minutes.
Conclusion
In our opinion, these are the two most important methods to unlock Sprint iPhone. If you aren't concerned about the high charge and waiting time of contacting Sprint directly, that may be an alright method for you.
But if you want to save money where possible, only spend what's necessary, and unlock an iPhone as quickly as possible, DirectUnlocks is by far the most effective solution for you. We highly recommend this service as it can unlock most iPhones and Samsung smartphones, and it's a really easy process too.