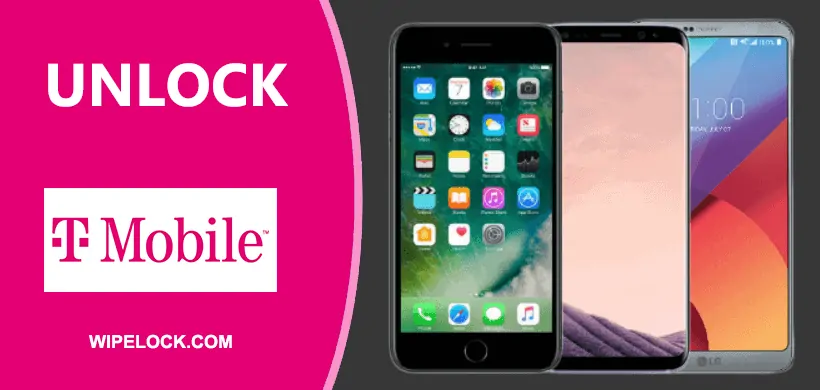 Last updated on

October 3, 2022

by Darren
Bought a second-hand mobile phone? Then there's a chance that it wasn't prepared properly by the seller. It might not have been wiped properly or it could have an active carrier lock.
If the phone is locked to the T-Mobile network then you'll need to have the T-Mobile account that is associated with the phone if you want to remove the lock.
Of course, you likely won't know the T-Mobile account details so, in this guide, we'll be showing you how to unlock a tmobile phone without the account.
Part 1. Things You Should Note before Unlocking a T-Mobile Phone
You may be interested in the following questions.
1. Can I Unlock a Blacklisted Phone?
If your phone has been blacklisted, perhaps because you reported it as lost and forgot to tell your carrier that you found it again, then you won't be able to unlock your phone.
Blacklisted phones can't be unlocked until they are taken off of the blacklist, which is why you must check the blacklist status before attempting to unlock.
2. How to Check Blacklist Status?
So, how do you check a phone's blacklist status?
All you have to do is use an accurate IMEI Checker such as WipeLock and you'll get a breakdown of important details about your phone, including whether or not it has been added to a blacklist.
IMEIs are manually checked by experts to ensure accurate reporting
IMEI report shows your phone's blacklist status, iCloud Lock status, carrier, and many other details
Customers receive a free guide on how to unlock their phones
IMEI reports are not generated, they are individually created
As a top-notch IMEI checker, you can also be assured that this is affordable and accurate, so it will quickly reveal if your phone is on a blacklist.
3. Can I Unlock My T-Mobile Phone for Another Carrier?
Yes, you can use your unlocked phone on another carrier.
That being said, only some carriers are going to be compatible with your phone.
There are two types of network – GSM and CDMA. T-Mobile is a GSM network so it can only connect to other GSM networks, like AT&T, but it can't connect to CDMA networks, like Verizon.
So, if you want to connect the phone to a specific network, do your research and make sure that unlocking will actually help.
Part 2. How to Unlock T-Mobile Phone without Account for iPhone/Samsung/LG…
To kick things off we'll be listing the 3 top methods that will enable you to unlock any T-Mobile phone without the relevant account.
1. Using Software to Unlock T-Mobile Phone without Account
The first thing you should try is a software solution, and there is a lot of different software available on the internet that you can download and use to unlock T-Mobile phones.
How this type of software works is simple – you connect your phone to the computer, run the software (the exact process differs between different software), and the carrier lock is removed instantly.
This method doesn't come without downsides though.
Cons
Finding an effective software isn't easy (many of them don't work)
For recent versions of the iOS firmware, this type of software is ineffective
2. Adjust the Hardware
Adjusting the phone's hardware is also a way of unlocking a T-Mobile Phone without account required, but this is far riskier than most of the other methods you could use.
With this method, there are several approaches that you can take but usually, you'll need to get in touch with a specialist who can take care of it.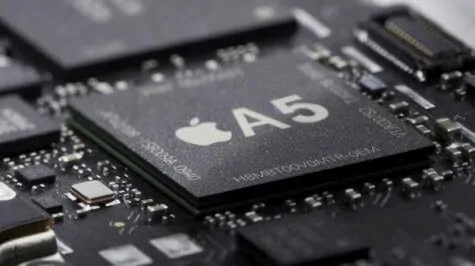 If you try to do it yourself and you're unfamiliar with the hardware components, you'll likely cause damage.
The method that the specialist uses could involve replacing hardware components, soldering certain pieces together, or reprograming the hardware modules so that carrier locks are ineffective.
Although we wouldn't recommend this approach due to the risks, it's one of the options you have.
Cons
This is an extremely difficult method to use
Altering a phone's hardware can result in permanent damage to the device
Professionals don't offer this service, only black-hat people do
Messing around with phone hardware in any way will void your warranty
3. Using a T-Mobile Unlock Service
Our preferred approach to unlocking any phone, whether it's locked to T-Mobile or any other carrier, is the unlock service.
IMEI unlocking services take your phone's IMEI number (a unique code, specific to each device) and unlock it from whichever carrier it is locked to.
Every unlocking service has its own technique, but usually they change the IMEI database records for your device's IMEI so that the lock is no longer active.
There are several reasons why this method is much better than others.
Permanently unlocks the IMEI (many software solutions are only temporary)
These services are non-intrusive and very effective
Unlike unlocking with the hardware method, this does not void your warranty
How We Test IMEI Services
Before we go ahead and recommend any unlocking services to you, we thought it would be best if we explained our criteria for recommending these services.
There are 4 key things that we focus our attention on.
Success Rate. The most important thing is how successful the service is at unlocking IMEIs. If a service has a success rate of close to 100% then this is massively important to us.
Price of Service. Just as important is how much the service costs for customers to use. Understandably this isn't a free service, but we look for services that don't overcharge customers and provide reasonable pricing.
Delivery Time. Most users want to get their phone unlocked as quickly as possible so they can connect to a different carrier, so how long it takes for each service to complete the unlock is something we look into.
Supported Models. Some services only support iPhones or Android, others only support the latest smartphone models. When we're reviewing services, we look for the services that support unlocking a wide range of devices so as many users as possible can use the service.
Finding services that tick all of these boxes hasn't been easy, but after much research and testing, we were able to narrow our search down to two specific services that are very effective and don't disappoint.
Service 1. DirectUnlocks (North America and the UK)
For readers who are in any North American countries or the UK, and who have a phone locked to T-Mobile, the best service you can use is DirectUnlocks.

This service is the most effective one for phones in these areas, unlocks any iPhone or Android phone, and is an affordable solution that unlocks phones in just hours.
Follow these steps to Unlock T-Mobile Phone without an Account
Step 1 – Go to DirectUnlocks Unlock page.
Step 2 – Next, choose the country that the phone is registered in and enter the IMEI number. Click the unlock button to proceed.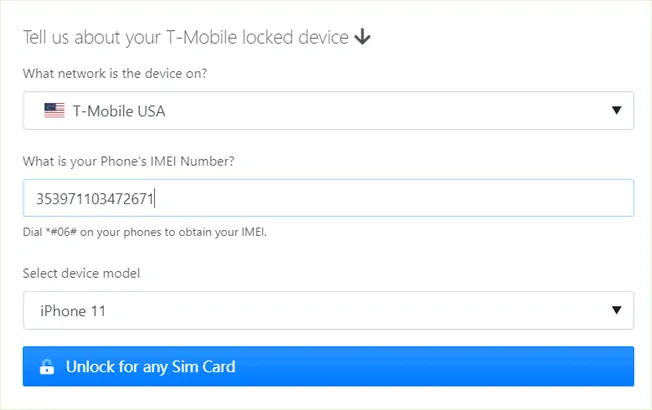 Step 3 – On the following page, enter the personal details that are requested and make a payment.
Step 4 – Once you place your order you'll have to wait between 1-24 hours and you will be notified once the unlock is complete:
For iPhone: They will unlock it from T-Mobile within 24 hours
For Android: They will send you a T-Mobile unlock code & a guide on how to use it to unlock within 6 hours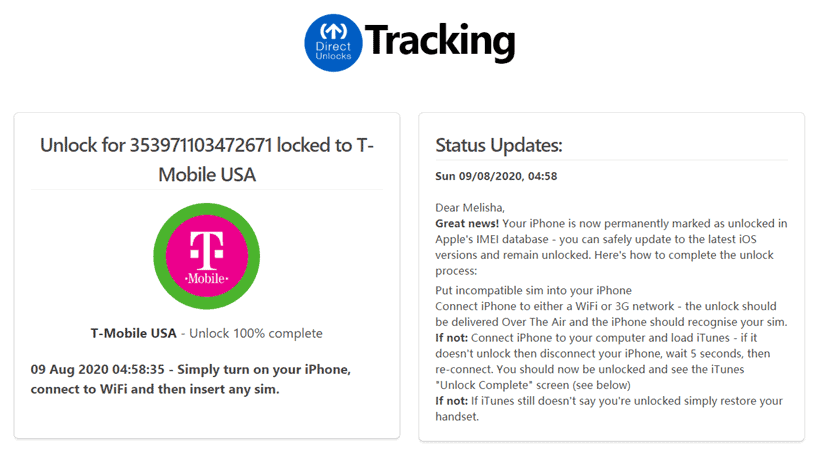 One of the best things about DirectUnlocks is that it has such a fast delivery time, allowing customers to unlock their phone's IMEI in less than a day.
In comparison, if you go directly to a carrier, they tend to take up to 10 working days. For this reason alone, we'd recommend you consider DirectUnlocks.
Service 2. ExpressUnlocks (Rest of the World)
If you're not in North America or the UK, the service we'd suggest to you is ExpressUnlocks.

This is a similar service to DirectUnlocks but is more catered towards other countries, making it the better option.
How does it work? Almost identical to DirectUnlocks. You select your phone's country and network, enter the IMEI, fill in your information and payment details, and wait for the professionals to unlock your T-Mobile phone.
ExpressUnlocks is also an affordable option and works for almost every iPhone or Android phone. On top of IMEI unlocking for T-Mobile, this service works for other networks including AT&T, Verizon Wireless, and Sprint.
Part 3. How to Unlock T-Mobile Phone with Account for Free?
On the other hand, if you do have access to the T-Mobile account, you'll have an easier time unlocking the phone and here's all the information you need to know.
1. T-Mobile Unlock Policy (Unlock Requirements)
First of all, you need to check if you're eligible for requesting an unlock from T-Mobile. Some people are ineligible so make sure you meet these unlock requirements before proceeding.
The phone must have come from T-Mobile
The T-Mobile account must not have any outstanding payments
The phone mustn't have reports that it has been stolen or lost
The phone needs to have 40+ days of activity on the T-Mobile network
If the phone is contracted, you must have paid a minimum of 18 monthly payments
If the phone's contract was cancelled, all previous payments must be made
For prepaid devices, you must have topped up the balance by $100 or more in total
Even if you meet all of these requirements, T-Mobile may request additional information from you as proof of ownership.
Additionally, if you are considered military personnel and don't have an account in bad standing, some of these unlock requirements may not apply to you (if so, contact T-Mobile directly for clarification).
2. What You'll Need to Unlock Your T-Mobile Device
After making sure that your phone is eligible for a T-Mobile unlock, you need to get some pieces of information together before requesting the unlock. Here's what you'll need:
Name of the T-Mobile account holder and their social security number
T-Mobile account number
T-Mobile account password
IMEI number of the phone you're unlocking
Phone number of the phone
With all of this information written down, you're ready to continue and officially request an unlock from T-Mobile.
3. Unlock T-Mobile Phone with Device Unlock App
Now that you're ready to unlock your T-Mobile phone, you can choose between a couple of methods.
The first method is with the tmobile unlock app, and this is the simplest way to do it if you have account access since the app comes installed on all T-Mobile phones (only for Android).
Step 1 – Launch the Device Unlock App and choose your phone from the Devices menu.
Step 2 – Scroll down and under How-Tos, tap on Security and then tap Mobile Device Unlock.
Step 3 – Instructions will appear on-screen and will walk you through the remainder of the process.
Because this app is already at your disposal, this is usually the easiest way of unlocking a T-Mobile phone. However, certain phones don't have this app and in that case, you'll need to use this next method.
4. Contact Support for T-Mobile Device Unlock
The alternative solution is to get in touch with T-Mobile support directly and ask them for an unlock code. With this method, you achieve the same result as the app but it takes a little longer.
Step 1 – Go to the T-Mobile contact page and call the appropriate support number.
Step 2 – Once you are connected to a support agent, explain that you want to request an unlock code. They will then ask for the details we listed above so that you can prove you are the account holder.
Step 3 – After providing the agent with information, your unlock request will be submitted.
Step 4 – After a few days, you will receive the unlock code by text or email, along with instructions on how to use it.
Whenever you have to contact support it should be expected that the unlock will take slightly longer. So, if you're not in a rush, this is an ideal method.
Conclusion
Whether or not you have the T-Mobile account that is associated with your phone shouldn't prevent you from unlocking it.
As we've explained in the solutions above, there are ways to unlock T-Mobile phone without the account but also ways to unlock the phone if you do have the account – of course, the latter methods are easier.
Unlocking your phone from a carrier has so many benefits and best of all, it lets you freely connect to another carrier. Don't be restricted by carrier locks any longer and get straight to work on unlocking your phone!