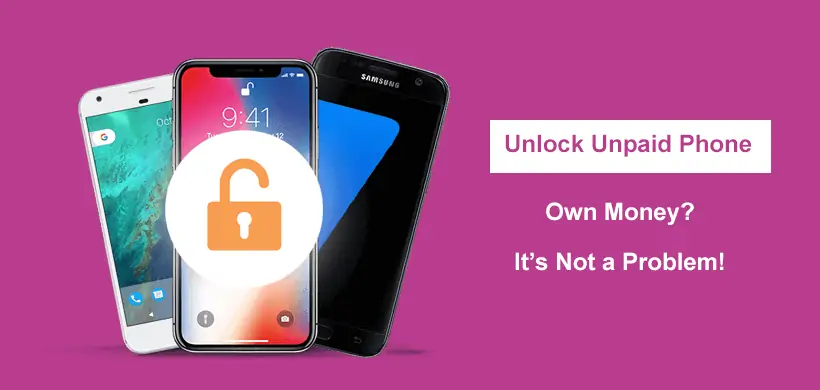 Last updated on

May 30, 2022

by Darren
Hi Darren,
I'm owning a repair shop at NY city, recently, I got a lot of unpaid phones that is locked to Sprint or AT&T. Is there a way to unlock it if the owner still own money on it?
Thank you in advance for your help!
David
The short answer is yes! You can unlock your phone even if it's an unpaid phone by using a third-party service or contacting your carrier. But note that a blacklisted phone can't be unlocked.
Getting a new phone contract is always a good time. You just signed up for a new data plan and you got the latest smartphone model, what more could you want?
Well, after a few months, you might realize the data plan is not as good a deal as you originally thought. This might lead to you wondering can you unlock your phone if you still owe money on it?
It's a fair question especially if you want to sign up with a new carrier for a better deal, and we'll be answering it in this article.
Part 1. About Unpaid Phones
1. What is an Unpaid Phone?
There are a few things that define an unpaid phone. The two most common groups that fall into this category are overdue bills and ongoing contracts.
You have an unpaid phone if your bill is due but you haven't paid it yet. This also applies to your outstanding balance even if your contract has technically ended since you still need to pay for it.
You also have an unpaid phone if the contract is still going. So, if you're 10 months into a 12-month contract, your phone is unpaid up until the final payment has been made.
2. Difference Between an Unpaid and a Blacklisted Phone
Having a blacklisted phone is much more serious than an unpaid phone. A blacklisted phone is a phone which has been flagged as lost, stolen, or part of a fraudulent scheme. There are many other limitations to a blacklisted phone compared to an unpaid phone.
Let's say you wanted to unlock your phone so that you could connect to another carrier, or because you wanted to avoid international data plan fees. If your phone is unpaid this won't be a problem, but if it's blacklisted you won't be able to unlock it.
3. Can You Unlock a Phone if You Owe Money on It?
As we said above yes, you can unlock a phone if you owe money on it (you will still be required to pay those bills even if you unlock it). The problem arises when your phone is blacklisted, as unlocking it would then be impossible.
You can find out if your phone has been blacklisted using the WipeLock IMEI Checker. Differing from other IMEI checkers, this one will check your IMEI manually by experts to make sure the IMEI report 100% accurate.
After ordering a report of your device you'll receive a lot of useful information, including the blacklist status.
If your report comes back clean and your device is not blacklisted, you're good to go! You can use DirectUnlocks to get your device unlocked without paying the money you owed.
Part 2. How to Unlock an Unpaid Phone
Now that we know a bit about unpaid phones, you probably want to know beyond can you unlock your phone if you still owe money on it? We now know that the answer is yes, and now we'll be looking at how to unlock an unpaid phone.
1. Using DirectUnlocks to Unlock Phone with Unpaid or Outstanding Balance

First, we have the DirectUnlocks service. This is one of the most effective services on the market and we can vouch for it; it really does work and it provides a lot of features.
Not only is your phone unlocked within just 1 day of you placing an order, but the unlock is permanent even after a factory reset has been performed. The entire unlock process is done remotely by experienced experts so that you don't have to send your phone away and wait for weeks. Best of all, you won't need to pay the owed money after your phone is unlocked!
Steps to Unlock an Unpaid Phone (iPhone/Samsung/LG…)
I'm going to show you how to unlock an unpaid phone from AT&T. Follow these steps to use DirectUnlocks the right way.
Step 1 – Navigate to the DirectUnlocks phone unlock service.
Step 2 – Select the country you live in from the drop-down menu and the carrier that your mobile phone is currently connected to.
Step 3 – Type the phone's IMEI number into the box provided then click Unlock for any SIM card.
Step 4 – On the following page, agree to the Terms of Service by checking the box, then click on either of the payment methods and pay for the service.
After paying for your order, it will be submitted and all you have to do is wait for it to be completed by DirectUnlocks.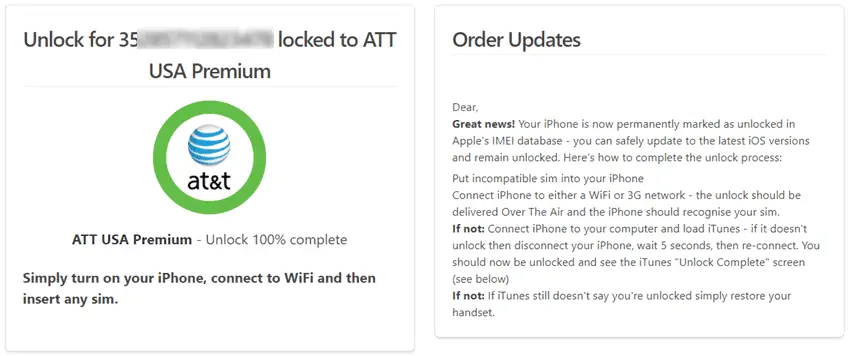 This should take just 24 hours and after it's completed, you can use your phone on any network you want to.
2. Ask the Carrier for Help
Asking your carrier for help is always one option to understand how to unlock an unpaid phone.
Most of the time this will result in your phone being unlocked without any issues, but it's worth researching your carrier's specific process before you get any expectations.
Although each carrier is different, here are the steps you can expect to follow when trying to unlock a network locked phone:
Step 1 – Contact the carrier and request a carrier unlock from them. For example, if you want to unlock your unpaid phone from Sprint, just contact them on 888-211-4727.
| Carrier | Contact Info |
| --- | --- |
| AT&T | 800-331-0500 |
| Sprint | 888-211-4727 |
| Straight Talk | 1-877-430-2355 |
| T-Mobile | 1-800-866-2453 |
| Tracfone | 1-800-867-7183 |
| Verizon | 800-922-0204 |
They will likely require proof of ownership and you will need to confirm the details they have about you.
Step 2 – After you confirm these details, you will then be required to pay the outstanding balance of the contract if you are trying to unlock an unpaid phone.
Step 3 – Once the outstanding balance is paid, the customer service representative will explain the next steps and tell you what you need to do next.
This is relatively straightforward, and you shouldn't have any problems with this method. One problem would be if your phone has been blacklisted in which case you'll have to deal with that first and foremost. To find out if your phone is blacklisted, use the WipeLock IMEI Checker that was introduced before.
Cons
Every carrier has a different set of requirements that you must meet to request an unlock
It can take up to 15 working days for your phone to be unlocked by the carrier
Conclusion
You should now know the answer to can you unlock your phone if you still owe money on it?
Better yet, you'll even know the different ways in which you can grasp how to unlock an unpaid phone.
We've shown you 2 fairly reliable methods, but out of those we'd recommend DirectUnlocks the most since it has long been one of the top services out there. It's also much quicker than most carriers so if you want a fast unlock, that's the method you should be focused on.