Last updated on

September 3, 2022

by Darren
Verizon unlimited plans are probably some of the best in the market right now. They offer better coverage, high-speed data, great family plans, various plans and phones to pick from, etc. However, Verizon is relatively expensive when compared to other network carriers.
Maybe the pros outweigh the high cost, but not everyone can afford that. When the time to look for a cheaper plan comes, or you are planning to leave the country, the idea of unlocking your phone will sure come to mind.
Part 1. Confirm Blacklist Status Before Verizon Phone Unlock
The blacklist status of a phone is just one of the many reasons a network carrier will consider before unlocking your phone. Several online tools can be used to check your phone's status, but if you want a detailed report, I suggest you use WipeLock IMEI Checker.
WipeLock IMEI checker is an online professional tool that manually checks the IMEI database to provide you with the most detailed report about your phone. Furthermore, you will be offered a guide on how to remove your phone from the blacklist.
Below is a sample report from the WipeLock IMEI checker showing the blacklist status of an iPhone.
Most carriers only unlock phones whose status is "Clean". So, before requesting Verizon to unlock your phone, confirm the phone's blacklist status by:
Step 1: Dial *#06# to retrieve your phone's IMEI number.
Step 2: Go to the WipeLock IMEI checker webpage.

Step 3: Type your phone's IMEI number, then click Pay Now to proceed.
Part 2. Reach Out to Verizon to Unlock Your Phone
Different carriers have different unlocking procedures, but it is pretty simple for Verizon. Chances are high that it is already unlocked.
As long as your phone was purchased after July 19, 2019, your phone will be unlocked automatically 60 days after the purchase or activation date. This policy applies to both postpaid and prepaid phones.
However, if your phone is still unlocked after this period, you can request Verizon to unlock it. Your unlock request will only be approved if you meet the following policies.
Verizon Device Unlocking Policies
You must own the phone for 60 days after purchase.
Your Verizon account should not have any pending bills.
The phone should not be blacklisted (reported as stolen, lost or fraudulent)
For military personnel, unlock requests are instant, but you must have deployment orders for outside Verizon coverage.
How to Unlock Verizon's Prepaid Phones
Even though the automatic unlock applies to both postpaid and prepaid phones, some old prepaid phones still need to unlock codes to unlock them.
If you meet all the requirements and your phone is still unlocked after 60 days, you can try the following fix to see if it will unlock.
Step 1: Insert a SIM card from the carrier you wish to use.
Step 2: When asked to enter a code, use one of the codes below
Step 3: That's it; your phone should now be unlocked.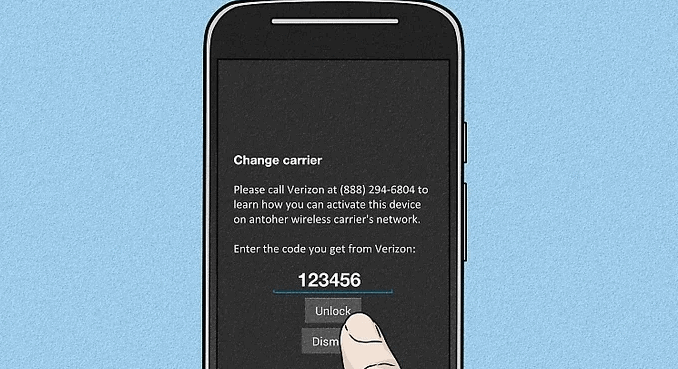 Remember: All Verizon phones are automatically unlocked 60 days after purchase. This is a special case, and you should contact Verizon for assistance.
Part 3. Use 3rd – Party Unlock Services – DirectUnlocks
What happens when you still need your phone unlocked and don't meet all policies? What happens when your phone has been blacklisted because of pending bills?
Sometimes the reason for not meeting the unlock policies is unavoidable. When that is the case, the only solution is to use 3rd party applications like DirectUnlocks.
DirectUnlocks is an online unlocking service that will instantly unlock your phone without considering any of the abovementioned policies. Features making DirectUnlocks the best option to use include:
Unlock any Verizon phones for international use
Unlock a verizon phone without the code
Unlock Verizon phones before the 60 days elapses
Unlock Verizon phone that isn't paid off
When using DirectUnlocks, all you need to do is provide your phone's IMEI number, then let the technicians do their thing.
How to Unlock Verizon Phone Using DirectUnlocks
DirectUnlocks only needs your IMEI number to free you from your Verizon contract. You can quickly get your phone's IMEI numb er by dialing *#06#.
When you have the IMEI number ready, see the steps below explain how you can unlock your Verizon phone using DirectUnlocks.
Step 1: Go to the DirectUnlocks unlock Verizon page.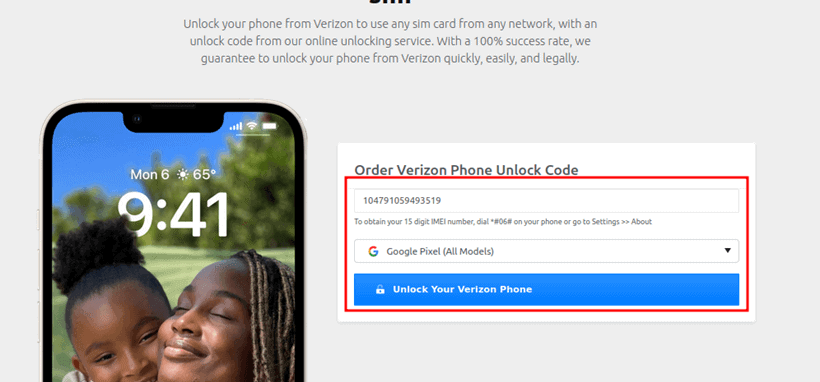 Step 2: Enter your phone's IMEI and brand from the dropdown menu. Click Unlock Your Verizon Phone when done.
Step 3: Click Pay with Credit/Debit Card to proceed with payment on the payments page.
Part 4. FAQs About Verizon Unlock
Will Verizon Unlock My Phone Automatically?
Yes. Verizon's policy states that devices bought from their shops or retailers, postpaid or prepaid, will be unlocked 60 days after the purchase date.
If you are in the military and are expected to deploy to an area outside Verizon's coverage, Verizon will unlock your phone immediately.
The devices do not get locked again after that.
Can Verizon Unlock My Phone if I Forget the Passcode?
Sure. Locked screens are now phone-related and not network-related issues. According to Verizon, all devices are automatically unlocked if:
It's been 60 days since the phone was bought
The Verizon account has no pending bills
The phone has not been flagged as lost, stolen, or fraudulent.
Therefore, the device will be unlocked even if you forgot the passcode and will be ready for use when you remember your passcode and unlock it.
What Is the Unlock Code for Verizon Phones?
Verizon automatically unlocks their phones 60 days after the purchase date as long as the unlock policies are met.
However, when your device is still locked after 60 days, you can use the codes below to unlock your phone.
Insert the SIM card you want to use, then enter any of the codes above when prompted to enter a code. Contact Verizon for help if you continue experiencing problems.
Why Should I Unlock My Phone?
People unlock or buy unlocked phones for various reasons. Some of them include:
Freedom to switch carriers – reasons for switching carriers range from expensive monthly plans to coverage. Either way, when your carrier is not working as it used to, you will be free to switch.
Dual-sim usage. Locked phones only allow you to use two different numbers from the same carrier. When you unlock your phone, you will be able to use two different SIM cards, giving you the chance to pick the best plans.
Travelling. Flying around the world is fun, but it will be more fun when you don't have to worry about coverage and expensive charges. Unlocking your phone allows you to use SIM cards from local carriers.
Quick and reasonable cash when selling. Locked phones are pretty tricky to sell. In addition, they always sell for less. Unlocked phones are the opposite. Everyone wants one, so they sell fast and at a reasonable price.
Is My Verizon Phone Unlocked?
This usually depends on how long you have owned the phone and if you have been paying your account bills. Try a SIM card from another carrier. If the warning "SIM Not Supported" is displayed on your screen, then it is still locked.
Your phone can still be locked even though you meet all Verizon's unlock policies. If that's the case, contact them and request them to unlock it.
Conclusion
There you have it. You now have all the information you require to unlock any Verizon Phone. As you may have noticed, Verizon is probably the only carrier that will automatically unlock your phone after some time.
You have also seen how to unlock your Verizon phone with 3rd part applications or services like DirectUnlocks when you don't meet the unlock policies.
If you are deploying to areas without Verizon coverage, just contact them, and they will unlock your phone even before the 60 days waiting period has elapsed.
You May Like