Last updated on

October 21, 2020

by Darren

Hi Darren,
I got a locked virgin mobile phone (USA) recently, is there any free way to unlock it so that I can switch it to T-mobile?
Looking forward to hearing from you!
William

Did you sign up for a Virgin Mobile phone contract but after several years, you've decided that you want to go to a different carrier?
This sounds a lot easier than it actually is. Disconnecting your phone from any carrier can be a hassle and Virgin Mobile isn't any different.
Fortunately, we're going to walk you through every step of the process and cover multiple methods that are available to you, so let's jump right in!
Part 1. Before Unlocking a Virgin Mobile Phone: Check If it's Blacklisted
1.1 What Does Blacklisted Phone Mean?
Before you attempt to unlock your network locked phone, you need to check if it's on a blacklist. What does this mean though?
Simply put, if your phone is blacklisted then it means that it has been reported as stolen or lost which resulted in the carrier "blacklisting" it.
This is an important thing to check because if your phone is on a blacklist, there is no way to unlock it from the carrier. Therefore, you will need to have it removed from the blacklist before trying to unlock.
1.2 How to Check If Your Virgin Mobile Phone is Blacklisted?
The most efficient way of checking if your phone has been blacklisted is to use an IMEI checker. What this does is scan databases and find out information about your phone's IMEI. We'd recommend WipeLock IMEI Checker.
Using this checker, a lot of handy information is presented to you including the phone's blacklist status, which network it has been locked to, the country it is registered to (useful for anyone who is travelling), and plenty more.
Unlike other IMEI checkers, WipeLock conducts every report manually – they are not automatically generated. This ensures that the information is 100% accurate and alongside your report, you'll receive a free guide on how to unlock any phone.
1.3 How to Unlock Virgin Mobile iPhone for Free?
Sorry to tell you that there is no way to unlock Virgin Mobile without being charged. Even you called the Virgin Mobile support, they will charge you according to your carrier plan.
Part 2. Contact Carrier to Unlock Virgin Mobile Phone (Up to 30 Days)
One of the ways you can unlock Virgin Mobile phone is to contact the company directly. They will take up to 30 days to process your unlock request which is the biggest disadvantage of this method.
2.1 Criteria to Unlock Virgin Mobile Phone
Before requesting the carrier unlock from Virgin Mobile, you must first confirm that you meet all of their criteria. This includes the following:
The phone must have been distributed by Virgin Mobile
The phone must not be on a blacklist for any reason
The phone's carrier lock must be specific to Virgin Mobile
The account which the phone is registered to must have good standing status
The phone needs to compatible with HSPA or LTE networks
Checking each of these criteria shouldn't take that long, and then you can proceed with the process.
2.2 What You'll Need for Virgin Mobile Phone Unlock
The next step is to get everything you need for the unlock. There are 4 requirements that you must have when requesting Virgin Mobile to unlock your phone:
The phone you're requesting an unlock for
The phone's IMEI number (you can find this in the Settings app or by dialling *#06#)
A SIM card from the different network you want to connect to
An account with Virgin Mobile that has good standing status
Each of these things are important and you'll need to have all of them. Otherwise, you'll likely run into a few roadblocks along the way that slow down the carrier lock removal process.
2.3 How to Unlock a Virgin Mobile Phone
Now that you've checked you're eligible for an unlock and you've got everything you need, the next step is to actually unlock your phone.
Using the guide below, we'll show you exactly what needs to be done.
Step 1 – Contact the Virgin Mobile support team and tell them you want to unlock your phone.
Step 2 – Provide them with any of the details they request. This may include proof that you are the account holder.
Step 3 – After your request has been submitted, wait for Virgin Mobile to send you the network unlock code. This could take up to 30 days.
Note: if your unlock request is denied, you will not receive an unlock code. Instead, you must contact the support team again and inquire about why you were denied.
Step 4 – Enter the unlock code into your device, as per the instructions that Virgin Mobile provided you with.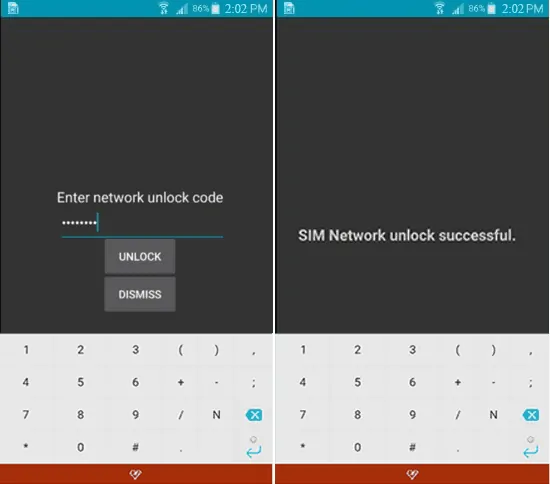 Step 5 – After the code has been entered, remove the Virgin Mobile SIM card and insert the SIM card from a different carrier.
To test if your new SIM card works, simply try sending a text or making a phone call. If the unlock was a success, neither of these things should be a problem!
2.4 Limitations of This Way
Unfortunately, not everyone can request a carrier unlock from Virgin Mobile. Here are the limitations to requesting the unlock from them:
If your phone was subsidized, it must be active on the Virgin Mobile network for a minimum of 90 days for it to be unlocked
If you are using a prepaid phone then you must have enough balance to cover the unlocking fee
If your phone has any outstanding bills or your balance is negative, you must pay those first or the phone can't be unlocked
2.5 This is NOT Free to Unlock Virgin Mobile
On top of those limitations, it isn't free either. Virgin Mobile will charge you for the carrier unlock and how much they charge will vary depending on your circumstances.
The general fee which most customers will pay is $50 (plus tax)
Former Virgin Mobile customers will pay $75 (plus tax)
If your phone is still under contract, you will pay $150 (plus tax)
Obviously, these are very expensive fees to pay. While other carriers charge significantly lower fees, Virgin Mobile makes this service unaffordable to many people. This is why another method might be preferable.
Part 3. Best Way to Unlock Virgin Mobile Phone (iPhone/Samsung/LG/Huawei/HTC…)

With consideration of the limitations and fees of unlocking Virgin Mobile phones, using a service is usually the better choice. In this case, we'd recommend readers to check out DirectUnlocks.
There are no limitations to this service and the pricing is much more affordable.
Delivered in just 24 hours (incredibly fast compared to the last way!)
Very safe as it doesn't require hardware alterations and is handled by experts remotely
Permanently unlocks your phone, even if you do a factory reset
Users can unlock their phone even if their Virgin Mobile account isn't in good standing
Supports unlocking phones on virtually any carrier, all over the world
Very cheap and affordable service
Supports 17 phone brands, including the popular iPhone, Samsung, etc.
The best part about DirectUnlocks is that you don't have to wait a month for your phone to be unlocked. In just days, you can connect to your new carrier and enjoy their data plans.
Here we take an iPhone for example to show you what you'll need to do to use this effective service:
How to Unlock Virgin Mobile iPhone
Step 1 – Go to the DirectUnlocks Virgin Mobile unlock page.
Step 2 – Enter your phone's IMEI number into the box provided. Retrieve the IMEI by dialling *#06# and it will appear on the screen.
Step 3 – Click on Unlock for any SIM card and the following page will show your order details.
Step 4 – After your payment is complete and the order is placed, wait up to 24 hours for your phone to be unlocked.
(William's iPhone is unlocked within 5-hour)
That's literally all you have to do! Placing an order is very cheap and all that's required from you is a few basic details about your phone.
After that, DirectUnlocks' team of experts handles the rest. To make this service better, it works for any carrier you want to unlock from.
Things to Note
As simple as using DirectUnlocks is, there are a couple of things to take note of. Most importantly, the delivery time will depend on your phone model (don't worry, it'll still be unlocked within 24 hours!).
For iPhone users, your phone will be unlocked within the 24-hour window.
If you're using an Android phone, you'll have an even shorter delivery time of 6-hour. Either way, your phone will be unlocked from the carrier in no time at all.
Conclusion
There you have it, everything you need to know about unlocking phones from the Virgin Mobile network. These methods are suitable for other carriers too – if you contact your carrier directly, the steps may differ.
If you decide to use a service like DirectUnlocks, unlocking your phone from Virgin Mobile will be seamless. After you place the order you don't have to do anything else, the team of experts on the other end handle everything for you.
Hopefully, this guide has helped give you a better understanding of how to unlock your phone.