Last updated on

April 22, 2021

by Darren
Summary: Is there anyway to Activate an iPhone without previous Apple ID? Yes! More than one way can help you with this! Read on to find how.
Activating a new iPhone can be an enjoyable moment, especially if you just bought one of the latest models.
You get to set up the latest features (such as Face ID) and when you're using a new iPhone for the first time, you'll also notice that things load faster.
Things aren't always this easy though and you might need to set up iPhone without Apple ID. This is because if the iPhone is second-hand or refurbished, the previous owner forgot to remove their Apple ID from the device.
So, when you try to activate your iPhone, you're expected to sign in with their account. We'll be showing you how to set up/activate iPhone without Apple ID.
Part 1. How to Activate a Used iPhone without Apple ID or Password
To activate iPhone without the owner's Apple ID when you have a second-hand iPhone, things get a bit more complicated.
We've got 3 possible solutions if you find yourself in this situation.
1. Ask the Previous Owner for Help
The most obvious thing you can do is ask the previous owner for help because all they have to do is disconnect your iPhone from their Apple ID and you're good to go.
Get in touch with the previous owner and guide them through these steps:
Step 1. Use an internet browser to go to iCloud.com and sign in using the same Apple ID which is linked to your iPhone.
Step 2. Go to the Find iPhone section and click All Devices at the top of the page, then select your iPhone from the list.

Step 3. On the popup box that appears, click on Erase iPhone.
Step 4. Once the iPhone has been erased you can then click Remove from Account to finish.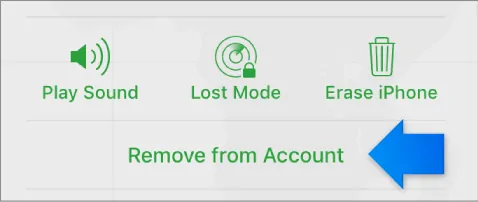 A common issue that we hear users have with this solution is that they don't know who the previous owner is, therefore they can't contact them.
If that's something you experience then we'd suggest using the iCloud Login Finder to get their contact information so that you can get in touch with them to request their assistance.
2. Activate iPhone without Apple ID by Jailbreak
The next solution to activate iPhone without Apple ID involves the software Tenorshare 4MeKey.
This software allows users to remove iCloud accounts from an iOS device without the account password, and by bypassing the iCloud lock you can access almost every feature of your iPhone.
Step 1. Download 4MeKey from its official website, install it according to the instructions, and launch it to begin.
Step 2. When you see the main menu, click on the Remove iCloud Activation Lock tool. Read the briefing and click Start to proceed.
Step 3. Confirm that you have read and agree with the agreement, then click Next and connect your iPhone to the computer using a lightning cable.
Step 4. 4MeKey will then jailbreak your device before it removes the iCloud lock. Follow the instructions that the software provides as they are different for Windows and Mac computers.
Step 5. After the jailbreaking is complete simply click the Start button and the iCloud Activation Lock will be disabled.
You can start by downloading the free version of Tenorshare 4MeKey but if you want to follow through with bypassing the iCloud lock, you'll have to buy a license.
It's also worth mentioning that Tenorshare 4MeKey can only support iPhone 5 – iPhone X. If your device is not supported, just using the next way for activating iPhone without Apple ID hack.
3. Activate iPhone without Apple ID or Password by an Unlock Service
Our final solution is to use an iCloud unlock service. There are a lot of unlocking services, all of them claim that they can unlock Activation Lock without password. But most of them are scammers.
After spending a lot of time and money on testing these services, we finally find 2 trusted iCloud unlock services. To be honest, AppleiPhoneUnlock is our first choice!
AppleiPhoneUnlock can permanently Activate your iPhone without Apple ID or password by using IMEI number. It's very simple to use: you offer the Serial/IMEI number, and they do the rest for you.
No tech required, only 24 hours to get your iPhone unlocked (with FastTrack option enabled at the order page).
Feel free to use it if you want to activate your iPhone full functionality without Apple ID or password.
Part 2. How to Activate a New iPhone without Apple ID or Password
If you've got a brand new iPhone that hasn't had a previous owner but you don't want to use an Apple ID, you can do so easily.
Step 1. Start setting up your iPhone until you reach the Quick Start screen. Here, tap on the Set Up Manually option.
Step 2. Continue setting up your iPhone until you reach the Apps and Data page.
Step 3. Tap on Set Up as New iPhone and then tap Forgot password or don't have an Apple ID?
Step 4. Next, below the two options tap on Set Up Later in Settings.
Step 5. Complete the iOS setup according to your preferences. If you decide that you want to use an Apple ID in the future then you can do so by simply going to the Settings app and signing in/creating an account from there.
In cases where there aren't any technical problems, it's a good idea to sign in with your Apple ID if possible.
This will give you access to as many features as possible so you're getting the most out of your new iPhone. That said, there are a few reasons for not using an Apple ID.
Part 3. How to Activate iPhone When Forgot Apple ID
Lots of people will try to activate iPhone without Apple ID when they've forgotten what their password is, and we can remedy that too.
Simply resetting your password and then logging in with the new account information will activate your iPhone.
Step 1. On a computer, go to the Apple ID login page and click Forgot Apple ID or Password?
Step 2. Click on look it up link.
Step 3. Type your first & last name, and the email you used for the Apple ID and click Continue.
Step 4. If the provided info is correct, you'll find your Apple ID back.
Step 5. Once you've reset the account password, set up your iPhone and sign in using the Apple ID and new password.
Obviously, you aren't using a set up iPhone without Apple ID method here. However, this does offer a solution in the event that you forgot your Apple ID password.
Part 4. FAQs About iPhone Activation
1. Can you use an iPhone without an Apple ID?
Yes, you can definitely now use your iPhone without Apple ID but some functions won't be available. When you want to download apps from App Store, you'll need the Apple ID and password to proceed.
Except that, the iCloud features are unavailable, such as the sync & back up to iCloud, Find My iPhone, etc.
It's highly recommended that you use an Apple ID on your iPhone, this will significantly improve the security of your iPhone and bring you more convenient features.
2. How do I get rid of someone else's Apple ID on my iPhone?
There are 5 ways to remove Apple ID from iPhone without password, I prefer using an iCloud unlock service since it's easy, fast & permanent.
3. Why does my iPhone keep asking for an old Apple ID?
When iPhone keeps asking for an old Apple ID, there may be an app or something purchased under the old Apple ID and needs an update.
What you need to do is to offer the password of the old Apple ID to find the app, then delete it and re-download it using your own Apple ID.
4. Is it illegal to remove iCloud lock?
It all depends. If you purchased a used iPhone directly from the original owner who forgot or can't find the Apple ID & password, then removing the iCloud lock is legal.
However, if your iPhone is stolen or lost, you need to return it to the original owner. Although it's illegal, no one can track your iPhone after unlocking it.
5. Is it safe to use iPhone without Apple ID?
It's not safe to use an iPhone without signing into Apple ID. Apple ID (also called iCloud account) offers a feature called Activation Lock. This feature can prevent someone else from using your iPhone when it's lost or stolen.
You'd better use an Apple ID on your iPhone.
6. Will iPhone recovery mode activate phone without Apple ID?
No! When you restore your iPhone in recovery mode, it just reflashes the firmware package and updates your iPhone to the latest version, it can't activate your iCloud locked iPhone.
Conclusion
Not everyone wants to sign up for an Apple ID and that's completely fine – if you want to set up iPhone without Apple ID then you're free to do so.
There are some situations where you won't have a choice but to avoid the Apple ID including if you have a second-hand iPhone which the previous owner left their account signed in on.
This is where tools like Tenorshare 4MeKey can come in handy and if the previous owner can't help you. But there are some functions of your iPhone that may not work after using this tool.
To permanently activate your iPhone and enjoy all its features, a trusted iCloud unlock service is necessary, we highly recommend AppleiPhoneUnlock. This service is exactly what you need