Last updated on

May 26, 2021

by Darren
Apple has taken a lot of steps to advance its security over the years. From adding Fingerprint ID passcodes and iCloud Activation Locks, it's clear that they make a strong effort to ensure their users are safe and secure.
With an iCloud Activation Lock enabled, it prevents the device from being wiped and a new iCloud account being signed in. this is almost the perfect way to stop thieves from profiting off of stolen devices. However, if you forget your iCloud password or buy a second-hand iPad with the previous owner's account still signed in, you'll want an Activation Lock bypass code.
Part 1. FAQs About Activation Lock Bypass Code
1.1 What is Activation Lock Bypass Code 2020?
An iCloud Activation Lock bypass code is created with MDM (Mobile Device Management) software and can be used to bypass the iCloud lock. This code must be used when the iDevice (iPhone/iPad) is in "supervised mode" and it allows users to get past the lock without having the account's email or password.
Because of how this bypass code works, it can be great for situations where you don't have access to the iCloud account's details.
However, because the method uses supervised mode which most users are unfamiliar with, obtaining a code isn't often the first solution users look into.
1.2 Why Does iPhone/iPad Activation Lock Bypass Code Exist?
So we know that the iCloud Activation Lock is a security feature, but what specific reasons are there for it to be used?
The primary purpose is to stop unauthorized users from wiping someone else's iOS device and claiming it as their own. If they do a factory reset, the iCloud Activation Lock will appear and the user is required to sign in with the original iCloud account. This is very effective since getting someone's iCloud password is not an easy task.
But of course, there are cases where the lock becomes a burden. If you have a workplace device that an employee used their iCloud account on, then removing the lock is in your best interests and a bypass code is a top remedy.
1.3 How Activation Lock Affects an IT Admin?
You might now be wondering how an iCloud Activation Lock affects you, and there are several ways which it affects users/IT admins.
Devices with an activation lock can't be used until the lock/iCloud account is removed
If an ex-employee used a phone and didn't sign out of their account, it is difficult to get in touch with them and get them to remove it
Reassigning an iOS device to another employee is difficult when activation locks are present
Overall, it's a huge inconvenience if your job includes handling workplace iPads and employees don't take the time to remove their iCloud accounts after using them (not to mention replacements are expensive!). Don't start worrying through, there are ways to get around this problem.
Part 2. How to Set & Use iPhone/iPad Activation Lock Bypass Code?
In order to set a bypass code and use it to remove the iCloud Activation Lock, there are two parts of this process that you need to follow.
2.1 How to Set iPad Activation Lock Bypass Code?
For the first part, you must use MDM software to set up and allow the bypass code to be used. There are various software out there for this but the most popular is Mac Profile Manager, so that's what we'll be using for this example.
The purpose of Mac Profile Manager is for businesses to remove Activation Locks from devices that they own but which weren't removed by employees. The following steps are how you set the activation lock bypass code.
Step 1. Using the Mac Profile Manager software, go to the Profile Manager and click Groups.
Step 2. Choose the Everyone group and go to Settings.
Step 3. Enable Allow Activation Lock and click the Save button.
Step 4. Go back to the Everyone group and this time click About.
Step 5. On the Action menu, select the necessary devices and press Allow Activation Lock.
If you have followed these steps when enrolling a device as part of your business, you will have no problem removing the lock.
2.2 How to Enter iPhone/iPad Activation Lock Bypass Code?
In the second part of this process, we'll be proceeding and using the bypass code to remove the iCloud activation lock.
Step 1. Go to the Mac Profile Manager and select Devices from the Profile Manager menu.
Step 2. Choose the device to unlock and go to the About tab.
Step 3. Click the triangle icon and from this menu, you should find the bypass code.
Step 4. When on the device's iCloud Activation Lock menu, leave the Apple ID field empty and enter the bypass code as the password. This will disable the lock.
Note that the Activation Lock bypass code is unique to each of the devices that are enrolled, and you can only use them once. After using the bypass code, you must set up the Activation Lock again.
Part 3. What if Your iPhone/iPad Activation Lock Bypass Code Not Working?
If trying the iPad Activation Lock bypass code approach didn't get you anywhere then there are other options we can consider, such as a software and removal service.
3.1 The Best & Fastest Way to Bypass MDM Lock
The best and fastest way for you to bypass MDM Activation Lock is to use a software when the Activation Lock bypass code not working.
Tenorshare 4uKey stands out in this field. It is a famouse iPhone unlocker that is specially designed to unlock iPhone from screen lock, MDM lock.
With this tool, you'll be able to bypass the MDM Lock within minutes!
Bypass "Remote Management" login screen without any codes
Remove corporate supervision control from your iPhone or iPad without code
One click to bypass MDM lock
Here is how you can bypass MDM Lock without a code:
Step 1. Download & install 4uKey from its offical website.
Step 2. Open 4uKey and click "Bypass MDM".
Step 3. Connect your iPad or iPhone to computer and then click on "Start". It will start removing the MDM lock.
This will take a few seconds to complete.
That's it! This is the best way to bypass the MDM lock.
3.2 Using an iCloud Unlock Service
If your device is locked by Activation Lock instead, the best solution is to use an iCloud unlock service, and one which we always see to be effective is AppleiPhoneUnlock. The types of features we see from this service are:
A straightforward unlocking process with minimal effort required
Capable of unlocking iCloud on any iOS device running the latest iOS versions
iCloud Activation Locks are removed within just 3 days
Cheap and affordable unlocking services available to all users
You need to nothing, the experts will remotely unlock your device
Money-back guarantee, you'll get a full refund if they failed to unlock your device
These are the things you can typically expect from any iCloud unlock service, in particular from the two we mentioned above. Using these services is also very easy to do:
Step 1. Open the website's iCloud unlock service page.
Step 2. Choose the model of the device to unlock and type the device's IMEI number, then click Remove Activation Lock.
Step 3. Enter all of the information required including your email address and payment information. If you want to get your device unlocked within 24-hour, just select the "FastTrack" option.
Step 4. After you pay for your order, wait a few hours and the unlock will be successfully processed.
This is a quick and effortless way to remove an iPad's Activation Lock especially if you didn't have any luck using the bypass codes.
3.3 Using an iCloud Bypass Software
As well as iCloud unlocking services, there is also a selection of software out there which are tailored to remove iCloud Activation Locks when iPad activation lock bypass code not working.
One software that we see mentioned quite a lot is Tenorshare 4Mekey, a paid software solution, and using it requires very little technical experience.
Step 1. Download, install and Launch 4Mekey to your computer.
Step 2. Connect your iPad to the computer with a lightning cable and click on "Start".
Step 3. Click on "Start Jailbreak", then it will initiate to jailbreak your device.
Step 4. After jailbreaking, click on "Start Remove" to bypass iCloud activation lock.
It seems straightforward enough, but this software will jailbreak your device. That's the only disadvantage.
3.4 Unlock with Passcode
Starting from iOS 11, you can unlock the Activation lock with your passcode when "Two-Factor Authentication" is enabled to secure your Apple ID.
Here is how you can unlock:
Step 1. On the Activation Lock screen, there will be an option called "Unlock with Passcode". Tap on it.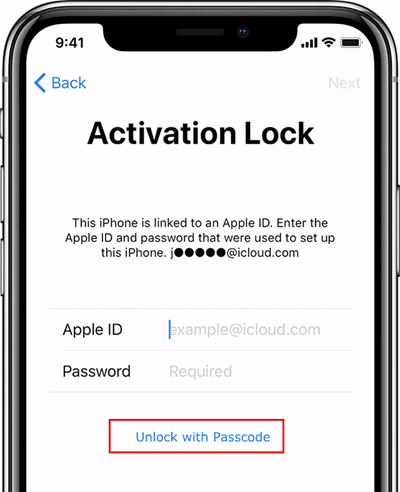 Step 2. Then enter your passcode, the Activation lock will be removed and you can set up your iPhone/iPad without Apple ID or password.
If the "Two-Factor Authentication" wasn't enabled before, then this way won't work for you.
Conclusion
Now that you know everything there is about iPad Activation Lock bypass codes, you can address the issue and find a way to remove the lock from any iOS device you have.
As we said before, iPad activation bypass codes are often too technical for most users to try. And the much easier way to get rid of a lock is with a removal tool we discussed above. They'll offer a high-quality and efficient service.
Check them out and we guarantee you won't be disappointed with the results.