Last updated on

March 19, 2021

by Darren
Are you struggling to deal with the iCloud Activation Lock that has been placed on your iPhone?
You're not alone.
This is unfortunately a big problem for iOS device owners and disabling this activation lock is more than just a hassle.
Thanks to software like AnyUnlock iCloud Activation Unlocker, bypassing these locks is made possible.
With lots of people discovering this new software and wondering if it's legitimate, this review will cover the software in detail and answer all of your questions.
Part 1. AnyUnlock iCloud Activation Unlocker Review
1.1 What is AnyUnlock iCloud Activation Unlocker?
AnyUnlock iCloud Activation Unlocker is created by software developers iMobie, and they claim that this software is capable of remove find my iPhone Activation Lock without previous owner.
After using the tool on your iPhone, all iCloud related features will be accessible. This includes the App Store, FaceTime, and the iTunes Store.
1.2 Supported Devices
As you'd expect, not every iOS device is supported by AnyUnlock iCloud Activation Unlocker. For the most part, it's only old iOS models and older iOS versions that are unsupported.
Here are the supported devices and firmware:
iPod Touch (7th Gen to 9th Gen)
iPad (4th Gen to 7th Gen)
iPhone 5S to iPhone X
iOS version 12.3 and newer
Any devices that don't fall into these groups, or which have old iOS versions below iOS 12.3 installed, can't use the AnyUnlock iCloud Activation Unlocker software.
1.3 Is it Free?
Not entirely. While you are able to try out the software using a free trial, that version of the software is extremely limited and won't actually remove the iCloud lock from your iPhone.
To do this, you'll need to buy one of the licenses below:
Quarterly Plan. Can be used for 1 iOS device, $45.99/3-months.
Yearly Plan. Can be used for 1 iOS device, $49.99/year.
Lifetime Plan. Can be used for 5 iOS devices, $69.99 one-time fee.
Multi-User Plan. Can be used for 10+ iOS devices, starts at $79.99/year.
If you're only going to use this software once, it probably isn't worth spending money on the multi-user plan.
However, if you run into this issue frequently, getting something like the Lifetime Plan would be the best decision.
1.4 Performance
Next in our AnyUnlock iCloud Activation Unlocker review, we're going to focus on the performance of the software.
Specifically, we'll look at how the main features of the software work.
Bypass iCloud Activation Lock
The main feature of this software is that it can unlock iCloud locked iPhone and doing so is pretty easy. All you're required to do is connect your iPhone and follow the onscreen instructions.
There isn't any intense preparation needed. That being said, you will be required to jailbreak your device in order for the bypass procedure to work.
After the jailbreak, you'll be guided on putting the device into DFU mode, and the software handles everything else.
Note
Jailbreaking is a requirement and there is no way to use this tool without jailbreaking
Factory resetting your iPhone will make the iCloud Activation Lock return
Signing in to your iCloud account through the Settings app will reactivate the lock
Find Apple ID
A secondary feature of AnyUnlock iCloud Activation Unlocker is the ability to find the current Apple ID that is signed in on your iPhone.
This feature allows you to find out the email address of the previous owner of your iPhone so that you can contact them to unlink their Apple ID from your iPhone.
Again, this feature will force you to jailbreak the device, and there's no way to get around it. On top of that, there are several concerns when using this feature.
Note
Jailbreaking your iPhone is required to find the Apple ID
After jailbreaking, you may be unable to use your data plan or access iMessage/FaceTime
If you factory reset the device then this tool won't work
iDevice Verification
Finally, the iDevice Verification feature can be used to find out crucial details about your new iPhone.
For example, if you buy a second-hand iPhone and want to find out the battery health or if the iCloud Activation Lock is active, this feature will tell you this information.
There really isn't much to this process. It's as simple as connecting your device to the computer, clicking a button, and the report is generated in minutes.
Note
Doesn't show details such as carrier info or if the device is on a blacklist
1.5 Overall
To give you a quick overview of the points we've made in this review, here are the important details about AnyUnlock iCloud Activation Unlocker to keep in mind.
It's safe to use AnyUnlock iCloud Activation Unlocker
Doesn't support all iOS devices (if you're unsure, check our supported devices list above or install the free trial and see if your device is supported)
Currently, there is only a Mac version of the software available
Can potentially break your device during the jailbreaking process (before removing the iCloud lock or finding an Apple ID)
Using this software will also wipe all of the data stored on your device
Even after removing the iCloud lock with this tool, some functions will still be inaccessible
If you don't want to read the entirety of our review, use this list at the very least so that you get an idea about what to expect from the software.
Part 2. Alternatives to AnyUnlock iCloud Activation Unlocker
You might get to this point of our review and think that AnyUnlock iCloud Activation Unlocker isn't what you're looking for, and that's completely fine.
Thankfully there are other options for getting rid of the iCloud Activation Lock.
2.1 Bypass iCloud
If your goal is bypassing iCloud then AppleiPhoneUnlock is a worthwhile solution. This is a service-based solution that can be used to unlock any iOS device and effectively remove the iCloud account that is restricting it.
The process which this website uses is also very straightforward.
You enter a few details about your device, pay for the service, and then you just have to wait for their team of experts to handle the iCloud Activation Lock removal for you. This site also offers services for disabling carrier locks too!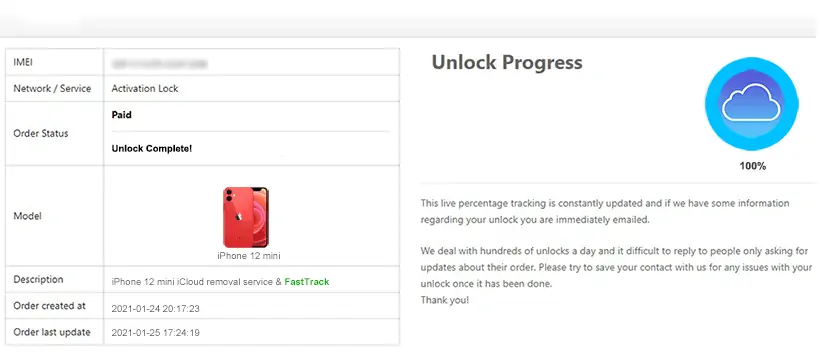 More similar to AnyUnlock's software is Tenorshare 4MeKey, another software solution that showcases its ability to remove iCloud Activation Locks.
With this tool, you don't need the iCloud account's details and the step-by-step guide makes it an easy process to follow.
Downsides of this tool include that it is limited when it comes to the devices it supports – earlier iOS device models and iOS versions are unsupported. Furthermore, you do need to buy a license if you want to completely disable the iCloud lock.
Aside from this, Tenorshare 4MeKey is a relatively effective solution.
2.2 Find Apple ID
Maybe the feature that caught your attention was the "Find Apple ID" feature, but you want to use a different approach.
In that case, you should take a look at the WipeLock iCloud Login Finder. By using this service, you can discover the relevant Apple ID for your iPhone based solely on the IMEI (or serial number) of the device.
Along with this, you'll receive an explanation of how to contact the previous owner and some methods to try if contacting them doesn't get you anywhere.
Unlike AnyUnlock iCloud Activation Unlocker, this tool doesn't require your iPhone to be jailbroken and there's no risk of data loss.
2.3 iDevice Verification
Finally, if you need an alternative to the iDevice Verification feature, you can once again focus your attention on WipeLock but this time on the WipeLock IMEI Checker.
This tool works similar to the iCloud Login Finder: enter your iPhone's IMEI number and you'll receive a detailed breakdown of your iPhone.
Details about the carrier (including what carrier it is connected to and if it's locked to that carrier), if your iPhone is on a blacklist (in which case it can't be unlocked), and if the device is covered by AppleCare+, are all detailed in the report your receive.
All reports are manually processed instead of automatically generated, they're checked against up-to-date databases to ensure accuracy, and are professionally handled.
Conclusion
Now that you've learned about AnyUnlock iCloud Activation Unlocker you can make an educated decision on whether or not to use it.
If you decide not to, you could instead check out the alternatives we've mentioned that are also effective and will get the job done.
Be sure that when making your decision, you try out any free trials that are available so that you get the best idea of whether the tool you're going to use is exactly what you need.