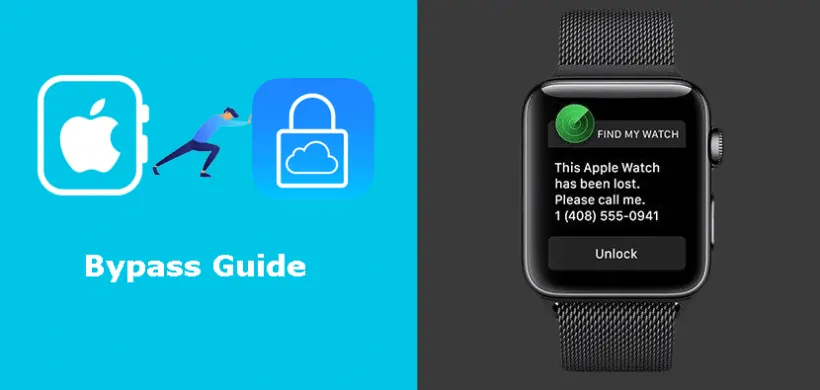 Last updated on

June 2, 2022

by Darren
"I bought an Apple Watch with activation lock but don't know how to bypass. Are there any ways for me to get it unlocked?"
When you get a new Apple Watch (iWatch), you'll find yourself completing the iCloud activation process. This doesn't take too long but, in some cases, it can be a problem.
It's not just with All Watch either – all of Apple's devices require you to fulfill the iCloud activation. If you buy an iOS device from someone else, this gets even harder to deal with.
So, if you purchase a second-hand Apple Watch, we're going to show you how to do Apple Watch Activation lock bypass.
Part 1. Things About Apple Watch Activation Lock Bypass You Should Know
Below we will be covering all of the basics that you need to know about Apple Watch icloud unlock.
1.1 Never Trust an Apple Watch iCloud Unlock Free Service/Software?
No – using a free Apple Watch iCloud removal service/software is not a good choice and will often result in being scammed or your computer being infected.
As convincing as the creators of these free services can be, never trust them. Aside from the risk of getting scammed, even if you find a free service and by chance it does work, the user experience is awful.
Since these tools are free, they rely on sponsorships and ads. Therefore, you'll notice that their site is covered with advertisements and to use certain features, you might have to watch a video ad.
The bottom line is no, you cannot trust a free Apple Watch iCloud activation lock removal service.
1.2 Pros and Cons of Paid Apple Watch iCloud Bypass Service
Before we dive into the top activation lock bypass services for Apple Watch, let's look at the benefits and the disadvantages of using a paid service.
Pros

Cons

Highly-skilled professionals take care of everything for you (no risk of accidental damage!)
Depending on your device's network carrier, it can take just 24 hours for the unlock
Using a paid service will permanently remove the iCloud lock
It's much easier to pay a professional than it is to attempt and possibly damage your Apple Watch

You will have to pay a fee for your iOS device to be unlocked
Some paid sites may be designed to scam you
1.3 Things to Do before Unlocking Apple Watch
No matter what methods you finally use, it's necessary to check the iCloud status of your Apple Watch.
Why?
There is no way to unlock an Apple Watch that is blacklisted (reported stolen or lost) by the previous owner.
So, you must check the iCloud status of Apple Watch with a 100% accurate Apple watch iCloud checker before unlocking.
If the iCloud status is "Clean" as the following picture shows, your Apple watch can be unlocked easily!
Note: There're so many iCloud checkers that generate IMEI/SN report from an outdated database, the accuracy of them usually lower than 80%. Choosing a 100% accurate iCloud checker will save you a lot of time and money.
Part 2. Two Trustworthy Apple Watch iCloud Bypass (without Password)
Now that you know the pros and cons, here are two of the most reliable Apple Watch activation lock removal services that you can use.
2.1 AppleiPhoneUnlock Apple Watch Activation Lock Removal Service

First on our list is AppleiPhoneUnlock, a fantastic online solution that puts the unlock process in the hands of a trained professional. With this site you can remove the iCloud lock from any iOS device – all iPhone models (including the latest iPhone 12), iPads, iPods, and most importantly, the Apple Watch (watchOS 7/6/5/4/3/2).
(This service can bypass Activation lock on Any Apple Watch Serials. )
How to Remove Activation Lock on Apple Watch without Previous Owner
Following the steps below you can easily use this Apple Watch iCloud unlock service.
Step #1 – Start by opening a browser and going to the AppleiPhoneUnlock iCloud Unlock page.
Step #2 – Next, enter your Apple Watch's IMEI number/Serial number. Check it on the case: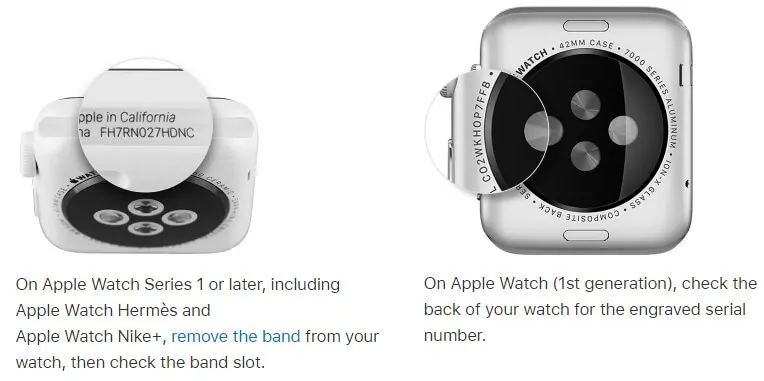 Step #3 – It will automatically detect the iPhone model based off the IMEI you submitted.
Step #4 – Click on the "Remove Activation Lock" button and enter your payment information.
Your iCloud locked Apple Watch will have the iCloud activation lock removed within 24 hours (FastTrack Enabled) and you'll be able to freely access it!
AppleiPhoneUnlock is great for unlocking any iOS device. It is suited for all iPhone models, alongside iPads and iPods, and with a small fee, you can have your Apple Watch's iCloud activation lock removed.
2.2 DirectUnlocks Apple Watch Activation Lock Bypass Service
Alternatively, you might want to use DirectUnlocks to remove Activaation Lock on Apple Watch without Apple ID. Like AppleiPhoneUnlock, this site is suitable for unlocking any iOS device and offers a few extra services too.
It's much cheaper than AppleiPhoneUnlock: only $18.95, you'll get an unlocked Apple watch. But it takes 5-10 working days to complete the unlock.
How to Bypass Activation Lock on Apple Watch?
With this quick and easy process, you can use this service to remove iCloud activation lock from Apple Watch OS.
Step #1 – Open DirectUnlocks iCloud removal page.
Step #2 – In the box below this menu, type your Apple Watch's IMEI/SN. Like we said before, this can be found on your watch case.
Step #3 – Lastly, press "Unlock now" and follow the payment steps that appear.
This only takes a few minutes and in just several days, your Apple Watch will be unlocked and ready for use. Aside from having to wait a few days, there is nothing but benefits to a paid removal service.
Part 3. How to Bypass Apple Watch Activation Lock with Password?
One way of doing a manual Apple Watch iCloud unlock is by using the online iCloud dashboard. If you have access to the iCloud account, try these steps.
Step #1 – Using a browser on your computer, go to iCloud.com and sign in.
Step #2 – Click on the "Settings" app from the list menu.
Step #3 – Under the heading "My Devices", locate your watch.
Step #4 – Finally, click on the "X" icon and confirm that you want to remove your iCloud from the watch by clicking "Remove".
If you'd rather take matters into your own hands, or perhaps can't afford to pay an expert, then this is the simplest way of bypassing the Apple Watch activation lock. Of course, if you have a second-hand device and don't know the iCloud account details, this won't work.
Part 4. FAQs About Apple Watch Activation Lock
Here are some frequently asked questions you may be interested in.
What is Activation Lock on Apple Watch?
You may want to know what causes activation lock.
Apple Watch Activation Lock is a feature of Find My app. It's special designed to prevent someone else from using your watch when it's lost or stolen.
This Activation lock is turned on automatically on your Apple watch when "Find My iPhone" is enabled on your paired iPhone.
If Activation Lock is enabled on your Apple watch, you'll be asked for Apple ID and password before:
disable Find My on your Apple Watch
unpairing your watch from your iPhone
paring your Apple Watch with another iPhone
Is there any Apple Watch Activation Lock bypass hack cheats?
One thing you should note is that Apple watch is different from iPhone or iPad, there is no hack or cheats on Apple Watch Activation Lock bypass.
If someone claims that they can do that, just keep away from them.
Can you reset an Apple watch without the Apple ID?
Please understand that without Apple ID or password, you can't bypass the Activation Lock by yourself. The only way is to use an Apple Watch activation lock removal service.
These services will help you remove Activation Lock on Apple Watch without previous owner.
How to check if Apple Watch iCloud Activation Lock is enabled?
Before you use one of the professional services above, you might want to check if the iCloud Activation Lock is actually enabled.
Apple Watch iCloud Lock Check on iPhone
On your iPhone, locate and tap on the "Apple Watch" app.
At the bottom of the app, tap on "My Watch".
Tap on your watch's icon at the top of this menu.
Next, tap the small "i" on the right of your screen.
Now tap on "Find My Apple Watch". This will launch "Find My iPhone" and if this app can locate your Apple Watch, the activation lock is on.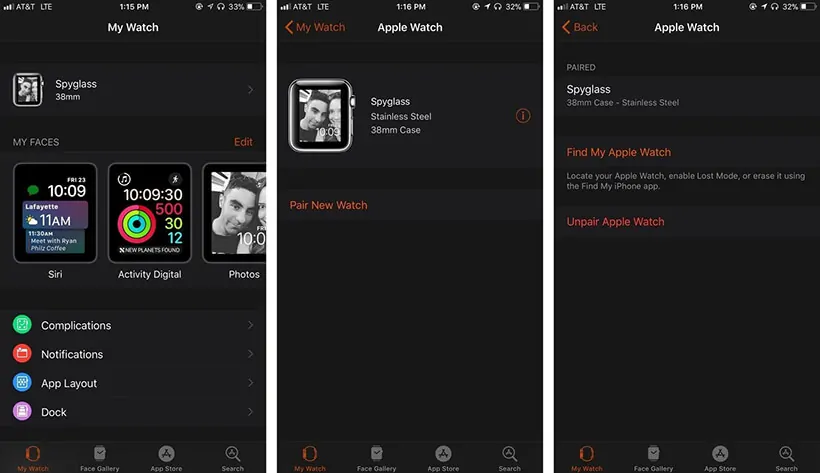 Apple Watch iCloud Lock Check on iCloud
On the other hand, if your iPhone isn't nearby, you can check from iCloud.com instead.
On your computer, open a browser and go to iCloud.com. Sign in using the iCloud account that is linked with the Apple Watch.
After signing in, on the menu which appears click on "Find My iPhone".
Click on the drop-down menu at the top middle of this page and select your Apple Watch.
If your watch is shown on the drop-down menu then this confirms that the iCloud Activation Lock is turned on. Both of these methods will help you to find out if the iCloud Activation Lock is active.
To Conclude
There you have it. Hopefully, now you will be able to find a suitable Apple Watch Activation lock removal for your device. Both of the services we have shown above are wonderful and do a great job every time – we highly recommend them!
Locked out of your Apple Watch? That's not a problem anymore! Find the preferred method to remove, unlock or bypass iCloud activation lock on iwatch now!