Last updated on

November 28, 2020

by Darren
iCloud Activation Locks seem like a great security feature, and they are to some extent. Their purpose is to stop thieves from wiping stolen iPhones and selling them, and this feature does a good job at making it harder to wipe an iPhone.
However, they also make it harder to access your iPhone if you buy a second-hand device or forget your iCloud account details. With that in mind, if you need to bypass activation lock, follow this guide.
Part 1. How to Bypass iCloud Activation Lock for Free?
In this first section, we will be going over the best activation lock bypass methods which are free to use.
1. Ask the Previous Owner to Bypass iCloud Activation Lock
For users who bought a second-hand iPhone, your first solution should be to try and contact the previous owner. This is the quickest way to address the lock and get it removed, and it's very easy to do.
Follow these steps.
Step 1 – Contact the previous owner and explain that you need them to remove the iPhone from their iCloud account.
Step 2 – Guide them to the iCloud.com website and have them sign in with their account. Keep in mind that this must be the same iCloud account which is on your iPhone.
Step 3 – Once they're signed in, they should go to the Find My section, click on All Devices at the top of the page, and choose your iPhone.

Step 4 – Lastly, they must click on the Remove from Account and confirm this action. Once you restart the iPhone, the iCloud Activation Lock should be gone.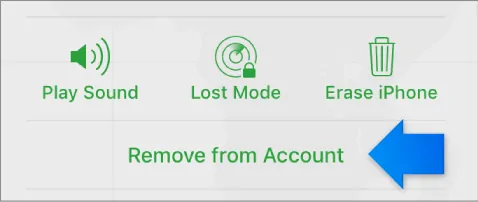 This is quick and harmless, and all you need to do is walk the previous owner through these steps. As simple as it is, there are limits to this method.
Limits
It may be difficult to contact the previous owner (e.g. if you bought the phone from a shop)
If the previous owner doesn't remember the iCloud account details, this won't work
So, you may want to remove Activation Lock without previous owner, keep on reading.
2. Bypass Activation Lock on iPhone/iPad with iCloud DNS Bypass
While a bit more technical, the iCloud DNS bypass method can also work when we want to bypass activation lock. This involves changing your Wi-Fi network's DNS settings so that when you reach the activation lock, you can navigate past it.
Step 1 – Factory reset your iPhone and start setting up iOS normally until you reach the Wi-Fi page.
Step 2 – Next to your Wi-Fi network, tap the "i" icon instead of connecting to the network.
Note: if the iPhone is already connected, tap "Forget this Network" and return to this menu.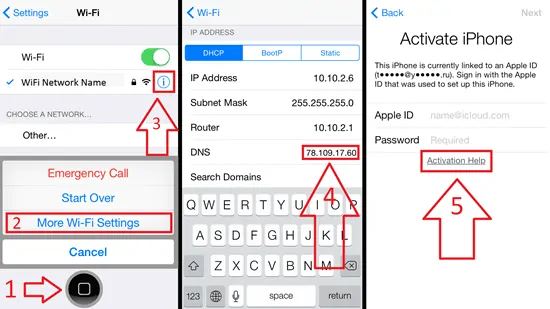 Step 3 – In the Wi-Fi network's settings, locate and tap on Configure DNS then on Manual. For the DNS address, type in one of the following IPs:
Europe: 104.155.28.90
North America: 104.154.51.7
South America: 35.199.88.219
Asia: 104.155.220.58
Australia: 35.189.47.23
Step 4 – Once you have the correct IP typed, go back to the Wi-Fi menu and tap the Wi-Fi network to connect to it normally.
Step 5 – On the next page, your iPhone will attempt to connect to the Apple servers. Instead, tap the back button and on the page which appears, you can select which features you want to be unlocked.
Note that this shouldn't be your permanent solution though. Instead, it should only be used in the short-term since you will still have some iCloud features restricted. Furthermore, there are some limits to the iCloud DNS bypass method.
Limits
It only works on versions iOS 8 to 10, future iOS versions patched this method
When connecting to third-party DNS servers, your Wi-Fi data could be compromised
Many iCloud features will remain unusable
If this method can't work for you, you can also try the iCloud DNS bypass crash method.
3. Ask Apple for iPhone Activation Lock Bypass
Another method you can try (which isn't a sure-fire solution) is to ask Apple for help. If you're able to prove that you're the owner of the iPhone, they will assist you with iCloud Activation Lock bypass.
The problem is proving you're the owner, especially if it's a second-hand iPhone. Unless you can prove beyond doubt that you're the owner, whether that's with a receipt or by other means, Apple can't help you.
4. Bypss Activation Lock by Replacing Hardware
One of the most advanced methods is to replace the iPhone's hardware. There are some stores which offer this service, but usually, this is something you need to handle yourself. As such, you need to have extensive technical experience to prevent bricking the device.
Step 1 – Start by turning off the iPhone and carefully taking it apart.
Step 2 – Get the iPhone's motherboard and remove each of the chips from it.
Step 3 – Using a new motherboard which has no iCloud data, attach the chips to that instead.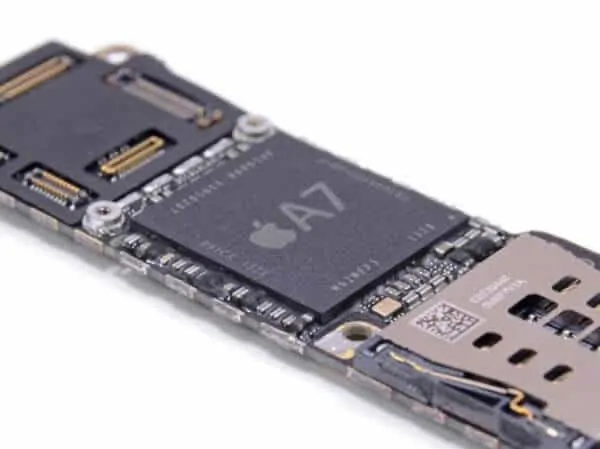 Step 4 – Attach the new motherboard to the back of the iPhone, then put the rest of the pieces back together.
Step 5 – Power on your iPhone and you should find that the iCloud account was removed.
This is extremely technical so there are a few things to take note of. First, this is a difficult way to bypass activation lock. You need to know exactly what you're doing or you risk causing irreparable damage to the iPhone.
Second, it's also difficult to find the tools and hardware you need. For these reasons, another method would be ideal.
5. Bypass iPhone Activation Lock by Jailbreak
This next method is different because it's a software solution. It's also an iPhone activation lock bypass jailbreak method, meaning you will have to jailbreak your device for this to work. In addition, it only supports partial models.
Step 1 – Download and install iRemove on your computer.
Step 2 – After the install finishes, launch iRemove and connect your iPhone using a lightning cable. iRemove will check if your iPhone is compatible.
Step 3 – If it is supported, you can begin with the lock removal process. Click Start Bypass and then Run Checkra1n Jailbreak to jailbreak the device.
Step 4 – Follow the Checkra1n steps to complete the jailbreak process. Afterwards, simply click Start Bypass again and the activation lock will be removed.
Limits
Only supports partial iOS versions and iOS devices
You will need to jailbreak your iOS device to bypass iCloud lock
iRemove also offers a paid version, which supports more models and iOS versions. If you're interested in the paid version, here is a 20% OFF coupon code for you: wipelock.
6. Participate in Our Lucky Dog Plan to Bypass Activation Lock
Feeling lucky? Taking part in our Lucky Dog Plan will give you the opportunity to get your iPhone unlocked from iCloud for free.
Here's how it works. Every month we pick 3 people who have commented on our posts or who shared our posts on social media, and those 3 people get their iPhone's activation lock removed for free. If you want the chance at this reward then leave a comment below or share this post on social media!
7. Unlock with Passcode
If you don't have a second-hand iPhone and you simply forgot your account details, and your iCloud account also has two-factor authentication enabled, you can bypass the lock using your iPhone passcode.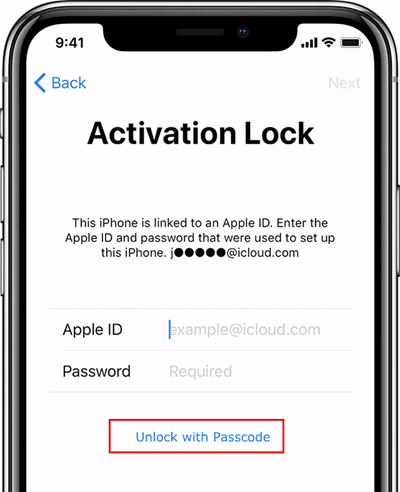 All you have to do is tap on Unlock with Passcode when you reach the iCloud Activation Lock page, tap Use Device Passcode, and enter your iPhone's passcde.
8. Using Activation Lock Bypass Code
The last free method we have is to use the Activation Lock bypass code. This will only work on iOS devices which have been set up in supervised mode (e.g. if they are workplace devices). You'll require access to a Mac computer and you can bypass the lock using these steps.
Step 1 – Launch the Profile Manager app and on the side menu, click on Devices.
Step 2 – Choose the iPhone you want to remove the activation lock from the list.
Step 3 – Next, go to the About tab, click on the triangle icon, and you should see the bypass code.
Step 4 – On the iPhone, go to the iCloud Activation Lock screen and type the bypass code in the password box. You don't need to enter anything for the email address/Apple ID.
Step 5 – You can now sign out of the iCloud account from the Settings app.
Of course, if you aren't trying to unlock a supervised device, this won't work. Nonetheless, if you're trying to unlock an iPhone on behalf of a company, this should work.
Part 2. Paid Way to Bypass Activation Lock on iPhone/iPad/iPod Touch
If you tried all of our free solutions but they didn't help you to bypass activation lock, there are also some paid solutions.
1. Using an iCloud Unlock Service for Activation Lock Bypass
Using a service like AppleiPhoneUnlock will undoubtedly remove the activation lock. With this service, you hand over some basic details about your iPhone and their team use an advanced strategy to disable your activation lock.
Unlock the iCloud Activation Lock on any iPhone, iPod, iPad, or Apple Watch
Permanently disables the iCloud Activation Lock (even after factory resets)
If you FastTrack your order, your device is unlocked in 24 hours
Devices are unlocked by experts using a remote strategy
Won't affect the warantty or jailbreak your device.
It's clear that using a service is at the very least a promising approach. When it comes to using AppleiPhoneUnlock, follow the steps below:
Step 1 – Start by going to the AppleiPhoneUnlock iCloud Unlock page.
Step 2 – Type your iPhone's IMEI number into the box. You can find it as the following picture shows.
Step 3 – Click Unlock iCloud!. On the next page, you will have the option to use FastTrack which delivers the unlock in just 24 hours. This is optional although speeds up the order significantly.
Step 4 – Check the box to agree to the Terms of Service then choose your preferred payment method and complete the payment.
Once you pay, the order will begin processing and you will have an unlocked iPhone in a swift 24 hours.

One of Our Lucky Dogs' iPhone was unlocked successfully
Even though the FastTrack service is optional, it means you get your phone unlocked very quickly, so we'd recommend you add it to your order. Either way, AppleiPhoneUnlock will provide you with a top-notch service.
2. Jailbreak iPhone to Bypass Activation Lock
Rather than a service, you could try a software solution instead. Just like iRemove, this software is also an iPhone activation lock bypass jailbreak method. With that in mind, if you aren't comfortable jailbreaking your phone, another solution would be ideal. Some features of Tenorshare 4MeKey are:
Can remove iCloud locks from any iOS device
iCloud Activation Locks are removed without the iCloud email or password
Apps and media can be downloaded from the App Store/iTunes Store afterwards
Supports the latest iOS versions, from iOS 12 to iOS 14
Available for free (and limited) or as a full purchasable version
You can start by using the free trial version of this program. However, you won't be able to finish the lock removal process unless you buy the full version of Tenorshare 4MeKey. After buying a license and installing the software on your computer, go ahead and follow these steps:
Step 1 – Launch Tenorshare 4MeKey and read the brief information, then click the Start button.
Step 2 – You will then be prompted to agree to the agreement. To continue, you must check the box and click Next.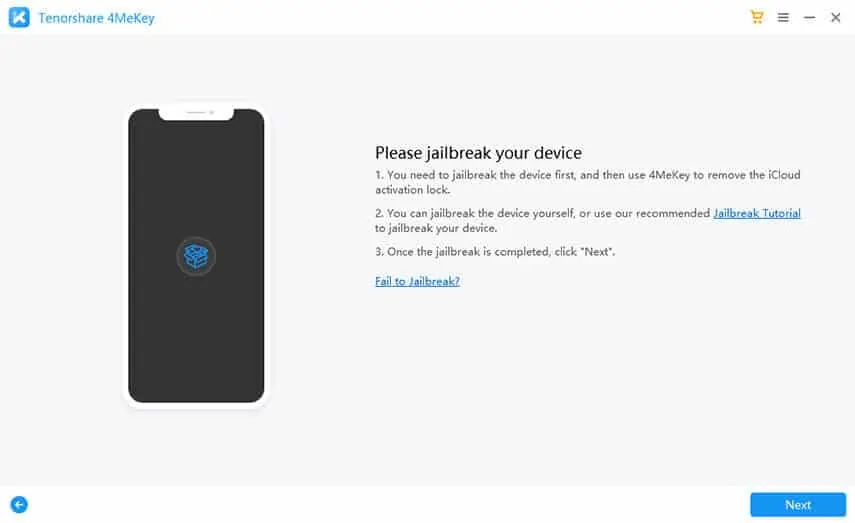 Step 3 – Using a USB cable, connect your iPhone to the computer.
Step 4 – Follow the on-screen instructions to jailbreak your iPhone. This part of the process will differ slightly depending on if you're on a Mac or Windows computer.
Step 5 – After your iPhone has been jailbroken, confirm that the device information shown is correct before clicking Start Remove to disable the iCloud Activation Lock.
Step 6 – Within a few minutes, Tenorshare 4MeKey will finish removing the iCloud lock.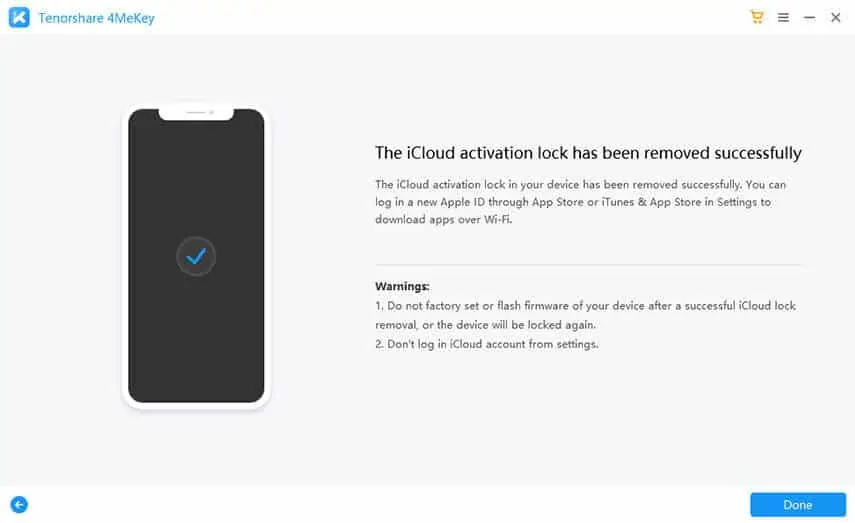 This is an effective method if you don't mind jailbreaking your device. That being said, it's far from perfect and there are a few limits.
Limits of Software
Jailbreaking is required and there is a risk that it will brick your device
Some features, such as making phone calls or using data, will be unusable
3. Using iCloud Login Finder
Are you unable to contact the previous owner because you don't know their details? Our suggestion would be to use the iCloud Login Finder. Using this tool, you can find the Apple ID associated with your iPhone so that you can contact them and ask them to remove the device from their account.
Just head over to WipeLock's iCloud Login Finder, click Find iCloud Login, and enter your iPhone's IMEI before paying for your order. Once your order is delivered, you'll be able to get in touch with the previous owner and resolve this issue quickly.
Part 3. FAQs about iCloud Activation Lock Bypass
Before we wrap things up, we're going to answer some of the top questions we receive from users who are interested in iCloud Activation Lock bypass.
1. How Apple Activation Lock Works?
So, how does the activation lock work? As we mentioned before, this is a security feature. If you sign in to your iCloud account on an iPhone then do a factory reset, your iCloud account will remain signed in. This is to prevent unauthorised users from completely wiping an iPhone.
Without the iCloud account's details, the user won't be able to activate the iPhone and many features will be disabled until the account has been signed in to again.
2. How to Recover Apple ID Password?
But what if the iPhone has your iCloud signed in but you have forgotten your Apple ID password? Fortunately, recovering a lost password is relatively straightforward and all you'll need to do is use the iForgot website.
On that website, enter your Apple ID and follow the steps. You'll then receive an email which will enable you to reset your password.
3. How to Check if Your Device is Locked?
Are you unsure whether or not you need to use an iPhone activation lock bypass jailbreak method? No problem, you can find out if your iPhone is iCloud locked very easily.
Simply go to Settings > [your name] > Find My to see if Find My iPhone is turned on. If it's turned on, then this signifies that your device is locked.
Conclusion
Finding an effective way to bypass activation lock can seem like a lost cause. Hopefully, once you make your way through each of the methods we detailed above, you find one which works for you.
Make sure you try your luck at our Lucky Dog Plan and if you want to get the lock removed quickly, check out AppleiPhoneUnlock. If none of the free solutions helps you get the results you desire, that service surely will.