Last updated on

May 2, 2022

by Darren
A common problem that new iPhone owners run into is the iCloud Activation Lock. As a security feature, it works great – the purpose of it is to prevent malicious users from accessing the device without the owner's consent.
However, it can also make buying a second-hand iPhone more frustrating because if the previous owner doesn't remove their iCloud account, the lock will prevent you from signing in with your own account.
Tools like Checkm8 are popularly discussed as solutions to this issue, but many people question the efficiency of this particular tool.
Our review will cover everything you need to know about how this tool works.
Part 1. Checkm8 iCloud Bypass Software Review
So that this Checkm8 review is easy to take in and users can fully understand the important facts, we've split up our review into 4 sections.
1.1 What is Checkm8?
Checkm8 (also Checkm8.info) iCloud Bypass software is tool that special programmed to bypass iCloud Activation lock for iOS devices. Here're the supported iOS versions and device models:
iOS Versions

Models

iPhone
iOS 12.3 and above
iPhone X, iPhone 8 Plus, iPhone 8, iPhone 7 Plus, iPhone 7, iPhone SE, iPhone 6s Plus, iPhone 6s, iPhone 6 Plus, iPhone 6, iPhone 5s, iPhone 5c, iPhone 5, iPhone 4s
iPad

iPad (7th Generation, 2019), (6th Generation, 2018), (4th Generation), (3rd Generation), (2nd Generation)
iPad Mini (1st Generation), iPad Mini 2, iPad Mini 3, iPad mini 4
iPad Air (2013)
iPad Pro (9.7 in.), iPad Pro 10.5″ (2017), iPad Pro 12.9″ 2nd Gen (2017)

iPod touch
iPod touch 7, iPod touch 6
Note
: there is only Mac version available. And you must jailbreak your device first before using Checkm8, only in this way can Checkm8 have full access to iOS file system to bypass iCloud lock.
(If you don't have a Mac computer, just use virtualization software such as VMware Workstation Player to install a Mac system on your Windows computer.)
1.2 Are There Any Limits When Using Checkm8?
To start things off, we'll be going over what limits there are to Checkm8.
Limitations are important to consider because in some cases you may find that your device isn't eligible to be unlocked by the Checkm8 iCloud bypass software.
Jailbreak required: the device you're unlocking must be jailbroken
Call features cannot work: using Checkm8 sometimes leaves the iPhone's call features broken (users are unable to make calls or receive them)
Facetime can't work: a common problem after using Checkm8 is that Facetime doesn't work
Mobile data connections won't work: meaning you can only access the internet if you are connected to a Wi-Fi network
Text messages can't be sent
Cannot sign in iCloud: although the previous iCloud account will be removed, you won't be able to sign in with your own iCloud account
iCloud features inaccessible: since you can't sign in with your own account, all iCloud features will be inaccessible
Buttons may not work: some users report that the home and power buttons don't work after using Checkm8 for certain iOS versions
Only Mac version: Checkm8 only works on Mac computers
1.3 How to Use Checkm8?
Moving onto the next thing to consider with the tool, how it can be used. Unlike most tools, there are two parts to the process of using Checkm8.
Step 1. Jailbreak Your Device
The first thing you must do is jailbreak your iOS device with another tool – Checkra1n iCloud bypass. This is required if you want to use Checkm8 so you can't skip this step. It's also important to note that there are risks associated with jailbreaking an iOS device:
Your iPhone could be bricked. Bricking iPhones as a result of failed jailbreaking is not uncommon and, in most cases, it leaves the device in need of an expensive professional repair.
Security risks. Jailbreaking an iOS device removes a lot of the built-in security features that limit the types of apps that can be installed. After jailbreaking, apps can do a lot more on the device and can be potentially dangerous to install.
iPhone warranty may cancel. Depending on your phone contract and your provider's terms of use, jailbreaking your iPhone may void the warranty.
No recent iOS updates. Jailbreaking software has to be adapted for every iOS version, so you can't simply update your jailbroken iPhone when an update is released. This means you won't have access to all the latest iOS features either.
Keep these risks in mind when deciding. If they don't discourage you from wanting to use the Checkm8 iCloud bypass software, proceed with the steps below which explain how Checkra1n can be used for jailbreaking:
#1. Download & install the official Checkra1n tool and launch it.
#2. Connect the iPhone to your Mac with a lightning cable and wait as Checkra1n determines whether it is compatible. If process verification is successful, click the "Start" button.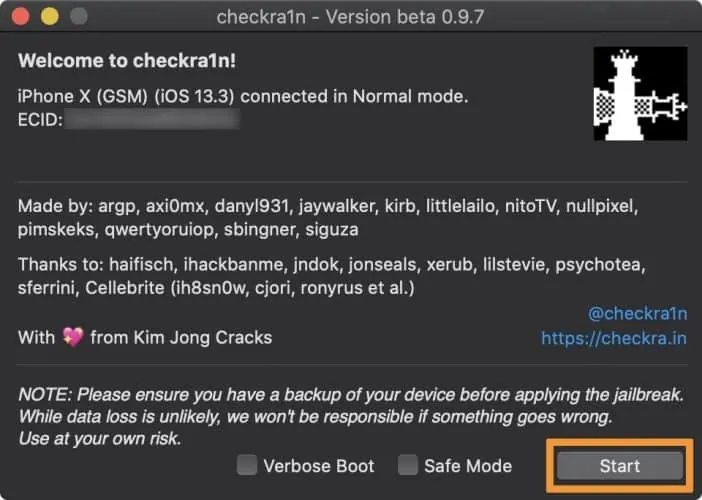 #3. Click on "Next", then you'll be given instructions to enter the device into DFU Mode. Follow the instructions and click on the "Start" button.
#4. After putting your device into DFU mode, the jailbreak will begin.
#5. Finally, click on Done after the jailbreak finishes.
Jailbreaking your iPhone will set aside a lot of limits that the iOS firmware places on the device, but it is a risky process.
Step 2. Bypass with Checkm8
The second part of the process is to use Checkm8. Once you've jailbroken your iPhone you can go straight ahead and use our guide to remove the iCloud lock.
#1. Download the Checkm8 software and launch it.
#2. Use a lightning cable to connect your iPhone and click "Start Bypass".
#3. Wait as the lock removal algorithm is processed.
After you've done both parts of this method, you should find that the iCloud Activation Lock has been bypassed successfully. However, you are likely to experience some of the cons we mentioned before.
1.4 Overall Thoughts of Checkm8 iCloud Bypass Software
If we take into account how many limits there are to using Checkm8, the downsides it brings to an iOS device, how many features it inevitably prevents users from accessing, and the risks that are associated with both the tool and jailbreaking in general, we would not recommend Checkm8.
It is simply too risky of a program to use and how effective it is doesn't forgive the long list of limitations it imposes on iOS devices. So, with that in mind, I would highly recommend that anyone considering Checkm8 direct their attention to an alternative.
Part 2. Alternative to Checkm8 (Better Options)
Don't have a Mac computer to use Checkm8 iCloud bypass software? Or want to enjoy all features of your iPhone after using Checkm8? You may need an alternative.
An alternative option to Checkm8, or any iCloud Activation Lock removal tool for that matter, is to instead use an unlocking service. These services are reputable and are known for being effective – there's no risk when using them and you don't need to install suspicious software on your computer.
2.1 AppleiPhoneUnlock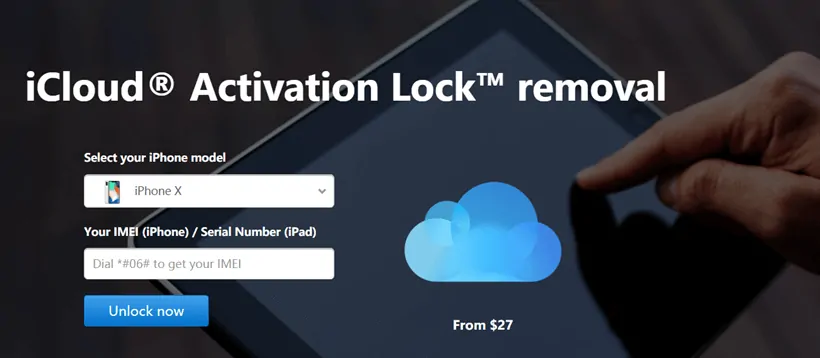 One of the services we recommend is AppleiPhoneUnlock. This low-costing service has a history of providing quick results and rarely failing to remove iCloud locks. Among other reasons, here's why we highly recommend it:
Doesn't have any of the limitations that Checkm8 has after using AppleiPhoneUnlock
Works worldwide and on any iOS device that has an iCloud Activation Lock
Uses a remote unlocking process so you don't have to send your phone anywhere
Permanently unlocks any iOS device, even after factory resetting the device
Easy to use and delivers results fast (after sending the device IMEI/Serial Number, it will be unlocked in just 72 hours)
Easy Steps to Use AppleiPhoneUnlock
#1. Open the AppleiPhoneUnlock iCloud Unlock page.
#2. Offer the info it required: IMEI or Serial Number, iPhone Model
#3. Make the payment and wait for them to unlock.
After unlocking, you will receive an email notification. Then just set up your device with your own Apple ID and enjoy all features of it.
There are other services which we have also seen do well, but standing out from the crowd is AppleiPhoneUnlock. Rather than taking a big risk and using Checkm8, it's definitely worth your time to look at a service which poses absolutely no risks.
2.2 DirectUnlocks
If you want a cheaper iCloud unlock service then DirectUnlocks will be a good idea. One thing you should note that this service takes a little longer than AppleiPhoneUnlock.
Just like AppleiPhoneUnlock, this tool will enable you to enjoy all features of your device after unlocking.
Conclusion
That about covers everything you'll need to know to make a decision on whether using the Checkm8 iCloud bypass software is the right thing for you to do. With so many different tools out there, it's hard to determine which tools are legitimate and which are scams or viruses.
A much safer method is to remove the lock with a removal service, such as AppleiPhoneUnlock. These services require little effort on your behalf, have constantly proven to be very effective, and are significantly safer than third-party tools that are potentially dangerous.