Last updated on

June 1, 2022

by Darren
iCloud Activation Locks have been, for a long time, a problem that iPhone users have to deal with on occasion. Most of the time it's something that buyers of second-hand iPhones find themselves struggling to remove. doulCi is a website which can be used to resolve this.
Part 1. Things About doulCi You Should Know
What made the doulCi different to other tools for iCloud Activation Bypass is that it didn't cost a penny. That's right, it was entirely free to use without any barrier trickery that prompted users to complete surveys or fulfil certain tasks.
This might seem insignificant but let's consider a few things:
People buy second-hand iPhones because they can't afford brand new products, and sometimes they can't afford to pay the additional fee to unlock iCloud activation lock
Many of the online lock removal tools charge a fee of £25+ which again, isn't something everyone can spare
Historically if an activation removal tool was advertised as free it was a scam
And since doulCi was not only free but it actually worked, hence not a scam like other free tools, it quickly built a strong reputation.
1.1 How doulCi Works
First, you need to learn that doulCi only works for iOS 7.1.2 or below versions.
The exact process behind doulCi isn't public knowledge. Why? Surprisingly, the creator of the site has an agreeable reason: if how the site worked was known by hackers, they could create their own site using the same method but with malware code.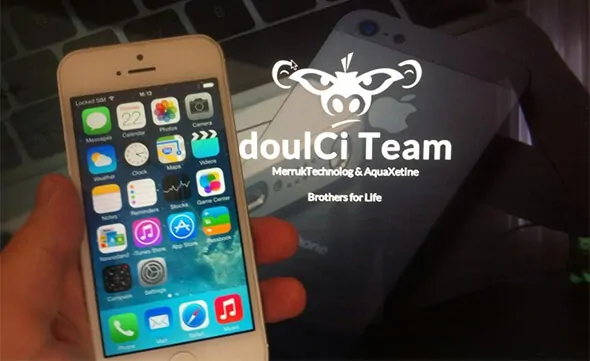 In other words, they'd create online tools that appear to be effective and might well be, but which also steal personal data or infects users computers/devices.
To remove the iCloud lock using the site all you had to do was submit a form with basic details about your iPhone, and contact information, and wait a few days. Sure, it took longer for the removal to be complete than paid tools did, but it was free and effective.
1.2 Can I Still Use doulCi?
Because of the methods that were used by the doulCi creators, it's not possible to unlock an iCloud Activation Lock anymore.
The experts behind the free unlocking service took advantage of vulnerabilities that iCloud had at the time. However, since those vulnerabilities have since been patched, doulCi isn't available for anyone to access anymore.
It was officially shut down in 2014 and according to their site, it is only live for the sole purpose of discrediting scammers.
1.3 Avoiding the Scammers
Since the website became ineffective and ceased offering free unlocks, the name "doulCi" has been used by hackers and scammers with malicious intentions. They do things like:
Create fake iCloud unlock tools which infect your computer after installation
Make you pay for them to unlock your iPhone without having any intention of unlocking it
Design fake websites that are covered in ads and spam without any real solution
Advertise illegal solutions that violate Apple's TOCs and could get you in trouble
Mislead you and waste your time by not helping in any way possible
I'm sure you get the idea – these people are using the praised doulCi server name to benefit themselves at your expense. There's only one way to prevent falling victim to these hackers and that's by only accessing the official doulCi website. Keep in mind that this site is purely informational and you can't remove your iCloud lock on there anymore.
1.4 Is There a doulCi Activator Download?
The simple answer is no – there currently isn't a doulCi activator download and contrary to what scammers would like us to believe, there never has been.
The doulCi team has never launched any software to bypass iCloud. When you find something like "doulCi Activator free download", just keep away from it since it's a scammer.
When doulCi was active and could still be used for getting around iCloud Activation Locks, it was 100% online. You would send them a few details and the team would unlock your iPhone free of charge.
Now, the creators have abandoned doulCi, we recommend looking into different unlocking services.
Part 2. Don't Worry! You Can Still Unlock iCloud without doulCi
Considering how much uncertainty there is surrounding doulCi Activator, its legitimacy, and the risk there is of falling to a scammer or thief, we recommend using an iCloud unlock service instead.
Note: No matter what methods, you need to check the iCloud status of your iPhone with an accurate IMEI Checker. If it's reported stolen or lost, it's impossible to unlock your device completely.
2.1 AppleiPhoneUnlock
Our first recommendation is AppleiPhoneUnlock. It's a very similar alternative to doulCi and is among the best solutions for getting rid of iCloud locks.
For doing this, you simply head over to the AppleiPhoneUnlock iCloud unlock page and submit your iPhone model and the device's IMEI. Once you complete the payment your order will start being processed – within a mere 3 days the iCloud lock will no longer be a barrier between you and your iPhone.
Pros
Permanently removes the iCloud Activation Lock from iOS devices
Works with every iPhone model and other Apple devices
The removal process is done remotely (you keep the device at all times!)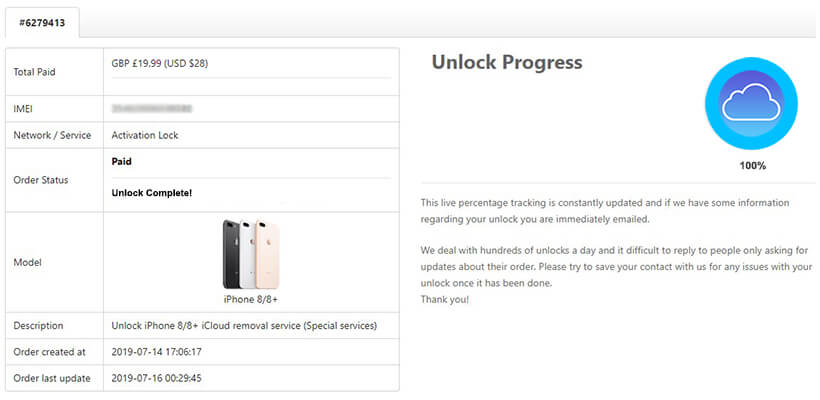 They unlocked our device within 2 days
A rather peculiar, but beneficial, aspect of AppleiPhoneUnlock.uk is that you can get a discount of 25% by recording a short video. In it, you must thank them for repairing your iPhone issue and explain what that issue was. After doing this you'll get 25% of your order refunded.
2.2 DirectUnlocks
Instead of using AppleiPhoneUnlock for the online iCloud activation lock removal, DreictUnlocks might be more up your alley. It's a reliable website that offers services known to be effective for removing iCloud activation locks and thus making it a suitable doulCi server alternative.
The process is as simple as one can expect: you submit your iPhone's model and IMEI, make a reasonable payment, and wait a few days for the iCloud unlock to be processed. Pricing varies based on your iPhone model although overall, it's not excessive.
Pros
Removes iCloud Activation Locks on any model of iPhone
Compatible with any iOS version
Permanently unlock, your device won't be locked again
Orders are delivered in 1-3 days
DirectUnlocks is able to remove locks from any iPhone model (including iPhone X), and you'll find a few other services on there too. Of these services, the most useful is removing carrier locks which again, supports all iPhone models as well as the majority of network carriers.
Aside from the delivery times being longer than most would like (often reaching 3 days and according to reviews, sometimes longer), DirectUnlocks is definitely the service you should look into to remove an iCloud activation lock.
Conclusion
As you can tell the benefits of using an iCloud unlock service far outweigh those of using doulCi. Years ago the tool was great due to it being free and unfortunately it isn't usable now. Using DirectUnlocks or AppleiPhoneUnlock is currently the preferable option. Experts who understand the iCloud lock in-depth and are experienced in removing locks take complete control over the process so that you simply don't have to – what's not to love?