Last updated on

November 5, 2021

by Darren
Help! I want to turn off Find My iPhone from computer but verification failed, what to do next?
Find My iPhone has helped millions of people find their missing phones. This app on iPhone, iPad and Mac lets you track down your lost device, keep tabs on family and even locate your lost luggage with tags.
This app comes in handy when you lose your iPhone between the sofa's cushions or if you need to track down family members. But you may need to turn this app off at some point. For example, if you are selling or trading your iPhone or are concerned about privacy and location sharing, you will want to turn off the app.
There are several ways to turn off Find My iPhone from computer. We will cover situations that will require different steps to turn off this app.
Part 1. How to Turn Off Find My iPhone From Computer
1.1 Turn off Find My iPhone on iCloud on Computer
The most straightforward method is when you know your Apple ID and password.
To turn off Find My iPhone app, make sure your iCloud is connected to the same Apple ID that your iPhone is. Then follow these steps:
Step 1. Using a desktop or perhaps laptop computer, go to iCloud and sign in to the account of yours with your Apple ID and password.
Step 2. Click on "Find iPhone" option.
Step 3. Then click on the drop-down menu that is at the top center of the screen.

Step 4. Select the device you want to disconnect.
Step 5. You will see the option to "Erase iPhone." Click on that without entering a message or number. Doing this will erase all information.
Step 6. There will be a link that says, "Remove from Account." Clicking on this will remove the device from the Apple Id account.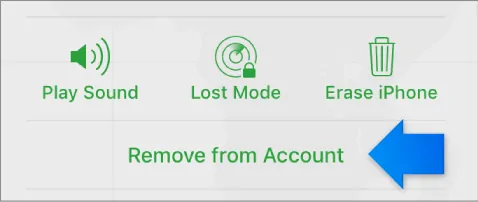 That's all there is to it. The device is now erased and set to the factory setting.
If you want to turn off Find My iPhone without password, there are three ways you can disable the app.
1.2 Reset iCloud Password
If you have simply forgotten your password, reset your password and turn off the Find My iPhone app.
Resetting your password is pretty easy to do.
Step 1. From your computer, go to appleid.apple.com (there is no www.)
Step 2. Then you will be asked to enter your Apple ID and Password. There will be a little box that says, "Forgotten your Apple ID or password." Click on that box.
Step 3. You will need to put in your telephone number. Apple will send you verification numbers. Enter those numbers. Now you can change the password.
Then you can disable Find My iPhone easily on your computer or laptop.
1.3 Ask Previous Owner for Help
If you recently bought the iPhone from someone who forgot to erase their information from the iPhone, then the method above won't work.
Instead, if you still have the person's contact information, try calling them and asking them to remove their Apple ID from the iPhone.
1.4 Use Unlock Software
If these methods don't work, you can use a third-party tool to turn off Find My iPhone. Below we look at two different software, Tenorshare, and Passfab that can turn off Find My iPhone app.
Unlock with Tenorshare 4MeKey
Forgetting your password is not unusual. If you do forget your Apple ID or password and need to turn off the Find My iPhone from computer, don't panic.
There are ways around this problem. You can still turn off the app by using Tenorshare 4MeKey.
Tenorshare is a data recovery and protection software that offers solutions specializing in data recovery, password recovery, device repair, and other mobile phone and computer essentials.
You will need to download and install it on your computer.
After you've downloaded and initiated Tenorshare 4MeKey successfully, there will be a pop-up warning that pops up onto the screen; please read it carefully.
Then you will do the following:
Connect your iPhone to your computer with a USB cord.
You will have to tap "trust" to let your computer recognize the iPhone.
The program walks you through a set of steps that you will take to complete the removal of the app. By pressing "Next," your iPhone will reset to factory settings.
After the removal of the app, it will guide you through a 15-step process to set up your Wi-Fi configuration proxy and download the certificate to your iPhone.
After the certificate download, the program starts the removal of the iCloud account from the device.
After the removal of the device, check if the app is On or Off. If it's off, click "confirm."
This process may seem a bit difficult, but it is computer-guided, so all you do is click a few buttons, and the program does all the work.
Using PassFab
If you have forgotten your Apple id or password, Tenorshare isn't the only software you can use to remove the Find My iPhone app. You can also use PassFab.
PassFab password retrieval software provides excellent recovery services for iPhones, spreadsheets, Windows, and RAR file extensions.
To remove the Find My iPhone app using PassFab, follow these steps:
Download and launch PassFab
The screen will have three different features. Click the one that says, "Turn off Find My iPhone."
Agree to the terms and press "Start."
Connect the device to your computer with a USB cord.
PassFab will recognize your device and download the jailbreak tool for you.
Follow the tutorial to jailbreak your device.
Once you've successfully jailbroken your phone, disconnect your network.
Push the start button to turn off Find My iPhone app.
Now check the status of your device by copying the serial number and clicking the link.
After confirming the app is off, type "Off" in the box. Typing "Off" will reset your iPhone to factory settings.
The PassFab does come with a fee, but it can help with other iPhone concerns that may come up.
Part 2. How to Turn Off Find My iPhone Without Computer
2.1 Apple iPhone Unlock
Apple iPhone Unlock is a service that will remove Find My iPhone from any iOS version. This isn't a software program. Apple iPhone Unlock is a service provider that unlocks iPhones.
It is as easy as placing an order. When ordering Apple iPhone unlock, use your IMEI number or serial number. You'll be asked to pay a charge. You will then be notified with 2-3 days that your device is unlocked.
If you choose this method to turn off the Find My iPhone app, you will receive help from a professional, but you do have to pay for the service and wait for up to three days to unlock the iPhone.
2.2 iCloud DNS Bypass
An easy way to disable the Find My iPhone app is bypassing the iCloud DNS. This will allow you to turn off the Find My iPhone app.
It is a simple way to make your iPhone work without iCloud. This solution is free. You can utilize the following steps: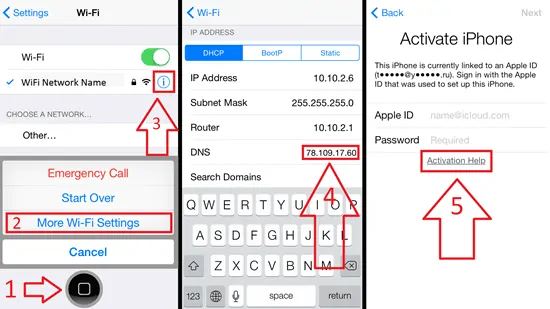 First, choose your language and country from the menu screen.
You will be taken to the Wi-Fi settings page. You will need to select a network to connect.
There will be a list of networks. Select the "i" network. If you don't see the "I," go "Home," then "More Wi-Fi settings," and see if you can find it there.
The next step is to disconnect the Wi-Fi networks. Go to "Network Settings," then forget that network.
Click on the "i" again and submit a DNS server linked to your country to bypass the iCloud Activation Lock.
Bypassing the DNS is free, but it does have its limitations. If you have to restart your iPhone, the app will be turned on again.
Final Thoughts
Apple's Find My iPhone is a helpful feature, but sometimes you may want to turn it off. Regardless of the reason why there are multiple ways to disable this app.
By using the tips in this article, you should have your Find My app disabled in no time at all.
Related Posts