Last updated on

November 17, 2020

by Darren
"When I try setting up my iPhone after a factory reset, I keep getting blocked by the iCloud Activation Lock. I read that I should try iCloud Activation Bypass Tool Version 1.4, does it work?"
Encountering the extremely limiting iCloud Activation Lock isn't new, it's something which a lot of iPhone users have to deal with. In particular, people who buy a second-hand iPhone find themselves with the previous owner's iCloud account still linked with their new device. Bypass iCloud is far from easy unless you've got access to the same account that's linked. However, tools like iCloud Activation Bypass Tool Version 1.4 claim they can remove the lock. In our review, we'll be finding out if this tool actually works.
Part 1. Review of iCloud Activation Bypass Tool Version 1.4
1.1 What is iCloud Activation Bypass Tool Version 1.4?
Not a lot of specifics are known about how this tool works, but the gist of it is that a combination of proxy and software is used.
From using this program, users are able to swiftly disable an existing iCloud account which they don't have access to and instead sign in with another account. Since the iOS system is designed to stop people from doing this, iCloud Activation Bypass Tool Version 1.4 seems to be impressive.
It also appears to be more complicated than some other solutions as opposed to being a straightforward interface with step-by-step instructions, some configuration is necessary.
1.2 Where to Download iCloud Activation Bypass Tool v1.4?
There isn't an official website for the iCloud Activation Bypass Tool Version 1.4 and therefore an official download link is not available. Our advice is to avoid downloading software from non-reputable sites as these versions are often riddled with viruses or malware.
Our team did some digging and obtained an original copy – leave your email in the comments below if you'd like us to send you it too!
1.3 How to Use the Tool
After getting yourself this software, follow these steps to use it for unlocking iCloud.
Step 1 – Open your iPhone and begin the setup until reaching the Wi-Fi page.
Step 2 – Tap the "i" next to your Wi-Fi network and go to "Configure Proxy". Enable "Manual" and enter:
Server: 10.117.220.87
Port: 1082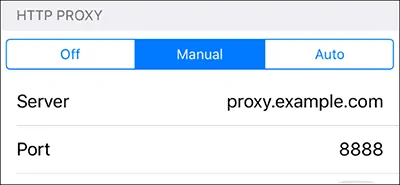 Step 3 – Save the details and connect to the network, and also connect your iPhone to the computer.
Step 4 – Once you reach the Activation Lock, open the tool. Check all the options on the left menu of the screen and click "Connect iCloud Erasing Server".
Step 5 – When prompted, click "Upload Activation File" and choose the required file. Wait for the program to finish running the unlock and then tap "Next" on your device.
After above steps, you can try to set up your iPhone to see if the activation lock still exists.
1.4 Does iCloud Activation Bypass Tool Version 1.4 Work?
We thought about this question long and hard, and we'd like to say that the tool does work. But unfortunately, after vigorous and repetitive testing, we can't say that it does.
Our testing included a range of iOS devices, different iPhone models, and different iOS versions. None of the devices which we tested had the iCloud Activation Lock successfully removed by the tool and so our conclusion is that it doesn't work.
1.5 Is iCloud Activation Lock Bypass Tool Version 1.4 Worth Trying?
It all depends. If you just want a free tool to bypass iCloud then you can ask for a copy of it from us. However, it won't work for must of you:
Poor compatibility: it's only available on Windows and support partial iOS versions (iOS 7 – iOS 10.3)
Virus: there is no official website to download this tool, and most of the tools you download from the Internet will infect your computers.
So, if you're in a hurry to unlock your device, then the following alternatives will help you out.
Part 2. Alternatives to iCloud Activation Bypass Tool v1.4
By now it should be clear that the iCloud Activation Bypass Tool Version 1.4 isn't quite the superb solution it promises. There's no need to lose hope now though because here are a couple of alternatives.
2.1 AppleiPhoneUnlock

AppleiPhoneUnlock is the best way of guaranteeing an iPhone will unlock. Rather than installing a suspicious piece of software you haven't heard of before, and which likely won't work, this service is more convenient.
With a high success rate, compatibility with all iOS devices, and reasonable pricing, there's nothing about AppleiPhoneUnlock that is cause for concern.
Remove iCloud Activation Lock Permanently in Less Than 24 Hours (with FastTrack)
Compatible with all models of iPhones, iPads, and Apple Watches
Tech experts remove the iCloud Activation Lock and handle everything remotely, you need to do nothing
iCloud removal revokes all limits that the lock places on an iOS device
Jailbreaking or third-party installations are not required
This is a unique and highly effective service that can solve a very bothersome problem you have, and it couldn't be any easier. Here's a quick rundown of the process:
Step 1 – Go to the AppleiPhoneUnlock iCloud Unlock page.
Step 2 – Type the IMEI or Serial number of the device for unlocking, it will automatically detect your iPhone's model.
Step 3 – Click "Remove Activation Lock".
Step 4 – Select FastTrack and complete the payment process to initiate your order.
Once you finish making the payment, you'll have the ability to track the progress of your order. In no time at all the unlock will be done and the iCloud lock won't be a problem anymore.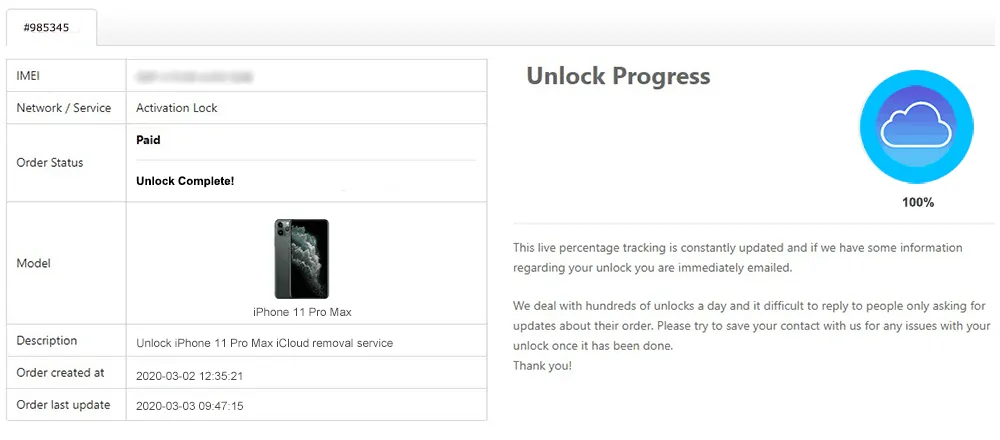 Finding the IMEI of an iPhone/iPad
To use the previous guide you'll require the IMEI of your iPhone/iPad. Depending on the device there are a few ways to obtain this number:
iPad and iPod. The IMEI is engraved on the back of these devices.
Connect to iTunes. Connecting an iOS device to iTunes will display info including the IMEI.
Tapping "i". If you are factory resetting, tap the "i" icon to view the IMEI.
SIM Tray. Older iPhone models have the IMEI number on the SIM card tray.
Obtaining the IMEI isn't difficult and no matter what device you have, there are multiple ways to find it out.
2.2 Tenorshare 4MeKey
If you still want to use a software option, Tenorshare 4MeKey has proven to be effective. It will require a license, but the free trial will give you a good idea of what to expect.
Can remove iCloud account and iOS lock screen security
Quick and easy process to use
Doesn't require users to be tech-savvy or have expertise
So, if you liked the idea of iCloud Activation Bypass Tool Version 1.4 and want a similar software which actually works, try this method.
Step 1 – Download and install Tenorshare 4MeKey, then launch it.
Step 2 – Connect your iPhone to computer via a USB cable and click "Start" on the main menu.
Step 3 – Click on the "Jailbreak" button, it will automatically jailbreak your device.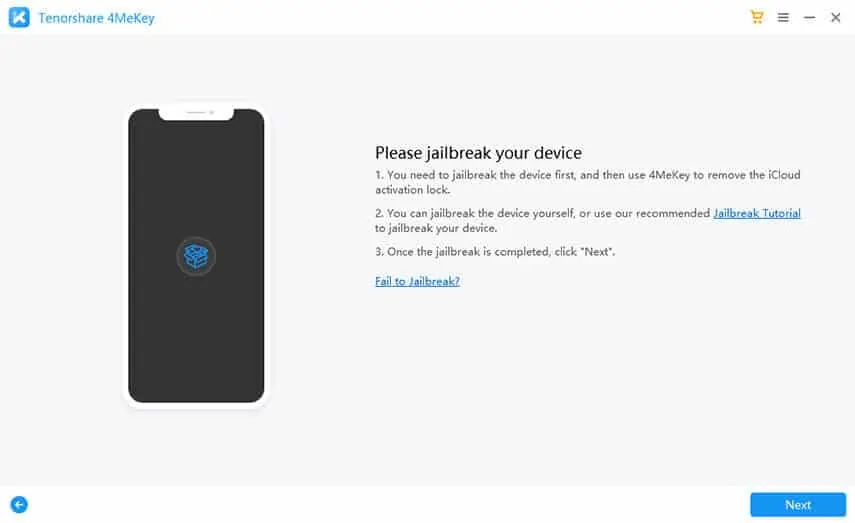 Step 4 – After jailbreaking, confirm your device info, click on "Start Remove" and let the program remove the lock.
Step 5 – The whole unlocking process will take about 5 minutes!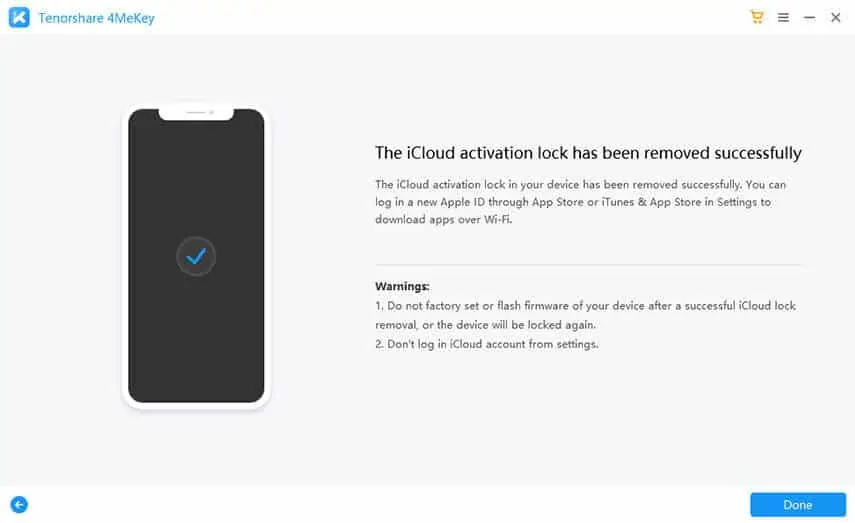 Although there are some drawbacks to this software (e.g. it only works when your iPhone is activated), it's worth a try.
Conclusion
For some users, it's as simple as signing into the iCloud dashboard and disconnecting the device from the account. The majority of us aren't that lucky and considering that iCloud Activation Bypass Tool Version 1.4 isn't close to being an effective removal solution, we recommend AppleiPhoneUnlock. It can remove the iCloud lock from any iPhone quickly and without any effort!