Last updated on

April 14, 2021

by Darren
A lot of readers want to know the permanent iCloud Activation Lock removals as they've suffered from this for a long time. Most of them are jerked around by some tools or services. They've spent a lot of time and money on this.
If you're one of them, you should read this article before trying another way. I'll make a full review of the iPhone Activation Lock removals/repair.
Part 1. Frequently Asked Questions for iCloud Activation Lock Removal
Here are some frequently asked questions you should never miss about iCloud Activation repair:
Q1. What is iCloud Activation Lock?
iCloud Activation Lock is a feature introduced from iOS 7, and now available for all Apple devices (iPhone, iPad, iPod touch, Apple Watch, and Mac). It is designed to prevent anyone else from accessing your device and information.
This feature is related to "Find My iPhone", and when "Find My iPhone" is turned on, you'll see the Activation Lock screen after resetting a device. And you'll have to enter the Apple ID & password to be able to get access to your Apple device.
Q2. What is "Activation Repair"?
Activation Repair means iCloud activation lock removal in some degree. When you try to activate an iOS device, there may be an error telling you that this device cannot be activated. In this situation, you'll have to bypass/remove the activation lock before using it.
All the tips & methods mentioned here can also be used for Activation Repair.
Q3. Can I Use a free iCloud Activation Lock removal tool/service?
You'd better not try. There are so many iPhone iCloud unlock tools, each of them claimed that they can help you remove iCloud Activation Lock for free. But most of them are scammer.
Some free tools are notorious for carrying viruses and other hidden threats that will harm your computer. The easiest way to judge whether it is fake or not is to check if it owns an official website. If it's hard to find the download link or the official website is simple and crude, it must be fake.
There are also some free iPhone iCloud unlock services. Their purpose is to collect your private information for fraud in the future.
So, when you see something like "iCloud Activation Lock removal tool free download", stay away from them!
Q4. Can I bypass iCloud Activation Lock with jailbreak?
Never! iOS jailbreaking is a privilege escalation for the purpose of removing software that may be restricting you from fully accessing your iDevice file system. It will never remove the iCloud Activation Lock.
But some tools (such as Tenorshare 4MeKey) can bypass activation lock by accessing the iOS file system after jailbreaking.
Q5. Can I remove an iCloud account with Restore?
No! When you restore your iCloud locked device, it just upgrades the iOS to the latest version and erases all the software and settings from your device, it cannot unlock your device.
iCloud Activation Lock is a cloud service that's designed to prevent anyone else from using your iPhone. It doesn't exist in your physical device. So, it's impossible to erase the Cloud service unless hacking the Apple server.
Q6. Does an iOS Lock Screen Removal software remove iCloud lock?
No. The principle of lock screen removal software is the same as iTunes. This kind of software will download the latest firmware package for your iOS, then restore your device with the firmware.
Q7. Can I use third-party eraser software for iOS 11/12/13/14/15 iCloud Activation Lock Removal?
They are fake! Any software about "reset/erase iPhone without Apple ID or password" are scam. The third-party eraser software will let you turn off "Find My iPhone" in iPhone Settings which will require the iCloud password, just like the default factory reset. But the problem is that you cannot access the Settings and you don't know the iCloud password.
What's more, iCloud Activation Lock is one of the features of "Find My iPhone", if "Find My iPhone" has been disabled, there won't be iCloud Activation Lock in your device.
So, never purchasing iOS data eraser software if your device is locked by iCloud.
Q8. The previous owner is glad to remove my iPad from his account, how to do that?
If the previous owner is close by,
Ask them to enter the Apple ID and password on the Activation Lock screen.
Go to Settings > [your name]. Scroll down and tap Sign Out.
Enter the Apple ID and password and tap Turn Off.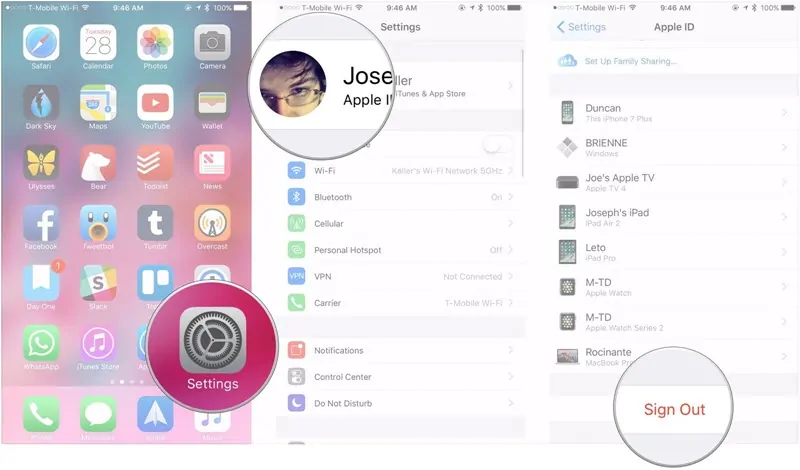 If the previous owner isn't present,
Ask him to visit iCloud.com and sign in with their Apple ID.
After login, choose Find iPhone option.
On the top of the Screen, click on All Devices, then choose the iCloud locked device.
Finally, click on Remove from Account.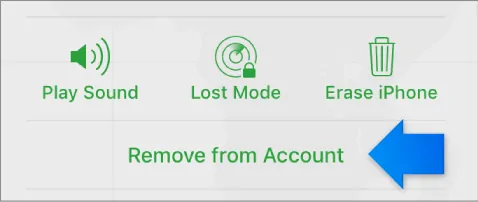 Q9. I forgot Apple ID password, my email account is disabled, what should I do?
First, you need to contact the email service. If they can help you recover your email account, you can find the Apple ID password back by using the "Forgot Apple ID or password" feature.
If they cannot recover your email account, you have to contact Apple support. You'll need to offer them the purchase proof to unlock your device, it usually takes 2-3 weeks.
Q10. Is there any useful iCloud Activation Lock removal tool?
No! There is no software can remove iCloud activation lock now. We've found and tested lots of tools, none of them can successfully unlock an iCloud locked device. Including iMyFone LockWiper, Tenorshare 4ukey, iRemove Tools. Some of them are even hard to download, such as iCloud Unlock Deluxe, Unlock Mtool 2019, iBoxTool 2019, etc.
Part 2. Legit & Permanent iCloud Activation Lock Removal Service in 2022
There is only one permanent way to remove iCloud Activation Lock – using IMEI/Serial number. You need to choose an iCloud Unlock Service, and offer them the info they required. They will unlock your device by whitelisting your device. This way has been verified by most users.
Different from iPhone iCloud unlock tools, devices unlocked in this way won't get locked again in the future.
You may think of how you can choose a trusted iCloud removal service, as there are numerous tricks like this on the Internet. Don't worry, we've made a full review of 2 popular services below.
Check the iCloud Status of Your iPhone before Unlocking
Note: Both of the following methods can completely remove iCloud activation lock from your device! But you need to make sure that your iPhone iCloud status is Clean.
We strongly recommend you check the iCloud status (clean or blacklisted) first before using any methods. Because there is only one way to completely unlock blacklisted device – ask the original owner to remove.
But the truth is that it's impossible for most of you to get access to the original owner.
So, check the status of iCloud first with a reliable iPhone blacklist checker will save you a lot of time and money.
As you can see from the above IMEI report, this iPhone cannot be unlocked since its iCloud status is Blacklisted (Reported Stolen or Lost).
iOS 15/14/13/12/11 iCloud Activation Lock Removal Service Recommended
#1 AppleiPhoneUnlock

The first one would be AppleiPhoneUnlock it is a fast Reliable IMEI-based unlocking website. This website offers two types of services: Unlock iPhone and iCloud Unlock. Established at 2011, AppleiPhoneUnlock has gotten a lot of reviews from users all over the world. Here is video review by previous iCloud unlock user:
Here are a few important things to know about using this site:
It is a permanent solution; even if you update the iOS version or sync your data with iTunes, your iPhone won't be locked again
All iPhone models (including the latest iPhone 12) and iOS versions are supported. (Can also unlock activation lock on iPadOS & watchOS)
If your iCloud isn't unlocked, then a full refund is given
All iCloud features will be available after your order is complete
You need do nothing, just offer the info they required, your device will be unlocked within 24 hours
How Does AppleiPhoneUnlock Work?
This service is all about making it easy for you to gain full access to your iPhone. All you need to do is head to this page, select your iPhone model, and enter the following details:
The model of your iPhone
The iPhone's IMEI number / Serial number
Then you can click "Remove Activation Lock", check the FastTrack option if you're in a hurry then pay the small fee, and wait. You'll be able to track your order to keep up to date with the progress, and an email will be sent to you after it's complete.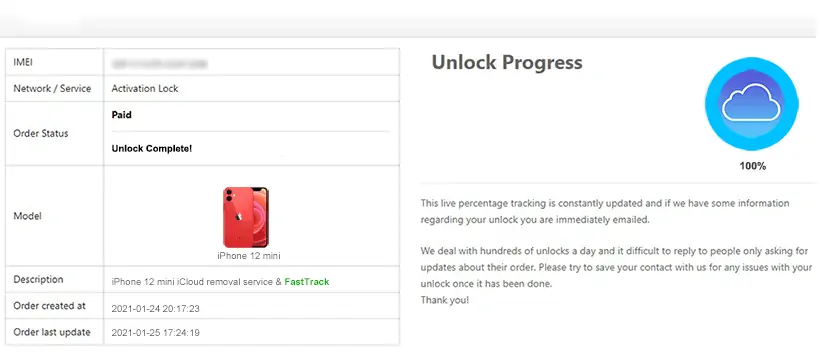 Is AppleiPhoneUnlock Legal?
Yes! Using AppleiPhoneUnlock is completely legal and we assure you that the service provided breaks no laws whatsoever.
We highly recommend this solution due to how simple, convenient, and effective it is. There's also the bonus that you won't have to deal with the stress of unlocking iCloud, a professional takes care of everything for you!
#2 DirectUnlocks
DirectUnlocks is the other reliable iCloud Activation Lock Removal Service. Just as AppleiPhoneUnlock, DirectUnlocks can also remove iCloud lock permanently. With a small fee, DirectUnlocks will permanently unlock your device within 3 days. This iCloud unlock provider has been verified by most of users for activation repair.
#3 Tenorshare 4MeKey
The last one is iCloud unlock software – Tenorshare 4MeKey. It offers free download to enable you to check if your devices can be unlocked or not. And has been proved one of the most popular iCloud unlock tools.

This tool works smoothly when you want to bypass Activation Lock without IMEI number.
Differences Among the Three iCloud Removals
Please note that the FastTrack service in AppleiPhoneUnlock is only available for US/UK iPhones.
AppleiPhoneUnlock

Tenorshare 4MeKey

DirectUnlocks

Delivery Time
For iPhones from US/UK:

Within 5 days
Within 24 hours (FastTrack service enabled)

For iPhones from the other countries: Within 48 hours


5 Minutes


Within 3 days

Price

For US/UK iPhones: $39
Other countries: $28


Start from $29.95



$42 on completion


Our Rating

9.5/10


8.5/10



8/10

Just choose your favorite one to remove Activation Lock from your device now!
Part 3. All About iCloud Activation Lock Removal Free Online
Dangers of Using Free Online iCloud Lock Removals
This is human nature that most people would like to find a free way first when they have a problem. When it comes to free online iCloud Activation Lock removals, there may be a lot of risks.
Malware and viruses might be attached to a free tool
There will be a risk of privacy leaks when using an online free service.
Hidden fees may exist
No guarantee about the success of the free online tool
Check If an Online Free Tool is Safe
How do I know if an online unlocking or repairing website is safe? No worry! Just click the "Lock" icon, then Chrome will generate a brief report about the security of this site.
The Only Free Online Removal – Lucky Dog Plan
I can definitely guarantee that this is the only free online iCloud activation lock removal – take part in our "Lucky Dog" plan.
About this plan: The surprise gift is a thankyou to our readers. We'll help three readers per month to help them to bypass iCloud activation with IMEI for free. All you need to do is to share our post or leave a comment below. We'll choose three lucky dogs randomly from those who share or leave a comment.
Please note that this is a permanent unlock so you'll be able to use your device without any limits.
We'll contact you once you're chosen at the end of the month. Good luck!
That's all about iOS 15/14/13/12/11 iCloud Activation Lock removal/repair. If you have any questions, feel free to let me know!