Last updated on

April 3, 2020

by Darren
Even though the iCloud Activation Lock is designed with good intentions (to protect users' devices from unauthorised access), it can sometimes be an inconvenience.
In situations where you've bought a second-hand iPhone and the previous owner's iCloud account is still linked to the device, you might find yourself looking for a removal tool.
This is where tools like iCloud Unlock Buddy come in, and this can be used to remove iCloud accounts that you don't know the password for. Our review will explore how it works and determine if it's worth your time.
Part 1. iCloud Unlock Buddy Full Review
To quickly summarise iCloud Unlock Buddy, its purpose is basically to remove the iCloud Activation Lock from an iOS device. It claims to do so in just one click, although the effectiveness of the tool has always been in question.
1.1 How Does iCloud Unlock Buddy Work?
iCloud Unlock Buddy has a little extra to its process than other tools. In simple terms, you install it on your computer and connect your iPhone. Once a connection has been made, the tool will put the device into sync mode to gather data.
After it has the data it requires, it then takes a full backup of your iPhone before factory resetting it. Finally, it sets up your iPhone from scratch but bypasses the iCloud lock. You'll then be able to sign in using a different iCloud account.
The whole unlocking process sounds great, but there're some disadvantages:
It is difficult to find a trustworthy download link
The claimed official website directs users to surveys before downloading
After following the surveys, we found that the surveys are endless
1.2 Is iCloud Unlock Buddy Legit? Does it Work?
This is the key thing we need to determine – does iCloud Unlock Buddy actually work for removing iCloud locks?
To figure this out we used a variety of iPhone models with varying iOS versions installed. Doing this allowed us to get a diverse set of results and see if it perhaps only worked in a specific environment.
Unfortunately, none of the tests we ran returned positive results. The iCloud locks were not removed from the iPhones, and the tool presented no positive results.
1.3 How to Download iCloud Unlock Buddy Software?
If you're interested in iCloud Unlock Buddy and would like to use it for your own iPhone, you'll struggle to find a download link. The creators of this tool have not published an official site and therefore, there's no official download link out there.
Instead, there is a long list of websites which advertise the download. The risk with this is that you are likely to download a virus-infected version of the tool, and this will compromise your computer's security.
So, to ensure safety, we have acquired the official version (iCloud Unlock Buddy 3.0.zip). To obtain a copy, leave a comment below or share this post and we'll send you a download link to iCloud Unlock Buddy!
Best Alternatives to iCloud Unlock Buddy
If we take a moment to focus on the cons of using iCloud Unlock Buddy, you will agree that another solution would be better. In that case, the best option would be to use an iCloud unlock service and we have the 2 best services below.
2.1 AppleiPhoneUnlock
First, we have AppleiPhoneUnlock which is among the top iCloud Activation Lock removal services out there, and one which we greatly recommend.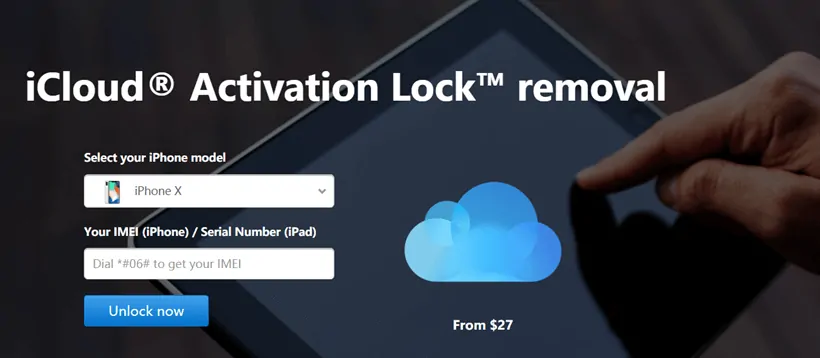 It's suitable for removing iCloud locks from any iPhone, and several other iOS devices, and it basically removes iCloud accounts without the password. You don't have to lift a finger – just submit a few details and pay for the service, and their team will take care of the rest.
Pros
Supports all iPhone/iPad/Apple watch models
Permanently unlock your iCloud locked device
Doesn't require experience with iCloud removal since experts handle the whole process
Quick and easy process for efficient removal
Claims to have a 100% success rate (4 out of 4 our phones were unlocked)
Cons
Since so many devices are supported, finding your device can seem messy
For some users, the £19.99 charge is too much
2.2 IMEI Unlock SIM
Likewise, you can use the iCloud Activation Lock removal service IMEI Unlock SIM which is very similar to AppleiPhoneUnlock.
You can place an order in minutes, which only requires a few basic details about the iOS device, and it takes a little over a week for the unlock to be processed.
Whilst the wait is slightly longer, you can save some money with IMEI Unlock SIM and get the same result. So if you're not in a rush, this might be the better option.
Pros
Supports iCloud lock removal from all iOS devices
Only requires the device IMEI so that the process is effortless for customers
Can also unlock a blacklisted iPhone
The website is easier to navigate and use than other unlock services
Cons
Delivery time is a little longer than AppleiPhoneUnlock
2.3 How I Test These Services
If you're curious about my process and how I choose then test these iCloud Activation Lock removal services, I'll explain for your benefit.
I start by researching a bunch of different services and considering what they offer, their reviews, and how much they cost.
After this, I disregard the unlock services which have bad reviews, and which have shown to be ineffective and unreliable.
Next, as an added precaution, I disregard the unlock services that have an overwhelming number of scammer claims or are considered risky.
The remaining services I have, I start testing them. Typically this testing will involve purchasing iCloud lock removals for multiple iPhone models so that I get a broad span of data and can accurately determine if the service is effective and worth the money.
By using this process, I'm able to accurately tell readers if a service is a scam, if it effectively removes iCloud locks, and ultimately explain whether or not it's going to solve their problem.
In this case, both of the iCloud Activation Lock removal services I have suggested are effective solutions.
Conclusion
With this review, you can now make an educated decision to use (or not use) the iCloud Unlock Buddy tool. As you can tell, we aren't fond of this tool and would much rather users direct their attention towards a reliable iCloud Activation Lock removal service.
Both of the services we have suggested, AppleiPhoneUnlock and IMEI Unlock SIM, are fantastic services and are highly effective when it comes to removing these locks. With very little effort and an affordable fee, you can use either of them with ease!