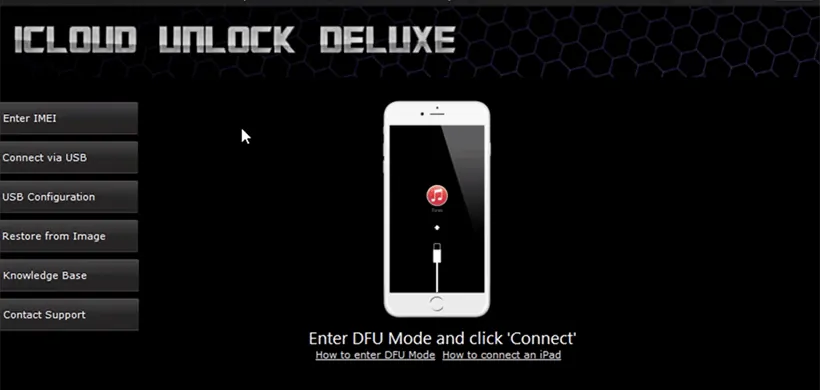 Last updated on

May 25, 2021

by Darren
Buying a second-hand iPhone is often much cheaper than buying a brand new one. But a lot of the time buyers are left with one big problem: the previous owner didn't remove their iCloud account from the device.
This might seem like a simple issue to fix, but it isn't. iCloud accounts prevent thieves from using a stolen iPhone and as such, they limit the features you can access. So, how do we get around this?
iCloud Unlock Deluxe is how you resolve this problem. This program is designed to help you remove iCloud account from your iPhone.
Part 1. How to Download iCloud Unlock Deluxe?
Downloading the official version of iCloud Unlock Deluxe can be a chore. It's not easy to locate and on top of that, a few things prevent users from accessing the software:
Before you can use this solution, you have to complete a long survey (which doesn't always register when you complete it, so you have to do it again)
You must make a payment they offered after you complete the survey before you can download it
After paying for the software, lots of users report that they didn't get it sent to them
These limits indicate that it's best to avoid the MacCrunch iCloud Unlock Deluxe download. However, if you want to give it a shot, comment your email address below and we'll send you the link to download iCloud Unlock Deluxe.zip (138MB) for free.
Update

We have gathered a lot of feedback from our readers: after receiving the download link from us, they found that iCloud Unlock Deluxe cannot work. So we stop offering the download link from now on.

For iCloud removal, you can try the alternative method.
Part 2. iCloud Unlock Deluxe Review
As discussed before, this tool aims to help you unlock your iCloud locked device. After you successfully remove the account, you can sign in with your own iCloud account and use all of the features without any limitations preventing you. This includes Find My iPhone and several other security features too.
But does it really work?
2.1 Does iCloud Unlock Deluxe Work?
We tested this software on our iPhone 6 (iOS 11.3) and iPhone X (iOS 12.1.4), unfortunately, none of them get unlocked. I suppose this tool is useless for most of people as Unlock Mtool 2019, iBoxTool 2019 or 3Unlocker.
However, you can still try it to see if it can work for you if your device isn't either iPhone 6 (iOS 11.3) or iPhone X (iOS 12.1.4).
2.2 How to Use iCloud Unlock Deluxe?
Note: after downloading iCloud Unlock Deluxe, you need to right-click on it and then select 'Run as administrator' to install.
Using this iCloud unlock tool can be a little bit tricky, but here's how to do so.
Step #1 – Start by downloading and installing the software on your computer. As we said above, we've stopped offering the iCloud Unlock Deluxe download link.
Step #2 – Open the program and connect your iPhone with a USB lightning cable.
Step #3 – The program will then restart your device and use a custom bootloader which provides it with full access for the unlock process.
Step #4 – When you see a display of your iPhone information, check the box and click "Continue with Unlock Procedure".
Then you'll see a lot of options:
Refresh Serial Number (remove your serial number from Apple server, but this will VOID your Warranty and Apple Care)
Renew IMSI to match IMEI (SIM unlock)
Allocate new IMEI (SIM unlock)
Custom Setup.ipa (permanently remove iCloud, ensure your iPhone won't be locked again after resetting or updating)
Block Apple ID Verification Servers (remove iCloud activation lock, but all the iCloud features such as iCloud photos, notes, contacts, etc. will be disabled)
Step #5 – Finally, select one of the options to start to unlock (the option you select will depend on your specific device). Your iPhone will restart several times during this process.
After it finishes installing the firmware to your iPhone you'll be shown your device's details once again. If you successfully unlocked iCloud, the lock status should appear as "Clean".
2.3 Our Review
The team who developed the iCloud Unlock Deluxe has already stopped working on it. It has been outdated now, no to say it's nearly impossible to download.
We don't recommend this software since your computer or iPhone may be injected by virus when you download this software from the Internet.
To remove the iCloud Activation Lock, try the below alternatives that actually worked for us!
Part 3. FAQs About iCloud Unlock Deluxe
Q1. Can you send me the iCloud Unlock deluxe file please?
We offered the download link to over 10k readers before, however, NONE of them can unlock successfully with iCloud Unlock Deluxe!
So we stopped offering the link to save time for both of us. We'll ignore those who still ask for the file now.
Q2. Can I download iCloud Unlock Deluxe from other websites?
If you've made a deep research, you'll know that nearly all of the websites cannot give you the installation file!
They usually require you to subscribe their Youtube channel, and then leave your personal info. After that, they'll ask you to install endless of malware.
Finally, you get nothing but malware full of your computer.
Q3. How can I download the crack version of iCloud Unlock Deluxe?
Sadly, there is no crack version. You may find the download link of it in Mega, but all of them are scammers, some even contain virus.
Q4. Is Digital Weakness iCloud Unlock Deluxe Trustworthy?
We tried to download this software from the Digital Weakness website, however, it's just difficult to find the direct download link or button.
Part 4. Alternatives to iCloud Unlock Deluxe That Actually Work
If you don't want to deal with the troubles of locating an iCloud Unlock Deluxe download and installing it, we've got a few simpler options you can try to remove Apple ID from iPhone without password.
The following methods are already tested by us, they can unlock both our iPhone 6, iPhone X and iPhone 11 Pro Max.
4.1 AppleiPhoneUnlock

One of our favourites is AppleiPhoneUnlock. With this iCloud unlocking service, you don't have to lift a finger. You place an order, enter a few details, and a professional takes care of everything for you! Here are the main features of this iCloud unlock service:
Pros
Can unlock iCloud on any iPhone model (including the latest iPhone 12)
Unlock your iCloud account in 24 hour
Unlocks iCloud on any iOS/iPadOS/watchOS device (iPhone, iPad, iPod, and even Apple Watch)
Permanent unlock. Your device won't be locked again
Offer Money-Back Guarantee if they failed to unlock
After placing your order, the team at AppleiPhoneUnlock will remotely unlock the iCloud account that is signed into your device. Nothing else is needed from you!
Steps to Use AppleiPhoneUnlock
Here are the steps to use AppleiPhoneUnlock iCloud unlock service:
Step #0 – You'd better check the iCloud status of your iPhone with an accurate iPhone IMEI checker. If it's blacklisted (reported as stolen or lost), then there is not unlocking service work for you.
Step #1 – Go to the AppleiPhoneUnlock iCloud unlock page.
Step #2 – enter your IMEI or Serial Number, it will automatically detect your iPhone model.
Step #3 – Click "Remove Activation Lock!" and enter your payment information (with FastTrack option selected).
As soon as you make the payment your order will begin being processed. Within 24 hours the iCloud account will be removed from your device!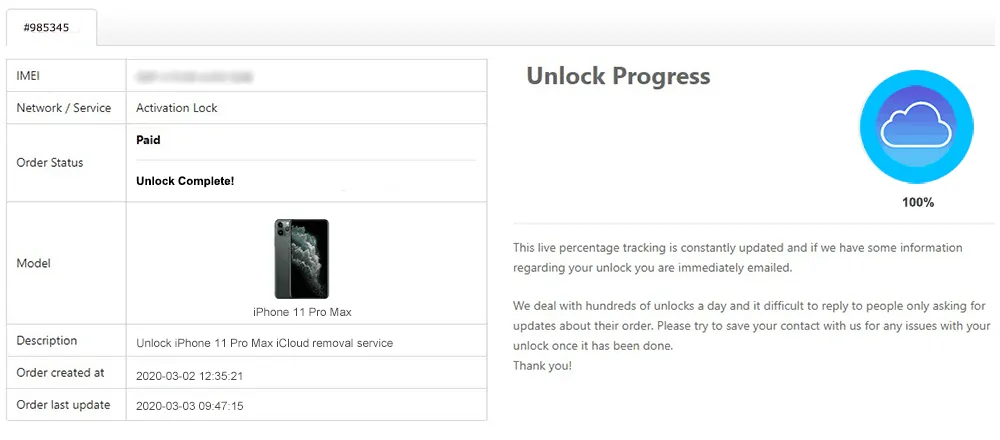 Find Your iOS Device's IMEI
When you place an order, you'll need to know your iPhone's IMEI number. If you're unsure what the IMEI is, you can retrieve it by clicking on the 'i' icon on the iCloud activation lock screen.
Alternatively, if your iPhone model is earlier than the iPhone 6S, the IMEI will also be engraved on the back of it. If not, you can find it on the SIM tray.
4.2 Tenorshare 4MeKey
You could also try Tenorshare 4MeKey. This iCloud unlocker tool is specially designed for those who are locked out of their iPhone from iCloud Activation Lock.
Pros
Bypass iCloud Activation Lock without password
Compatible with iPhone 5s – iPhone X
Offers free trial to help you learn whether your iPhone can be unlocked or not
Support iOS 12 – iOS 14
Although this software will jailbreak your iOS device before unlocking, it's still an effective tool that helps you get into your iCloud locked device without any issues.
4.3 Tenorshare 4uKey
The last option for you is to use 4uKey – another tool from Tenorshare. This is a software solution, so you'll require computer access to remove an iCloud account or an iOS lock screen. Here are some features that can help you learn this software better:
Pros
Remove iPhone passcodes and iCloud accounts in just a few minutes
Compatible with iOS 11.4 and below
Includes a free trial (experience the software before buying it!)
Depending on the iOS version your personal data will not be wiped
There are plenty of features given to users of this program and it's the perfect alternative to iCloud Unlock Deluxe.
Steps to Use Tenorshare 4uKey
So, after you've installed Tenorshare 4uKey, how do you use it to remove iCloud from your iPhone? Here are the steps:
Step #1 – Download Tenorshare 4uKey on your computer and install the program accordingly.
Step #2 – Once the install is complete, launch it for the first time. The main menu will prompt you to select the unlock mode you want to use, click on "Unlock Apple ID".
Step #3 – Use a lightning cable to connect your iPhone to your computer. Then press "Start" to begin the iCloud account removal.
The next part of this process differs if you have Find My iPhone turned on. If this feature is disabled, then the process will complete without any further steps. If Find My iPhone is enabled, follow this step too:
Step #5 – Open the "Settings" app and go to "General > Reset". Tap on "Reset All Settings" and enter your device's passcode. Wait for several minutes, your Apple ID will then be removed.
You can now sign into your own iCloud account and enjoy all of the features that come with it.
To Conclude…
There you have it. We understand that many people don't want to use the iCloud Unlock Deluxe download and if that's the case, try the alternatives. All of them are fantastic iCloud removal solutions and are far better than the problematic iCloud Unlock Deluxe!