Last updated on

February 16, 2019

by Darren
In the case where you purchase a secondhand or refurbished iPhone that is locked with the iCloud feature, you practically would not be able to use the phone except until the lock is deactivated. You may want to try some free iCloud unlock services or tools, but should you trust them?
Can You Trust "iCloud Unlock Free 2019/2018" on Internet?
Removing the iCloud Lock from an iPhone or iPad is something that a lot of iCloud Unlock free tools and services out there claim to do, but the fact is: none of them can actually carry out this task.
While the term "Hack iCloud account for free" or "iCloud unlock free online" might sound authentic, it is, however, something that can't be done: it is a major SCAM!
Numerous sites out there promote their iCloud Unlock free tools/services which they say can "Hack iCloud Account for free" or "Unlock iCloud for free", claiming that
Their free iCloud unlock software or service can miraculously break the lock from the iDevice with the owner's iCloud ID.
They offer legal service and "hacking" is not required.
Their service can be applied to every type of iPhones- Clean, lost/erased and blacklisted.
None of these sites are functional, nor can they be trusted, and as soon as you see the word "free," just walk away. None of them can disable the iCloud Activation Lock, and moreover, most of them even contain Malware and Adware.
The Only iCloud Unlock Free Method
The moment you turn an iCLoud locked iPhone on, you will be stuck on the iCloud Activation Lock Screen, and it will ask you to enter the iPhone's Apple ID and Password, and sometimes, it could contain a message from the previous owner with contact details.
Therefore, you should contact the previous owner, and explain the situation to him/her. This is the only iCloud unlock free method.
If he/she accepts to help you, then here are the steps the person is to take to unlock the phone:
Sign into iCloud.com with his/her Apple ID.
Navigate to Find iPhone.
Select All Devices at the top corner of the screen
Choose the device they want to remove from iCloud
If necessary, they can choose to Erase (Device).
Select Remove From Account.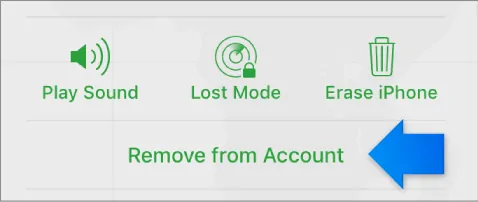 After the previous owner has done this, turn the device OFF and ON to begin the process of setting up with your own Apple ID.
Two Trusted Services for iCloud Unlock (Not Free)
There are other options for you to consider when deciding on removing iCloud account from your iPhone. You can consider one of two iCloud unlock services: AppleiPhoneUnlock and iPhoneIMEI. Let's take a closer look at these two services and how to use them to take advantage of the remove iCloud account from iPhone hack.
1. AppleiPhoneUnlock
AppleiPhoneUnlock is an iCloud unlock service designed to help you remove your iCloud account from an iPhone. The AppleiPhoneUnlock service will completely remove the iCloud account from your iPhone, enabling you to proceed with a new activation or whatever you plan on doing with your device.

Pricing
The price to use AppleiPhoneUnlock may vary depending on your iPhone model. Currently, AppleiPhoneUnlock prices all of their iCloud removal services at $27.
Delivery Time
It will take 1 to 3 days for the service to be completed and for your account to be removed from the device.
Step-by-Step Instructions
Retrieve your IMEI number. This can be found in settings on activated phones, and by clicking the "I" icon on activation pages of inactive phones.
Input your IMEI number into the AppleiPhoneUnlock service page. Then select your phone model and select the "Unlock now" option.
Wait 1 to 72 hours to receive notice that the account removal is finished.
2. iPhoneIMEI
iPhoneIMEI is the other iCloud Activation Lock removal. Just like AppleiPhoneUnlock, this service supports all iPhone and iPad models, and will 100% permanently unlock your device.
Pricing
The pricing for iPhoneIMEI iCloud account removal will depend on your phone model. All unlocking services start at $27.99.
Delivery Time
The delivery time for iPhoneIMEI is anywhere from 1 to 24 hours.
Step-by-Step Instructions
Select your phone model on the order page. Then input your IMEI.
Select "Unlock Now" and make payment.
Wait for email confirmation that the account removal is completed.
Bonus: Can You Trust iCloud Unlock Tool Download Free?
Since the moment the "Find My iPhone" and "iCloud Lock" were introduced by Apple, diverse iCloud unlock free software have emerged claiming they could hack the iCloud password. In fact, hackers utilized various methods and exploits, and the truth is- some were successful at it.
However, if we think about it logically, Apple would never allow any iCloud unlock tools to bypass or hack their iCloud Lock security. And even if a tool could possibly do that, Apple would have had that bug patched almost immediately. So, while you can find a multitude of iCloud unlock free & priced software, please note that THEY DO NOT WORK, and we can put our hand in the fire to bet on that.
Apple has been patching a lot of them, but then, exploits and bugs will always be available for hackers to utilize, and Apple will keep patching them! Moreover, Apple has quite a number of extra security features that block brute force attacks, which is why there are numerous iOS updates from time to time.