Last updated on

August 21, 2021

by Darren
There are so many people who get a second-hand iPhone but find that the device is locked by iCloud lock. They will panic when they cannot get in touch with the previous owner or don't know which iCloud unlock tool they should use.
If you're one of them, you need to read on to learn the hard truths I found throughout the years.
Why Trust Me?
Hi, my name is Darren, and I've been an iPhone user since the days of iOS 7. Admittedly, there wasn't much you could do with iOS device back then (and I was a junior high school student), but starting that early has given me a broad perspective on what's possible with the iOS environment and how far we've come since the early days.
About 5 years ago, I got a second-hand iPhone 5 from someone on eBay. I was told that the device was totally unlocked. But when I opened that iPhone, it stuck at "iCloud Activation Lock" interface. You can imagine how disappointed I was then. From then, I start to research the ways for iCloud activation lock removal. And now I own a team of 5 for researching iCloud unlock.
Our team has tried a range of iCloud unlock tool (also called iCloud unlocker) over the course of our hobby and career, with varying degrees of success – some are useful, and others are a waste of time. I bring all that knowledge and experience to this post so that you won't have to spend years learning everything you'll need to know to separate the good iCloud bypass tools from the bad.
Part 1. Two Type of iCloud Unlock Tools That Never Work for Us
There are mainly 3 types of iCloud bypass tools. Two of them have never worked for me: iCloud unlocker online and iCloud unlock software. Let me show you how online unlocking tools work first.
1.1 iCloud Unlocker Online – They Do Nothing but Cheating
We've tested over 20 online iCloud unlockers, which claim to be able to unlock an iCloud locked iPhone regardless of its status (CLEAN or LOST). They usually asked us to make a payment or make a survey to get the unlocking process complete. Unfortunately, none of them worked.
The worse thing is that they don't allow us to get the money back according to their Terms & Conditions, which is ridiculous! Two famous online iCloud unlockers are icloudbypassonline and icloudunlocker.pro
1.1.1 icloudbypassonline – Ask Payment before Complete
This scam website will ask you to enter the IMEI and select the model of your iPhone. After clicking on "Start" button, it will start to "unlock". You'll be shown some codes and unlocking process that seems to work. (If you test it with a different IMEI, you'll find that the codes and unlocking process are same for each IMEI)
After that, you'll be asked for payment as the picture shows.
But the point is after you make the payment, they won't do anything for iCloud unlocking. If you ask a refund, they will refuse to do that according to their Terms & Conditions.
1.1.2 icloudunlocker.pro – Endless Survey
This iCloud unlocker is a little different from the former. After showing you the "unlocking process", it will ask you to complete 1 or 2 surveys before completing the unlock process.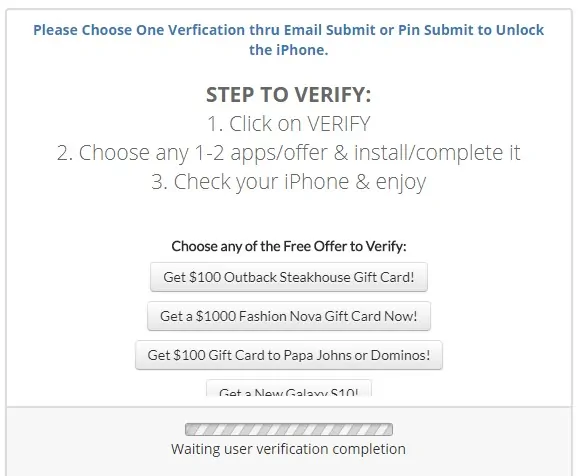 In fact, you'll do endless surveys and never get the unlock complete! Except that, the surveys will collect your personal. It's hard to know how they will use your personal info.
We made a list of scam iCloud unlock tools like these two websites in WipeLock iCloud Solutions eBook. If you're interested in it, you can get it with $8 (It's not just about protecting yourself from scammers. You can also lean the tested methods to unlock iCloud or solve iCloud issues from it).
1.2 iCloud Unlock Software – Hard to Download / Never Work
When you search for solutions to iCloud unlock, you'll find various iCloud unlocking software on the Internet. They are different when it comes to how they worked. But the same thing among them is that all of them are difficult to download.
Here is part of the iCloud unlock tools we tested:
1.2.1 iCloud Unlock Deluxe – Doesn't Work for Us and My Readers
We tried this iCloud unlocking software in May of this year. This tool cannot work for our iPhone 6 (iOS 11.3) and iPhone X (iOS 12.1.4). At first, we think it might be useful for some specific models or iOS. So we offered the download link to our readers and asked them to leave feedback after trying this tool.
Actually, this tool cannot work for any of my readers. So we quit offering the link for download.
To learn our review on iCloud Unlock Deluxe, just refer to this post.
1.2.2 GadgetWide iCloud Bypass Tool – Doesn't Work for Us
It's difficult to make a detailed description of this tool, as this tool is programmed personally. There is no official website for it. So if you find the website who claims they developed this tool, just keep away from it.
We have just tested GadgetWide iCloud Bypass Tool recently. Like other iCloud unlocking software, it cannot work for our iPhone 5s (iOS 10.2), iPhone 6 (iOS 11.3), iPhone 8 Plus (iOS 13 beta), iPhone X (iOS 12.1.4).
We also learned that this tool only works for iOS7, iOS 8 and iOS 9. As we don't have a device with such old iOS versions, we cannot verify this.
We Need Your Help

We think there is insufficient evidence to justify if it works. So, if you're interested in using this iCloud bypass tool, just leave your comment and we'll send the download link of GadgetWide iCloud Bypass Tool V1.4 to you. After using this tool, please go back to here to tell us whether it worked for you or not.
---
We also tested some other iCloud unlocking tools, but none of them work for us. These include iCloud Assistant Pro, Exodus Super Unlock, iCloudin, etc. For more details, just click on them.
Part 2. iCloud Unlock Tools That Actually Work for Us
As discussed above, there are mainly three types of iCloud unlocking tools, the only one worked for us is IMEI iCloud unlock service.
From now on, there are 2 IMEI unlock services work for us:
Here I'll introduce the faster one – AppleiPhoneUnlock.
AppleiPhoneUnlock – Best iCloud Unlock Tool

AppleiPhoneUnlock is my NO. 1 choice for iCloud unlocking. This is the fastest (within 2 days), easiest, and best supported unlock service we tested.
After unlocking your iCloud locked iPhone, you'll be able to login with a new iCloud account on your iPhone.
The steps of using this iCloud unlocking tool is straightforward:
Step 1. Go to AppleiPhoneUnlock website and find your IMEI number.
Open your iPhone, you'll see the "i" icon at the Activation lock screen, tap on it.
Step 2. Choose your iPhone model and make a payment.
Select the correct iPhone model, then pay for the service.
Step 3. Wait for unlocking.
From their website, they claim that the iPhone will be unlocked up to 3 days. In my experience, they unlocked my iPhone 8 Plus in 31 hours.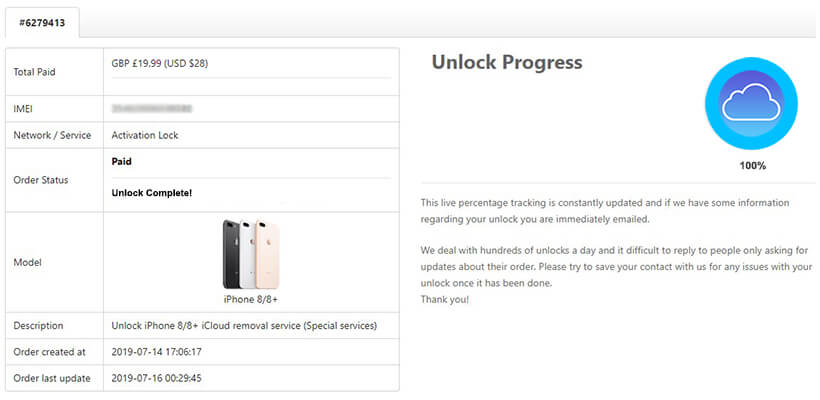 In Conclusion
Having an iPhone locked to someone else's iCloud account is really annoying. You'll need to use a reliable iCloud unlock tool to unlock it. There are many available iCloud bypass tools or software and you can beat their scams without having to pay them a cent. Of the above tools we found and tested, AppleiPhoneUnlock is highly recommended as this tool is really fast and effective.
If you want to try other tools, but don't know whether it works or not, just let us know. We'll test it and make a review post for you.