Last updated on

November 9, 2020

by Darren
Looking for a way to disable an iCloud account on any iOS device so that you aren't bothered by the iCloud Activation Lock?
An iCloud unlocker is the best tool you can use. What these tools do is remove the iCloud account from the device, therefore, preventing it from connecting to Apple's iCloud servers and limiting you with the lock.
But which tools should you use? There are lots of options and in this article, we'll be covering a variety of them.
Part 1. Top 3 Free iCloud Unlocker Tools
To start with we'll be explaining some of the free iCloud unlockers you can use. There are 3 options that we'd recommend which won't cost you a penny!
#1. Ask the Previous Owner for Help
One of the easiest ways to unlock your iPhone is by asking the previous owner for their help. Why is this so easy? Because they literally just have to sign into the iCloud dashboard and disconnect your iPhone from their account. Here's how it works.
Step 1 – First, the previous owner must go to iCloud.com and sign in with their account. This has to be the same account which they have signed into on your device.
Step 2 – After signing in, head into the Find My section and then click on All Devices at the top of the page.

Step 3 – Click on your device then Remove from Account.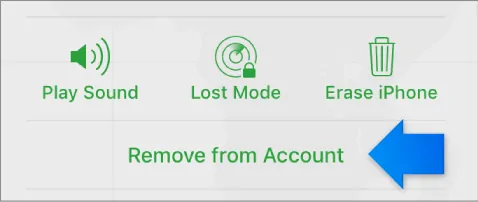 Step 4 – To finalise the removal, restart your iPhone and you will then be able to sign in using your iCloud account.
As you can tell, this iCloud Unlocker is pretty straightforward, and you shouldn't experience any roadblocks when trying to get the previous owner to assist you.
However, if you don't know who the previous owner is, you'll have to use iCloud Login Finder. With this tool, you are able to find out the contact information for the previous owner so that you can request their help.
#2. iCloud DNS Bypass
If the reason you're hunting for an free iCloud unlocker is because you've been hit with the iCloud Activation Lock screen, you might find that this iCloud DNS bypass method is what you're looking for. All you have to do is tweak the Wi-Fi settings and you're good to go!
Step 1 – Set your iPhone up normally up until you reach the Wi-Fi connection page.
Step 2 – Tap the i next to the network you want to connect to.
Note: if you already have the Wi-Fi password saved on your device, tap on Forget This Network before proceeding.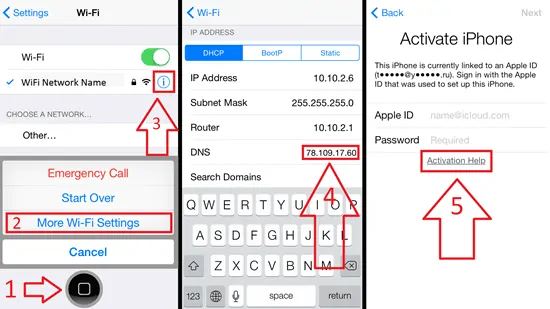 Step 3 – Under the IP Address section, tap on the DNS entry and enter one of the IP addresses from below based on your location.
Europe: 104.155.28.90
North America: 104.154.51.7
South America: 35.199.88.219
Asia: 104.155.220.58
Australia/Oceania: 35.189.47.23
Elsewhere: 78.100.17.60
Step 4 – Once you have the IP address entered, tap the back icon and connect to the Wi-FI connection normally.
Step 5 – You will be presented with the iCloud Activation Lock page. Instead of entering your details, tap Activation Help and you'll be taken to the iCloud DNS bypass page. Follow the steps on this page to complete the unlock.
This free iCloud Unlocker isn't as reliable as the others because it won't enable you to sign in with another iCloud account.
As a result, you also won't be able to use features like iMessage, FaceTime, or the App Store. Nonetheless, this will temporarily hold you over until you can remove iCloud more effectively.
#3. Our Lucky Dog Plan – The Only Free iCloud Unlocker Online
For our readers who engage with our posts, either by sharing them on social media or leaving comments, you can get a chance to have your iOS device unlocked for free!
Every month we randomly choose 3 readers who have shared our content or who have left comments, and those readers get a free iCloud unlock. If you become one of those people then you'll also have a chance at our lucky dog plan!
Part 2. Top 3 Paid iCloud Unlocker Tools (Online / Software / Guide)
Aside from the free iCloud unlockers, there are also a few paid options. Of course, you'll be required to pay for these services however they tend to be more effective than free options are.
#1. Best Online iCloud Unlocker – AppleiPhoneUnlock

First up we have an iCloud unlocker online service known as AppleiPhoneUnlock. With this service, all you need to do is enter some details about your iPhone, pay the unlock fee, and everything else will be handled by trained professionals.
Can unlock iCloud on any iOS device – iPhone, iPod, iPad, and Apple Watch
Permanently unlocks iOS devices from iCloud, even following a factory reset
An easy-to-follow process which makes AppleiPhoneUnlock suitable for all users
Your device is unlocked in less than 24 hours (when FastTrack option enabled)
Done entirely remotely – you don't have to send your iPhone anywhere
It's a full unlock, you'll enjoy all of features & functions after iCloud removal
What stands out about this service is that you don't have to wait for weeks and weeks to have the iCloud lock removed. For a very affordable fee, it's taken care of in a matter of days.
Compared to other services on the market, AppleiPhoneUnlock is without a doubt the superior option simply due to its delivery speed and effectiveness.
#2. Best iCloud Unlocker Software – Tenorshare 4MeKey
As opposed to a service, you could instead use iCloud Unlocker tool that is specialised for removing iCloud Activation Locks. Our recommended software is Tenorshare 4MeKey, and it comes with many features such as those listed below:
Removes iCloud accounts from any iOS device without the Apple ID or password
Can unlock iCloud accounts if you bought a second-hand device or if you forgot the account password
Removes iCloud account and allows you to sign in with a different account
Unlocks iCloud and provides access to all iCloud features/services, including the App Store
Tenorshare 4MeKey is available as a free (but limited) trial and a full version

On top of all these features, we've seen Tenorshare 4MeKey be incredibly effective. It rarely fails to disable iCloud and even though it is a lot more hands-on than services are, it isn't a difficult program to use.
You can download this iCloud unlocker tool for free and find out if it's the right solution for you. Afterwards, consider buying the full version for full access to its features.
#3. iCloud Unlocker Pro
Finally, there's the iCloud Unlock Solution. For an extremely cheap price of $8, you'll receive a detailed eBook which goes over everything that you need to know in order to unlock iCloud on any iPhone, iPad, iPod, or Apple Watch by yourself.
As well as being taught how to unlock iCloud, you'll be given reliable advice. This advice discusses some important tips for unlocking iCloud in a completely legal way, as well as how to make sure you don't get scammed by fake unlocking services.
Part 3. Scam iCloud Unlockers to Keep Away From
Before we wrap up this guide on iCloud unlockers, we're going to go over a couple of scammer solutions that you must avoid.
#1. iCloud Unlocker Software Free Downloads and Hacks
Most importantly, try to look out for shady software downloads. There are hundreds of different iCloud unlocker tools on the internet which claim to unlock iCloud. The fact is, the overwhelming majority don't. They are designed to infect your computer with viruses/malware, and possibly steal your personal information.
The best-case scenario when downloading shady software is that it just doesn't work. For this reason, it's crucial that you do research and find a reputable solution. Ideally, look for software like Tenorshare 4MeKey iCloud Unlocker. Not only is it developed by a reputable company, but it has proven to be a very effective iCloud unlocker.
#2. Websites That Interfere with Apple Servers
Another scam to avoid is websites that claim to interfere with the Apple servers. Typically, these sites will have you enter details about your iPhone. After doing so, you'll see a message such as "Trying to connect to the Apple servers…", but you'll then be prompted with surveys.
The website will claim that after you complete one of the surveys, the iCloud unlock will be processed. Unfortunately, none of these websites works. They are designed to make users fill out surveys for free and offer nothing in return. Rather than waste your time with these online iCloud unlocker, use one of our recommended solutions.
Conclusion
Being greeted by an iCloud Activation Lock is no fun, it's frustrating. Without access to all the iCloud features that Apple has to offer, your iOS devices are very limited. This is exactly why finding an effective iCloud unlocker tool is invaluable.
When it comes to choosing a service we'd recommend AppleiPhoneUnlock – it continues to impress us and rarely fails. Alternatively, if you'd prefer to take on the job for yourself, look into Tenorshare 4MeKey or iCloud Unlocker Pro, they're easy to use!