Last updated on

April 7, 2020

by Darren
Hi Darren,

After searching for a way to unlock my new iPhone (I decided to go with second-hand and save some money), I was stuck with an iCloud activation lock. Because it was the previous owner's account I had to find some way of removing it, that's when I stumbled across iCloudin. Straight away I found out that this tool is really hard to download! Could you please help me on this?

-Simon
This post is written for our readers who want to download iCloudin 2019 or iCloudin 2020 for their iCloud locked iPhone/iPad.
As is known to all, iCloudin is a popular iCloud unlocking tool but it's very hard to find the place to download. After hours upon hours of searching, we succeeded in finding a download and begun testing it out.
Part 1. iCloudin 2019/2020 Full Review: Real or Fake?
During my review, I took notes about how iCloudin tool works, what types of features it entails, and anything else I thought was relevant.
1.1 What is iCloudin?
iCloudin is a very simple program. There aren't many things complicated about it, aside from locating the official download, and the purpose of it is for iCloud activation lock removal free.
With the help of an iCloudin download, users have the chance to remove their old iCloud account that they no longer have access to. A more common situation, and the one Simon found himself in, was needing to delete someone else's iCloud account from a second-hand iPhone.
Using this tool makes it possible to accomplish both of these things.
1.2 Key Features of iCLoudin 2019/2020
Below we have put together a quick rundown of the features we saw when doing our research and when we used iCloudin to unlock iPhones for testing,
Disables any iPhone's iCloud activation lock
Provides a minimalist interface, making it easy to use
Users don't have to pay to use this program
That might not seem like much but as we already said, it's a really basic program for removing iCloud locks. Most important from this list is the fact that it's free – there isn't a premium option at all!
1.3 Cons of iCloud Bypass Tool – iCloudin
iCloudin is only compatible with devices that run iOS 9 or earlier
Finding the official iCloudin download is very difficult
Because the official version is hard to find, there are a lot of fakes that contain viruses
From the iPhones that I tested, iCloudin did not work to remove iCloud locks
Requires iTunes and third-party software installation
1.4 Does iCloudin (V2.0 & V1.5.1) Actually Work?
So, as well-known as iCloudin is among the iPhone community, you'd assume that it's very successful for removing iCloud activation locks. In my experience, this was not the case.
We tested an iPhone 7 Plus, iPhone 8, and an iPhone X so that we had a few variations of results from my testing. Each of the iPhones were running the most recent iOS versions that they supported and didn't have any damage that could have impacted the effectiveness of the removal tool.
None of my tests were successful. After running iCloudin 2019 (v1.5.1) and iCloudin 2020 (v2.0) multiple times for each iPhone, and even approaching the process differently, we were not able to remove any of the iCloud activation locks. Now, we won't discourage you from running the iCloudin tool and testing it yourself, but we would suggest looking at different solutions.
1.5 How to Download and Use iCloudin Tool 2020?
If you want to try this tool, then feel free to leave a comment below and we'll provide you with a link to the official iCloudin 2020 & iCloudin 2019 download for free. (iCloudin only available for Windows users now, there is now Mac version)
Again, we won't try to persuade you to abandon this tool just yet. For anyone who is interested in using iCloudin, follow these steps.
Step 1. Download iCloudin to your computer from iCloudin download link and extract the program files from the ZIP.
Step 2. Update iTunes so that you have the most recent version. If you don't already have iTunes installed, then I recommend you install it now.
Step 3. Using a lightning cable, connect the iPhone to your computer.
Step 4. Launch the iCloudin program and once it opens, click "Host's file IMEI".
Step 5. A new window will be displayed. Use this window to locate the iCloudin folder and select "Hosts_Activation_IMEI.java".
Step 6. After selecting this file, the iCloud lock removal will begin and a progress bar will be shown so that you can track the unlock.
Once you see the progress bar reach the end, this means that iCloudin has completed the lock removal process that it uses. You can then check if your iPhone has had the activation lock removed.
Part 2. iCloudin Tool Alternatives That Actually Work for Us
2.1 Our Experiences with iCloud Unlocking
The next part of our journey was finding an iCloud lock removal solution that actually worked. At first, we considered the DNS bypass method, but we quickly realized how limiting it was. It is free and we'll give it credit because of that, but it wasn't a great long-term solution.
We kept searching for other tools that are similar to the iCloudin download I found. At the time I thought that due to how popular it was, there must be others out there that worked effectively instead. So, after spending more time than We're proud of searching for something similar to iCloudin, we eventually gave up.
All we stumbled across were iCloud unlock tools that either didn't work at all, had malware in them, were blocked by surveys (completing those surveys didn't work either!), or were built to scam users. Fortunately, soon after finding an abundance of ineffective tools, we stumbled across a bunch of online services that actually helped me.
2.2 Recommended iCloud Unlock Services
2.2.1 AppleiPhoneUnlock

Firstly we tried AppleiPhoneUnlock. This website caught our attention because it offers two different services – iCloud unlocking and iPhone unlocking.
At the time we were looking for an iCloud unlock, so that's where I focussed on. AppleiPhoneUnlock can remove iCloud locks on absolutely any iOS device (iPhones, iPods, iPads, even Apple Watches) and for a reasonable fee, the device will be unlocked within 2 days.
We tested AppleiPhoneUnlock on two iPhones (iPhone 7 Plus & iPhone 8) and both were effectively unlocked.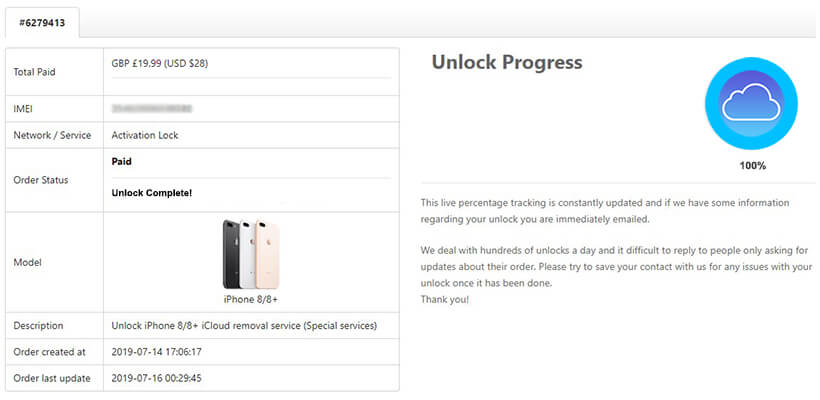 2.2.2 DirectUnlocks
Secondly, we also looked at DirectUnlocks. This website is similar to AppleiPhoneUnlock and offers a few different services, including iCloud lock removal. After entering the IMEI number of my iPhone and paying the service charge, the unlock was processed in 3 days.
The benefit of using an online service like AppleiPhoneUnlock and Directunlocks compared to iCloudin is that it's done remotely. You aren't required to go out of your way to a store and wait for a skilled technician to remove the lock – a few basic device details and it's taken care of remotely.
Final Thoughts
We can relate to your frustration of not being able to bypass iCloud activation locks. Plainly put, it completely restricts users access to the device. Some people choose something known as a DNS bypass solution which does yield partial results, albeit also restricting a large number of your iPhone's features. As such, we recommend that you use either AppleiPhoneUnlock or DirectUnlocks.
Sources
[1] Apple support: Activation Lock for iPhone/iPad
[2] Apple support: Find the serial number or IMEI on your iPhone, iPad or iPod touch