Last updated on

May 24, 2021

by Darren
Removing an iCloud Activation Lock is tedious and difficult to do, but it isn't impossible. Unless you make an effort to get it removed though, a series of iOS features can't be accessed. This makes it ideal to take steps to remove the lock and with a tool like iN-Box V4.8.0, you can try to.
Some users have already tried lots of tools and are cautious about trying yet another one. So, in this iN-Box V4.8.0 review, we're going to dive into what this tool can do for you.
For those who don't understand why there is a restriction on their iPhone, here's a quick explanation of how Apple's iCloud Activation Lock security feature works.
Part 1. How iCloud Activation Lock Works?
All of the most recent iOS devices, including Macs and Apple Watches, have a special security chip built into them. After you set up one of these devices for the first time you will also have to create an iCloud account and this will link the device's chip to Apple's secure servers.
If the account isn't removed properly after a factory reset, the user has to sign in with the same iCloud account before being able to use the iPhone. Removing this lock, known as iCloud Activation Lock, requires Find My iPhone to be disabled and the account removed.
Part 2. iN-Box V4.8.0 iCloud Remover In-depth Review
Now onto the tool in question – iN-Box V4.8.0 iCloud Remover – and what it's all about. In-box is a Windows program that is designed to remove the type of iCloud lock that we explained above. The purpose is basically to get rid of this irritable and limiting security feature without the account email or password.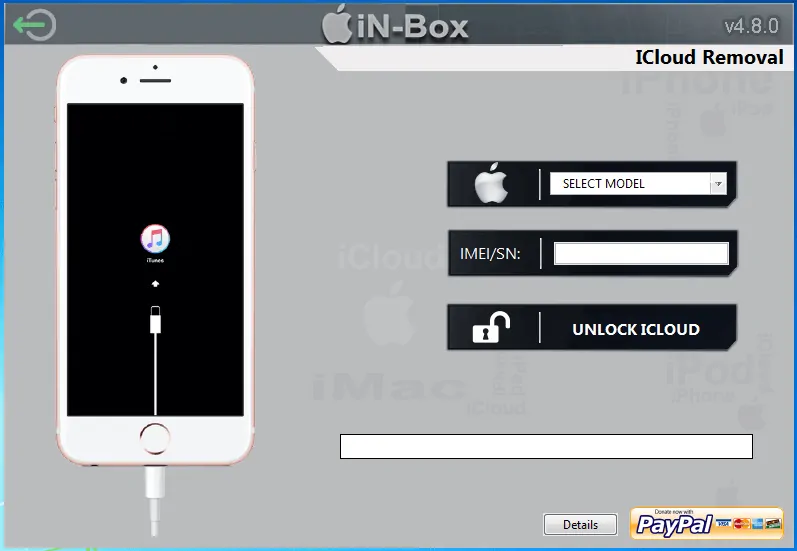 This removal software is free to use and although the interface isn't the most pleasant, that shouldn't be a reflection of the program itself.
#2.1 Features of iN-Box V4.8.0
Using in-box for iCloud lock removal is straightforward and understandable
Removes iCloud locks for free and doesn't have any interface ads
Easy to use and supports most iPhone models/iOS devices
User-friendly experience, it removes iCloud lock without expert help
Can be installed on any Windows edition from XP to Windows 10
Although these features don't indicate in-box V4.8.0 to be anything special, they do point towards this software being exactly what's needed. That being said, our analysis found a number of downsides and the performance review raised some concerns.
#2.2 Cons of This iCloud Remover
Locating the official in-box V4.8.0 download is hard
There are hundreds of fake in-box V4.8.0 fake software packages that include viruses
A lot of the websites which offer the download cheat users into completing endless surveys to receive the download, but they don't even have the software
In-box V4.8.0 doesn't have an official website meaning if your iPhone is damaged by the tool, nobody can be made responsible
#2.3 Performance – Does It Work?
In order to gauge how well this iCloud removal tool performs, we tested a selection of iPhones. Our tests included the iPhone X, iPhone 8, iPhone 6, and the iPhone 5S.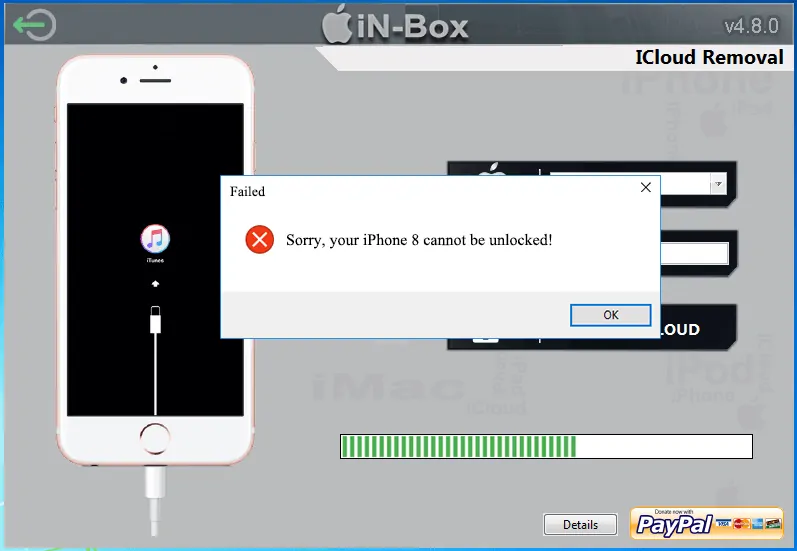 We ran our in-box V4.8.0 download multiple times on each device to ensure our test results were accurate. Regrettably, not a single iPhone was unlocked from any of these tests. So, not only was it a struggle to locate the official download, none of the iOS devices could be unlocked. It's now our opinion that the tool doesn't work and is not worth spending time on trying to use.
#2.4 iN-Box V4.8.0 Free Download Full Version
If you want to have a try, you'll find it's very difficult for most of us to download the official iN-Box V4.8.0 iCloud remover. Because there're so many fake tools on the internet.
But don't worry, to save your time, we offer the free download link for you. Just leave a comment below, we'll send you the full version of iN-Box v4.8.0.zip.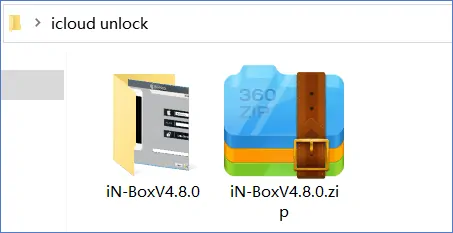 Update
We totally sent iN-Box v4.8.0.zip to 189 readers and received 136/189 feedback. Unfortunately, iN-Box v4.8.0 cannot work for anyone. So we stop offering the iN-Box tool from now on.
And it's almost impossible for you to get the iN-Box tool by yourself from the Internet, because nearly all are fake software package or malware.
To unlock the iCloud Activation Lock, we highly recommend AppleiPhoneUnlock.
#2.5 How to Use iN-Box V4.8.0 for iCloud Removal
Step 1. Ask for a copy of iN-Box iCloud removal tool by leave a comment below.
Step 2. After downloading, install it on your computer.
Step 3. Open iN-Box V4.8.0 iCloud remover and connect your iPhone to computer via a USB cable.
Step 4. Click on "UNLOCK ICLOUD". It will start to unlock your iPhone.
#2.6 FAQs about iN-Box iPhone iCloud Remover
Q1. Could you please send me a copy of this tool?
As discussed above, this tool cannot work for our readers. To save time for both of us, we won't offer the download for iN-Box tool. So never asking for a copy of it from now on, we will ignore these requests.
To remove iCloud lock, you can try one of the alternatives below.
Q2. Can I download iN-Box tool from other websites?
I'm afraid that it's impossible for you to find the right place to download since there're so many fake sites and malware on the Internet. You need to protect yourself from these!
We ever tried to download the "iN-Box tool" from two "popular" websites:
1. perfactapks.com
File Name: iN-Box-V4.8.0 (XDAROM.COM).7z
File Size: 11.6 MB
Security: Contains a virus/malware
2. xdarom.com
File Name: iCloud bypass Tool-Installer.zip
File Size: 2.25 MB
Security: Contains a virus/malware
Both of the files are not safe:
So, it's wise to keep away from these sites.
Q3. How to download the iN-Box V4.6.8
iN-Box V4.6.8 iCloud remover tool is outdated. And the download is not available now.
Q4. Is there a crack version of iN-Box iCloud remover?
You'd better not try the crack version of any software. Most of the crack contains virus.
Q5. Is there any tested & trusted solution for iCloud unlocking?
Of course, you need to continue reading to find the top 2 ways to unlock your device. Both ways are verified by our readers.
Part 3. Top 3 Alternatives (iCloud Remover) to iN-Box V4.8.0
Based on the fact that we determined in-box V4.8.0 iPhone iCloud remover doesn't work, we looked into a couple of alternative methods to try.
#3.1 Best iPhone/iPad iCloud Remover – AppleiPhoneUnlock

The best alternative to the in-box V4.8.0 download is AppleiPhoneUnlock and it is the perfect solution for unlocking iCloud and SIM cards too. Here's what you need to know about this service:
Completely legal iCloud lock removal process is used
Requires no expert assistance – you place an order and wait!
iCloud Activation Lock is remotely & permanently disabled
Removes iCloud locks from any iPhone & iPad model
Removal is completed within 24 hours of placing the order (FastTrack option enabled)
In any event that you can't get past an iCloud Activation Lock, all you must do is follow a short process to use AppleiPhoneUnlock. The process is as follows:
Step 0: Check if your iPhone is blacklisted (reported as stolen or lost) with an iCloud status checker. Please note that there is no iCloud unlock service can unlock a blacklisted iPhone from iCloud lock.
If the iCloud status is blacklisted (reported stolen or lost) as the above picture shows, your iPhone is impossible to be unlocked.
Step 1. In an internet browser go to AppleiPhoneUnlock iCloud Remover.
Step 2. Choose the iPhone model of your device and enter the IMEI Number or Serial Number. To retrieve the this, you can get from here:
Step 3. Click "Unlock iCloud" and you will be prompted to enter your payment details.
Step 4. After successfully making the payment, it will take 24 hours (with FastTrack option selected) at the most for the unlock to process.
Straightforward, easy to understand, and takes no more than 5 minutes of your time. After you follow our method it'll be up to the professionals to carefully remove iCloud activation lock from your iPhone like this: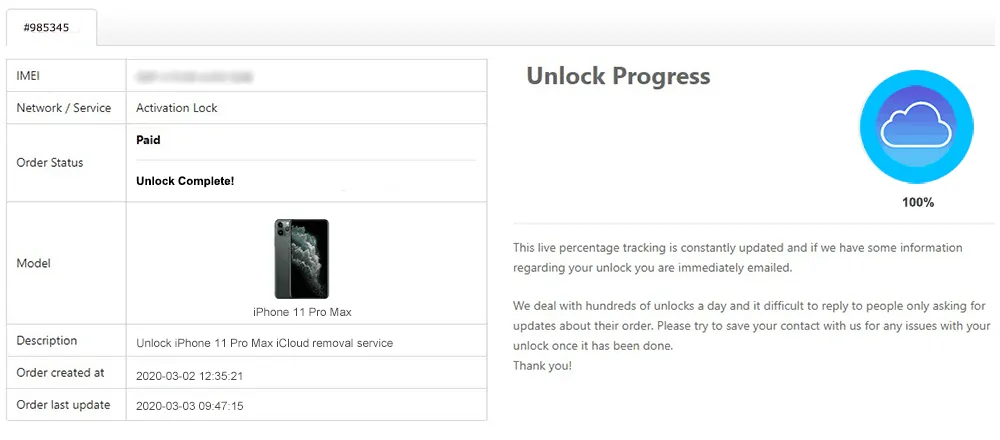 #3.2 Try an iCloud Remover Software
Want to find a way to remove iCloud within several minutes? Then Tenorshare 4MeKey will be your best choice! It supports devices from iPhone 5s to iPhone X (iOS 12.3 – iOS 14).
You can download and install a free trial. The trial version allows you to test it out to see if it might work for you.
Find out more about this software in the video below.
#3.3 Asking the Seller for Help
Unless it'll be difficult to get in touch with the previous owner of your iPhone, try asking them to help you out.
Usually, this is something that people forget about when they prepare to sell an iOS device. A factory reset used to suffice therefore not everyone remembers to remove their iCloud account and when a new user starts the setup, they can't register their own account.
So, all you have to do is contact them and ask that they sign into the iCloud website and remove their account from the device.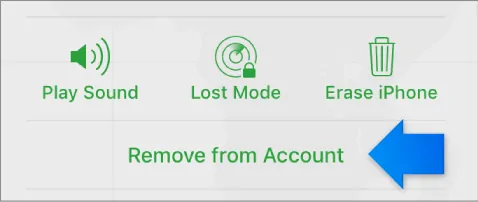 The best part about this is that they don't need to have the phone in their hands, the removal can be done by signing into the iCloud website.
To Wrap This Up
Overall, as stressful as encountering the activation lock can be, we urge users not to use iN-Box V4.8.0 but instead use the more reliable iPhone iCloud remover – AppleiPhoneUnlock.
There isn't any solid proof that in-box actually works and many of the downloads on the internet are viruses, not the legit program. It simply isn't worth taking the risks especially considering that our performance review found the software to be utterly unsuccessful.
Thus, use AppleiPhoneUnlock and you'll not only be using a reputable and effective service, but you'll quickly have the iOS device unlocked.