Last updated on

July 17, 2019

by Darren
Buying a second-hand iPhone means you get to enjoy the luxury of having a high-end piece of technology but without the extortionate price. One downside is that if the previous owner hasn't wiped the device properly, their Apple ID will prevent you from fully accessing it. Read on to find out how to reset iPhone without Apple ID password.
How to Reset iPhone/iPad without Apple ID Password When "Find My iPhone" is On
It's pretty easy to reset iPhone when Find My iPhone is turned off, as it doesn't require any password. But what to do when Find My iPhone is ON?
Below are the 2 most effective ways to reset your iPhone without Apple ID and when Find My iPhone is enabled.
Method #1. Factory Reset iPhone without Apple ID or Password using AppleiPhoneUnlock
First, we recommend looking into AppleiPhoneUnlock, a reputable service which removes iCloud accounts from iPhone/iPad/Apple Watch and allows you to reset your iPhone with no problem even when you forgot the Apple ID password. Sure, you'll have to pay a small fee, but this pales in comparison to how effectively it can remove an iCloud account.
Some notable features of AppleiPhoneUnlock are:
Permanently factory reset your iPad/iPhone without password
Skilled professionals oversee the factory reset
Takes as fast as 24 hours for the iCloud account to be removed
Offers competitive pricing (in line with competitor pricing!)
Track your order to monitor the unlock process
These features alone are proof that the AppleiPhoneUnlock team know how to reset iPhone without Apple ID when Find My iPhone is on. If you're a small business who need to reset multiple iPhones and you don't know their Apple ID passwords, there's also a bulk unlock services available!
Steps to Factory Reset iPad/iPhone without Apple ID Password When Find My iPhone is ON
Step 0. Before resetting your iPhone using AppleiPhoneUnlock, you need to check if the iCloud status of your iPhone is Clean with an accurate iCloud checker. If it's blacklisted (reported lost or stolen) as the following picture shows, your device cannot be reset.
Step 1. Go to AppleiPhoneUnlock iCloud Unlock page.
Step 2. Choose the model of your device and enter the IMEI number or Serial number.
Step 3. Click on "Remove Activation Lock" and complete the payment. If FastTrack option enabled, it will unlock your device within 24 hours!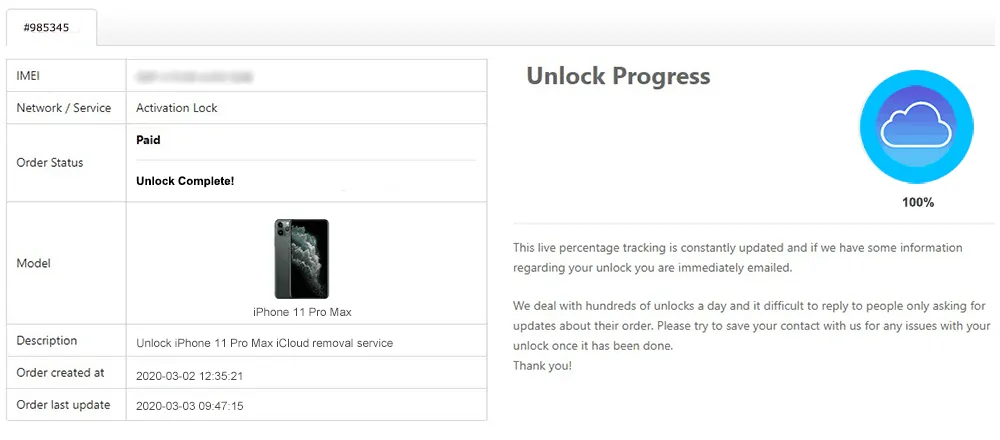 What's great about using a website like AppleiPhoneUnlock is that you don't have to stress about it yourself. Someone who has experience removing iCloud Activation Lock takes care of everything – all you have to do is place an order.
Method #2. How to Reset iPhone without Apple ID Password for Free
You can also use iTunes to try to resolve it on your own or not spend any money. The results from this can be a gamble (sometimes it works, other times it doesn't), but it is still a suitable solution.
How does it work? Basically, we put your iPhone into DFU/Recovery Mode and then use iTunes to do a factory reset. Note that any data on the device will be deleted from this process, so take a backup beforehand to prevent data loss.
Note: This way enable you to erase your iPhone without Apple ID or Password. But when you set up the device after resetting, it will ask the Apple ID password. If you cannot offer it, your iPhone will be locked by iCloud Activation Lock.
Steps to Wipe iPhone 6 without Apple ID or Password
Step #1.Start by connecting your iPhone to your computer using a lightning cable and taking a backup of the iPhone using iTunes. This step is optional.
Step #2.Next, put your iPhone into DFU Mode. If you have an iPhone 6 then you do this by holding the Sleep/Wake and Home buttons simultaneously for up to 10 seconds. After that, release Sleep/Wake but continue holding Home button for a further 5 seconds.
If you don't have an iPhone 6 then check out the following pictures for specific steps for your iPhone model.
iPhone 7/7Plus:

iPhone 8 or later models:
Step #4. iTunes will alert you when it detects DFU mode. Click "OK" on this notification.
Step #5. Now click on the "Restore iPhone…" button and then "Restore" to confirm. Then iTunes will now do a factory reset.
If iTunes encounters a problem when resetting your iPhone, try using Recovery Mode instead. Here are the steps:
Step #1. Connect your iPhone to the computer with a lightning cable and open iTunes.
Step #2. iPhone 6 users can proceed by holding down the Sleep/Wake and Volume Down buttons simultaneously.
Step #3. After the iTunes logo appears, release both buttons and continue from Step #4 in the previous guide.
Again, how you go about this will differ for your iPhone model, so check the following pictures for specific instructions.
iPhone 7/7Plus:
iPhone 8 or later models:
Common Questions About Resetting iPhone/iPad without Apple ID Password
Hopefully, you've found the help you require from the methods above. If you are uncertain about anything or you have a question, perhaps you'll find the answer below.
Q1. How did you know that AppleiPhoneUnlock works?
We assure you that our suggestion to use AppleiPhoneUnlock is not biased at all. This recommendation comes only after we did meticulous testing to check for ourselves whether or not it actually works. As you could tell from the method above, the results of our tests were positive. But now you might be asking how we tested it?
While researching the best ways on how to reset iPhone without Apple ID password, we found AppleiPhoneUnlock. To check how effective it is we took the IMEI numbers from our team's iPhones, and some from a handful of our dedicated readers, and placed orders for each of them.
In total, we tested 6 iPhones and 2 iPad from a wide pool of different networks and different models too. It took a couple of weeks for them to complete every order we placed (which is fair considering there were 8 devices for them to unlock).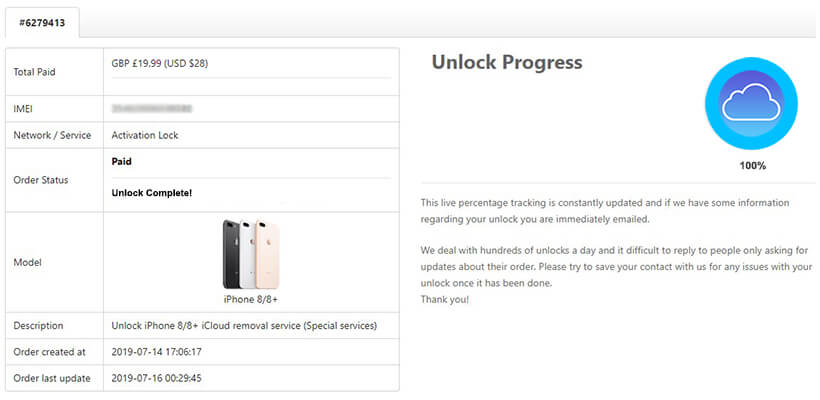 Afterwards, we were able to conclude that because every iOS device was successfully unlocked, AppleiPhoneUnlock is undoubtedly among the most effective solutions!
Q2. Can I activate my iPhone without Apple ID after using iTunes?
Ultimately this depends on a few things. Primarily though, the status of Find My iPhone is the deciding factor.
If your iPhone has Find My iPhone enabled then no, you won't be able to. When set up your device after using iTunes, you'll be prompted to enter the Apple ID password at the iCloud Activation Lock screen. To get around this, you can use the relevant AppleiPhoneUnlock service.
On the other hand, if your iPhone doesn't have Find My iPhone enabled, you can indeed activate your iPhone without Apple ID after using iTunes.
Q3. DFU or Recovery Mode, which one should I choose?
This is a fair question but as we said in the guide above, whichever you use is circumstantial. It doesn't matter which one you use and if the DFU mode cannot wipe your iPhone or iPad without Apple ID password, try the other.
Bonus: What Are DFU Mode and Recovery Mode Used For?
To give you a better understanding of these new technical terms, here's a brief explanation about what these modes are and how they're used.
Recovery Mode. Recovery Mode isn't as "aggressive" as DFU Mode is considered to be. When you put an iPhone into Recovery Mode, you then must connect it to iTunes. With this mode enabled you are allowing iTunes to force update the iOS on your iPhone to the most recent version. This performs a factory reset and in turn, fixes many iOS problems.
DFU Mode. DFU Mode is similar to Recovery Mode. DFU, or Device Firmware Update, Mode is specific to updating (or downgrading) the iOS version. While this also factory resets an iPhone and fixes plenty of problems for users, it works in a different way. We won't analyze the technicalities, but the main difference is that you can actually go to an earlier version of the firmware.
Q4. What should I do if I cannot erase it in DFU/Recovery Mode?
If using iTunes didn't help you, consider trying Tenorshare 4uKey. This tool has proven to be very effective at removing iPhone passcode and also Apple IDs.
But note that, this software can only factory reset iPhone without Apple ID or password, it cannot remove iCloud Activation lock. To remove iCloud activation lock, you'll need an iCloud unlock service.
Here's how you can use it.
Download and install Tenorshare 4uKey on your computer. Launch it after it has successfully installed.
Select "Unlock Lock Screen Passcode" from the main menu and connect your iPhone.
Click on "Start" after the program detects your iPhone.
A quick scan of your iPhone will be done. Afterwards, make sure that the iPhone model and iOS version that is shown on your screen are correct.
Click the "Download" button and wait as Tenorshare 4uKey downloads the firmware file.
Once the firmware has been downloaded, click on "Start Unlock" and it'll be installed on your iPhone.
Afterwards, your iPhone will be in its factory state with a fresh copy of the firmware. This program is an alternative way of learning how to reset iPhone without Apple ID when Find My iPhone is on. Tenorshare 4uKey works 100% of the time and compared to iTunes, the method of removal is much more advanced. All in all, don't give it a miss!
Q5. Can I erase iPhone without iTunes password with iMyFone Umate Pro?
If you are a fan of iMyFone then understandably you'll want to know this answer.
When your iPhone has Find My iPhone turned on, this program will not be able to erase the device. But if you don't have this feature turned on, you can use iMyFone Umate Pro to wipe your iPhone.
While that's so, you'll have to buy the full version of iMyFone Umate Pro – this is redundant as you can do the same job with iTunes.
In Conclusion…
Now you have a full understanding of how to reset iPhone without Apple ID. Among the various methods we explained to you above, there's no doubt in our minds that you'll find the right one for you. Reiterating our previous point: some methods will work for you, others won't. It's a bit of a coinflip but we guarantee the answer is in the guides above!