Last updated on

October 1, 2020

by Darren
One of the things that iPhone owners occasionally encounter is an iCloud locked iPhone. The reason that this is a problem is that certain features are restricted. From iMessage to Find My iPhone, there are many features you won't have access to.
On top of that, it isn't the easiest type of lock to remove from your iPhone. Keeping that in mind, in this guide we'll be explaining all of the things about iCloud locked iPhone that you need to know and how you can resolve it as effectively as possible.
Part 1. FAQs About iCloud Locked iPhone/iPad
1. What Does it Mean When an iPhone is iCloud Locked?
If your iPhone has an iCloud lock then it means two things.
First, it means that someone has their iCloud account signed into the device (this could be your account or the previous owner's account).
Second, it means that the account owner has activated Find My iPhone.
As long as both of these conditions are met, the iCloud lock will be active. If there is an iCloud account signed in but Find My iPhone isn't active, there won't be an iCloud lock.
2. What to do with an iCloud Locked iPhone?
When you have an iCloud locked iPhone there are several things you can do with it. To name a few:
Attempt to remove the iCloud account and thus disable the lock
Bypass iCloud lock
Sell the iPhone (with an iCloud lock, it will be worth less)
Or, if you don't want to do anything with it, simply dispose of it safely.
3. How to Check if an iPhone is iCloud Locked Online?
Perhaps you're unsure about whether you actually have an iCloud locked iPhone. In that case, we'd recommend using an online checker such as WipeLock IMEI Checker. With this tool, all you have to do is submit a few details about your iPhone and a fully detailed report will be returned to you.
In this report, you'll discover if your iPhone is on a blacklist, if there's an active iCloud lock, and a lot of other information that all iPhone owners should know about their device. Submit your IMEI now and get the report in no time at all!
4. Can You Jailbreak an iCloud Locked iPhone?
Yes, you can jailbreak your iCloud locked iPhone. The problem with doing this is that it isn't a complete solution to the problem.
As a result, many of the iPhone's features will be unavailable after you jailbreak it. This includes the ability to make phone calls, possibly send text messages (SMS or iMessage), and using data.
However, things like installing apps and browsing the internet should be possible without issue.
5. Is it Possible to Unlock an iCloud Locked iPhone?
Yes, if you follow the proper methods then you can unlock an iCloud locked iPhone. One of the conditions is that your iCloud status is clean. In other words, your iPhone shouldn't be blacklisted for any reason at all.
Among the different solutions for unlocking your iPhone is jailbreaking. Whilst there are downsides of this approach, such as features being restricted, it is viable.
To check if your iPhone is blacklisted, we would once again recommend using the WipeLock IMEI Checker. The report you receive from this service will accurately tell you if the device is on a blacklisted.
Part 2. How to Unlock/Bypass iCloud Locked iPhone 6/7/8/X/XR/XS/11/12?
By this point, hopefully your questions about iCloud locked iPhone have been answered. The next part of this guide will show you how to unlock the iCloud locked iPhone/iPad.
2.1 Using Tenorshare 4MeKey to Bypass iCloud Locked iPhone/iPad
The first solution we'll be presenting to unlock an iCloud locked iPhone is a software called Tenorshare 4MeKey. Using this software enables users to reset iCloud locked iPhone without using the account's Apple ID or password.
Some of the main features that this software entails are:
Bypass the iCloud Activation Lock if you forget the account password or the previous owner left their account signed in
Allows users to sign in with a different iCloud account after the removal
Removes iCloud locks in a user-friendly and straightforward manner (no expert assistance)
Available as a free trial, try before you buy!
All of these features combined create a great program that makes unlocking iPhones extremely easy. If you have downloaded the free trial, or maybe even bought a license, follow the steps below to use Tenorshare 4MeKey.
Step 1. Install Tenorshare 4MeKey on your computer, launch the program, and connect your iPhone with a lightning cable.

Step 2. Read the brief information on-screen and click Start to begin the process.
Step 3. Click on the Start Jailbreak button and 4MeKey will then jailbreak your iPhone.
Step 4. Once the jailbreak is complete, click Next and then click Start Remove. This will commence the iCloud Activation Lock removal process.
Step 5. After the removal is finished, you should find that the iCloud lock is no longer active.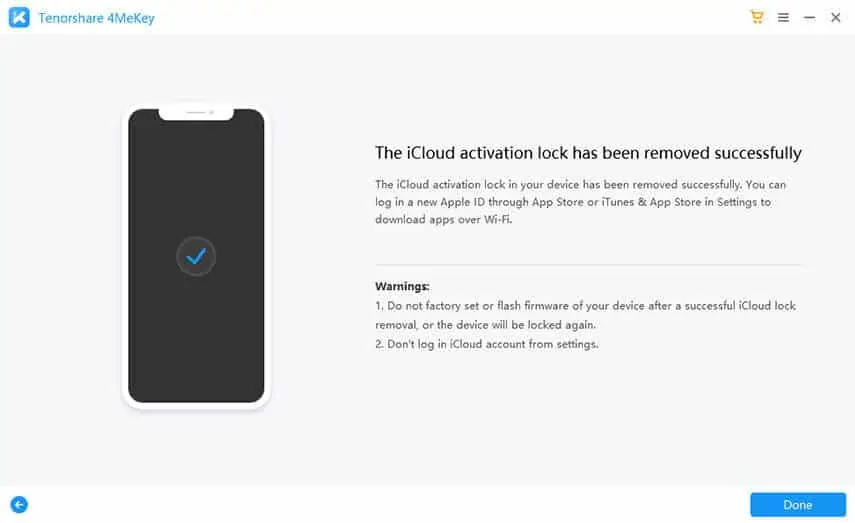 After you follow these steps you shouldn't encounter the same problems with an iCloud Activation Lock again. Tenorshare 4MeKey isn't the perfect solution though, as there are some downsides that come with using it.
Cons
It doesn't completely remove the lock, it is a partial removal
Most iCloud features will be unusable after running this tool
The free version of Tenorshare 4MeKey doesn't fulfil the removal
2.2 Using AppleiPhoneUnlock to Unlock iCloud Locked iPhone/iPad

Rather than using software like Tenorshare 4MeKey, services such as AppleiPhoneUnlock are also available. With this service, you place an order with some basic details about your iPhone and a team of experts handle the entirety of the process.
Removes iCloud Activation Locks from any iOS device and model
Can disable iCloud locks in as little as 24 hours (with FastTrack)
Remotely disables your iPhone's iCloud lock and doesn't require jailbreak
Permanently unlock your iCloud locked iPhone/iPad/Apple watch/iPod touch
Although the actual method of removing an iCloud Activation Lock is complex and not something the average iPhone user can do, AppleiPhoneUnlock makes it effortless. Anyone can use this service and here's how to do so:
Step 1. Start by opening the AppleiPhoneUnlock iCloud Unlock page in a browser.
Step 2. Retrieve the IMEI of your iCloud locked device and enter it.
Step 3. Click on Unlock iCloud and on the next page, select FastTrack and agree to the Terms of Service.
Note: FastTrack is not a requirement, but we'd recommend it so that your order is delivered in 24 hours instead of 72 hours.
Step 4. Select a payment method and complete the payment process.
Step 5. When you have made the necessary payment and placed your order, simply wait until the order is complete and your iPhone is unlocked.
Other services which remove iCloud Activation Locks without previous owner are available, although the best out there is definitely AppleiPhoneUnlock. Lock removal is almost guaranteed and the pricing is fair, compared to other expensive services.
Cons
Without the FastTrack delivery option, it will take up to 3 days for the iCloud lock to be removed
2.3 Ask the Previous Owner for Help
For anyone who bought a second-hand iPhone and was surprised to see an iCloud locked iPhone, you can just ask the previous owner for help. To do this, guide them through the steps below which will explain how to remove an iPhone from their iCloud account.
Step 1. Instruct them to go to iCloud.com and sign in with their iCloud account. Make sure that this account is the same one that is signed into your iPhone.
Step 2. From the dashboard, click onto the Find iPhone feature.
Step 3. Next, they must click on All Devices at the top of the page and select your iPhone.

Step 4. Have them click on the Remove from Account button and confirm this decision.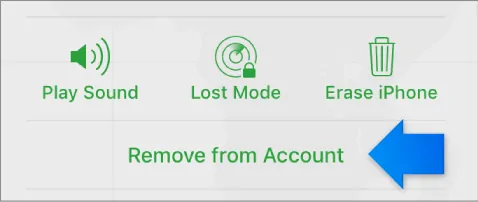 Step 5. Restart your iPhone and their iCloud should now be removed from the device.
This is a definitive way to unlock iCloud locked iPhone. As long as you're able to get in touch with the previous owner, this is the way to resolve the issue at hand.
2.4 Find the Previous Owner
To add to the last point, you might not know who the previous owner is. This could be because you bought the second-hand iPhone from a store that refurbishes the devices. In that case, you should work on finding the previous owner.
So, how do you go about finding the previous owner? Our recommendation is that you use the iCloud Login Finder. The purpose of this tool is to retrieve the email address of the iCloud account that has locked your device.
After you get the email address with the tool, you can send them an email and explain your situation. It will also be useful to send them the instructions from the previous section so that they can help you unlock your iCloud locked iPhone properly.
Bonus: Where to Sell an iCloud Locked iPhone?
If you're in a situation where you have an iCloud locked iPhone but don't want it anymore, consider selling it. Typically, people will add their old iPhones to websites like Craigslist or Gumtree, but a quicker way is to use a site like the two we've researched below.
1. SellCell
SellCell is pretty straightforward. You fill in the blanks, answering some questions about your iPhone, and they list places where you can sell it. You'll need to gauge the condition of your iPhone, specify which network it may be locked to, and of course, say that it has an iCloud lock.
After filling in this information, the different places that will buy your iPhone from you will be listed, alongside how much they're paying you for it.
SellCel makes the selling process incredibly simple. You don't have to browse various sites and get individual quotes from them. Just fill out the page once and pick the best price.
2. BankMyCell
BankMyCell works in the exact same way as SellCell.com. Filling out the page will present you with a selection of quotes to choose from. If you've chosen one of the quotes you got then it will be frozen, giving you 30 days to send away your iPhone and get paid.
This website isn't limited to iPhones either. iPads, Android tablets, and Android smartphones can all be sold using BankMyCell.com. Got any old electronics? Get some extra cash with this site!
Conclusion
This guide should answer every question you may have about your iCloud locked iPhone, and unlocking it should be very easy to do.
We would suggest that you use AppleiPhoneUnlock to disable your iCloud Activation Lock. This website offers a high-quality service that gives you the best chance of successfully removing the lock, all at an affordable price.
After you've removed the iCloud lock you'll be able to sign in with your own account and take advantage of all the iCloud features available to you.