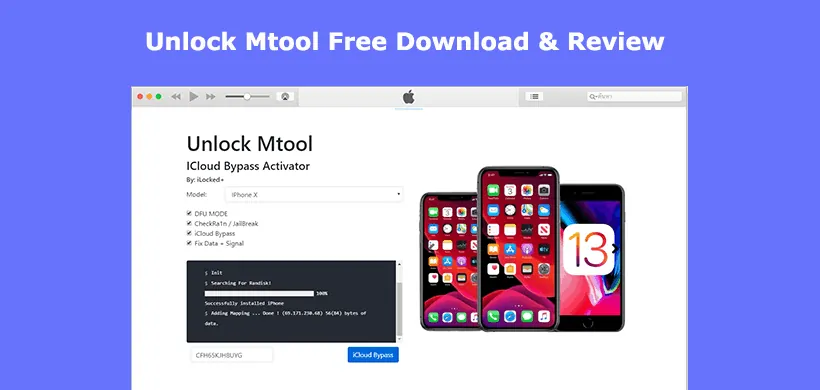 Last updated on

April 23, 2022

by Darren
More security can be a good thing, especially on mobile phones (which users are prone to losing). Face ID or fingerprint ID lock screens have improved iPhone security as have iCloud Activation Locks (in some regards), but the latter has proven to be difficult.
For instance, if you buy a used iPhone then the previous owner's iCloud account could still be linked, and removing their account isn't easy and often requires additional tools.
One particular tool is Unlock Mtool and in our review, we'll explain everything you need to know about Unlock Mtool 2019/2020.
Part 1. Unlock Mtool 2019/2020 Review: Is It Reliable?
Before we start, you need to know what is Unlock Mtool.
1.1 What is Unlock Mtool (iLocked+)?
Gray Key Unlock Mtool 2019/2020 (also known as Mtool Unlock, iLocked+) is a multi-purpose lock removal tool that can remove iCloud Activation Locks, IMEI locks, carrier locks, and can fix iPhones that have been locked from being lost or disabled.
There has been some discussion around whether this tool is legit or not, if it works, and although it appears to be a straightforward solution, each of these points must be addressed.
Because of this tool has so many functions, that makes it incredibly useful to have. As an upcoming tool for iOS devices, this has been getting a lot of attention recently and has been pegged as one of the best iCloud Activation Lock removal tools.
1.2 How to Use Unlock Mtool 2019/2020?
To further our research into the Unlock Mtool 2019/2020 download, we looked into how it works and how to use it on an iPhone. The program itself is hard to find but once you get a copy you can use it at your own discretion.
For anyone who wants to use this tool on their own device, the steps below will walk you through how to use it. This method will result in removing the iCloud lock.
Step 1. Start by jailbreaking your iPhone if you haven't already done it.
Step 2. On your computer, download and run the Mtool Unlock program and connect your iPhone.
Step 3. After the iPhone has been detected by Unlock Mtool, click on the "Start" button.
Step 4. Wait a few minutes and when the unlock is finished, your iPhone will restart.
Step 5. Confirm that the iCloud unlock has been successful then sign in with another account.
Following this short guide should only take you a few minutes and it isn't tedious nor complicated to use either. That being said, it does have its fair share of downsides.
1.3 Cons of Unlock Mtool 2019/2020
You have to jailbreak your iPhone before you use Mtool Unlock
There is no official download link on the website
Many users report that Mtool doesn't work for iCloud lock removal
1.4 Does Unlock Mtool 2019/2020 Work?
As with all the tools (iBoxTool, iCloud Unlock Buddy, iCloudin, etc.) we review, we tested how effective Unlock Mtool 2019 and Unlock Mtool 2020 worked with various iPhone models. In addition, these iPhones have been equipped with different iOS versions to help us determine how the tool responds to different environments.
We can confidently say that Unlock Mtool did not work on any of the devices we tested it on and was by no means the solution for removing iCloud Activation Locks.
1.5 Unlock Mtool (iLocked+) 2019 & 2020 Free Download
One of the big difficulties that users have with this tool is finding the official link of Unlock Mtool 2019/2020 download because there isn't an official download hosted by the developers. This leaves the risk of users downloading fake versions that have been infected with viruses.
If you're genuinely interested in using Unlock Mtool then we can supply you with the download. Just leave a comment below and we'll send you the necessary files to get started.
Part 2. Best Alternatives to Unlock Mtool 2019/2020
Instead of Mtool Unlock, an alternative such as an iCloud unlock service is often preferred due to them being significantly more effective. Our two recommended services are detailed below.
2.1 AppleiPhoneUnlock

Our first service is highly recommended because of how persistently reliable it has been for our devices as well as our users. AppleiPhoneUnlock is suited for unlocking every iOS device, effectively removing iCloud locks and making all features accessible once again.
Can be used to unlock iCloud locks on any iOS device (iPhone, iPad, iPod, and Apple Watch)
Permanently unlock, your device will never be locked again.
Fast & professional, the technicians will help you remove iCloud lock within 24 hours (when FastTrack option enabled)
Entirely remote service – you don't have to ship your iPhone to have it unlocked
No data is lost as a result of using this service
This is a really great service overall, and the best part is you don't have to do much. All that's needed is a few details and then the experts can get to work.
Step 1. Go to AppleiPhoneUnlock iCloud unlock page.
Step 2. Enter all of the details (iPhone model, IMEI or Serial number) requested. And click on "Remove Activation Lock".
Step 3. You'll have to submit payment information. Finally, just wait up to 24 hours and your order will be fulfilled.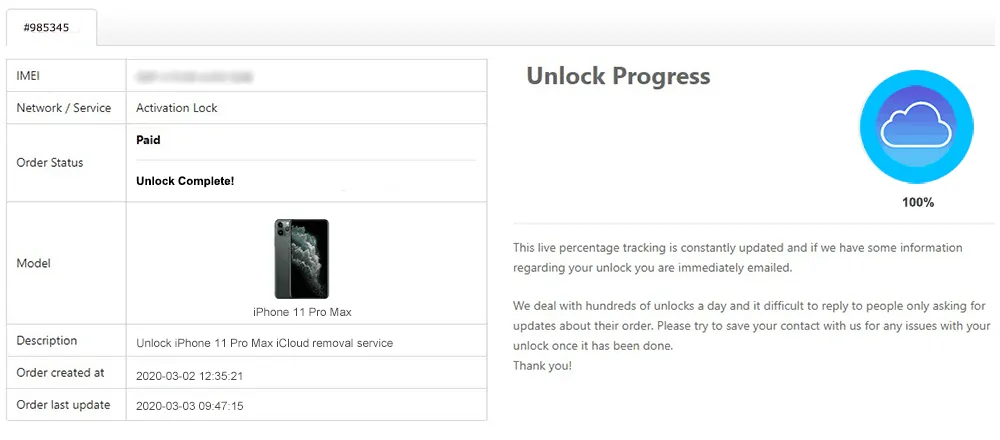 As you can tell this is as straightforward as it gets. iCloud Activation Lock removal doesn't get any easier than AppleiPhoneUnlock's service, and it's definitely the most effective alternative to Unlock Mtool 2019/2020.
2.2 DirectUnlocks
A service which is similar to AppleiPhoneUnlock and is also a suitable alternative to unlock Mtool 2019/2020 is DirectUnlocks. This service provides iCloud lock removals, carrier unlocks, and IMEI checks that uncover the status of your device.
Pros
Cheaper to use than AppleiPhoneUnlock.uk
Also offers carrier unlocks for iPhones and Android devices
Safe, secure, and remote unlocking process
Cons
Takes longer (5-10 days) to unlock iPhone than AppleiPhoneUnlock
2.3 How We Test These Services
To be as transparent as possible about our testing process and how we selected these two services, here's our decision process.
We start by going through a list of services and looking at the reviews, feedback, and so on, and getting rid of any services that clearly aren't reliable.
Next, we go through the remaining services and look for indications of them being fake solutions or scams. This is a crucial step because we don't want to recommend any tools that would put our reader's iPhones at risk.
Finally, we go through a series of tests. We use multiple devices to test each service and analyze how effective the services truly are.
Conclusion
Now that you know the truth about Unlock Mtool (iLocked +), you'll realize how less effective the tool is in comparison to unlock services like AppleiPhoneUnlock and DirectUnlocks. Both of these services make the entire iCloud unlocking process much easier for all users, which is why we recommend people use a service instead of shady tools.
But if you do decide to use Unlock Mtool, remember that you can get a download link from us by simply leaving a comment below!